Slate's Pundit Scorecard
Pundits live to make predictions. Who nailed it? Who missed big?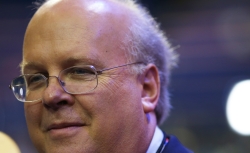 With the election over and the final results mostly tallied, there's little left to guess about: Barack Obama has won with 332 electoral votes (assuming his lead holds in Florida), 62 beyond the 270 needed to win. The 2012 presidential election has come to a close, and voters can finally, at long last, think about something else.
Pundits, however, shouldn't be allowed to go about their business quite yet. Many of them made very public and very specific predictions about the election's outcome. Some were right and some were very wrong. So, before we forget who said what, we put together the electoral vote predictions of some of the country's most popular prognosticators. Look who nailed it. And look who missed big.
In the interactive below, each dart represents a pundit's predictions. The closer the dart is to the center, the closer the prediction was to the actual outcome. Darts below the center underestimated Obama's electoral vote share, while darts above overestimated it. Blue darts represent predictions made by liberal pundits, while red darts represent predictions made by conservative pundits. Darts that didn't make the dartboard represent predictions off by 100 electoral votes or more. Mouse over each dart to learn more about the prediction.

Obama:
Romney:
Difference:









Correction, Nov. 7, 2012: The infographic previously listed nonpartisan analyst Reid Wilson as a conservative pundit. His name has been removed. Also, Nate Silver's prediction had previously been listed as 313 electoral votes. This number was Silver's average of simulated outcomes, not the most likely outcome.