O, No! Another Bad Washington Novel
Why aren't there better novels about Washington?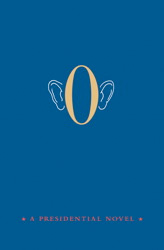 Why isn't there a great novel about political Washington? The city is full of exciting emotions—ambition, passion, deceit. The architecture is suitable for midnight intrigue and character growth. The city also contains parts of the American story—racial tension and a huge gap between the rich and poor. Yet this week we get O: A Presidential Novel, written by Anonymous. It is less a book than a marketing exercise. The pitch meeting must have been awful. The Web page will use Obama's ears! We'll post video! Twitter! We'll keep people guessing! Journalists are denying authorship for fear of being tied to the bad writing. Not since Janet Jackson's wardrobe malfunction has there been such an awkward striptease.
O is a thinly veiled tale of Barack Obama's re-election. That's one kind of Washington book. The other kind has a raised presidential seal on the cover. Inside, characters shout emergency instructions into phones. Both can be good, and both can be very, very bad. Neither is terribly lasting though.
My list of Washington novels that are good and that have lasted more than a news cycle is as predictable as it is short. The most recent, Primary Colors, was written almost 15 years ago. It wasn't just a marketing stunt; it was a clever book that tried to say something about baby boomers, race, and political ambition. My favorite of Gore Vidal's several books about Washington is Washington, D.C. (He also wrote a great play, The Best Man, which was made into a movie). His characters ring true—the battling Washington hostesses; the young, deeply ambitious aide; and the bored, trapped wife. Allen Drury's Pulitzer-winning novel Advise and Consent is a little belabored but captures Washington from my parents' era of a clubby, constantly moving town capable of seizing up when confronted by Communism or homosexuality. The key plot twist is as timely as ever. (Rent the movie, too, if for no other reason than watching Charles Laughton play Sen. Seabright Cooley).
My list is obviously limited, in part, perhaps, by having to read so much Washington nonfiction. I'd include The Gay Place and All the King's Men, but they're not about Washington. Please help me come up with a better list. You can include Washington books that aren't primarily about politics, but your suggestions should at least capture something about how business is done in the District. (This genre is too small to be too picky.) I'll publish the top submissions in a future piece.