My Kind of Town, Stink Onions
The literal meanings of places in the U.S., mapped.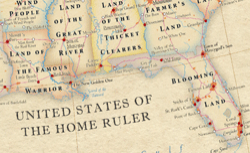 It's easy to think of words such as California or Texas or New York as just the places on the map, but those words actually meant something, once, and those meanings offer a little glimpse into history. The above map, designed by cartographers Stephan Hormes and Silke Peust, labels states, cities, and landmarks with the literal meanings of their official names.
Most of the meanings are bland descriptions of the terrain or climate of the places they describe. Michigan, for example, is the "Land of the Big Lakes" (duh), and Mississippi is the "Land of the Great River." Others carry baffling specificity, like Alabama's "Land of the Thicket Clearers" or Missouri's "Land of the People with Dugout Canoes." Some are poetic, like Mexico's "Navel of the Moon" and Houston's "Heart's Farm." Others are more worldly: Cuba is the "Place to Find Gold," and "Chicago" apparently means "Stink Onions." To see further details about the etymology of the names of the world's places and other maps like this or to order printed copies, see the cartographers' website.
Map published here with permission.