Reproductive Rights Around the World
The complete global map of laws governing abortion and birth control.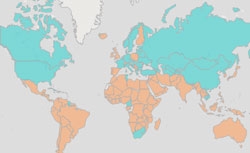 On Wednesday, the highest court in El Salvador denied an abortion to a woman with a pregnancy that is so high-risk that doctors say it could kill her. Beatriz, 22, is carrying a 26-week fetus with anencephaly, a birth defect that means part of the brain and skull are missing and that the baby will almost certainly die at birth. Beatriz's doctors say the abortion is necessary for Beatriz's health and perhaps to save her life. But by a vote of 4–1, the Salvadoran judges ruled that in light of the country's absolute ban on abortion, "the rights of the mother cannot be privileged over those" of the fetus.
Abortion: Laws by country
Legality
Spousal consent
Parental consent
Abortion: Exceptions by country
Rape
Incest
Life of mother
Physical health of mother
Mental health of mother
Fetal impairment
Socioeconomic
Others
Contraception: Birth control pill laws by country
Sale of the Pill
Pill sale location
Prescription required?
Pill subsidy
Pill advertising
Percentage of women on pill
Contraception: IUD laws by country
IUD legality
IUD installation
Percentage of women using IUD
Contraception: Condom laws by country
Condom subsidy
Condom advertising
Percentage of women using condoms
Abortion: Laws by state
Legality before Roe v. Wade
Trigger laws
Waiting period
Counseling requirement
Requirements for minors
Abortion providers
Contraception: Contraception laws by state
Insurance
Hospitals and Emergency Contraception
Affirm access for minors?
Update, May 31, 2013: The first map has been changed to distinguish countries in which abortion is permitted for any reason, countries in which abortion is permitted for specified reasons, and countries in which abortion is never permitted.
Update, June 4, 2013: This page was updated with additional details on the source for the data on the map of contraception rights.
Corrections, May 31, 2013: In the interactive displaying abortion laws by country, a map originally claimed that the U.S. requires spousal consent in some states. While eight states do have spousal consent laws, they are not enforced because of the Supreme Court's ruling in Planned Parenthood v. Casey. Additionally, some of maps of the U.S. originally suggested that some states require minors to have parental consent before accessing contraceptives. In fact, the laws for those states don't say whether minors can consent to contraceptives on their own or not. Maps regarding parental consent have been removed. This article also misspelled Colombia.

Correction June 3, 2013: The world maps in these interactives originally mislabeled Cameroon as Cape Verde and shaded Cameroon according to the data for Cape Verde.