From Wrestling Captain to Terrorism Suspect
A timeline of Dzhokhar Tsarnaev's life.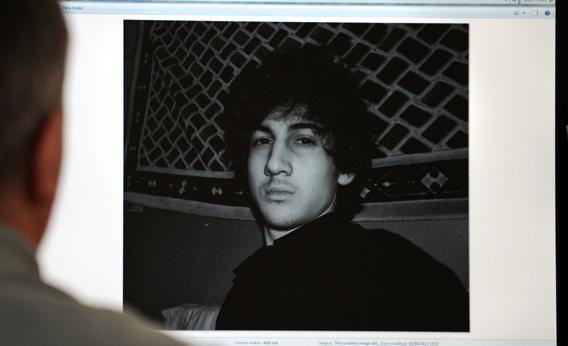 Since the FBI named Dzhokhar Tsarnaev and his brother the primary suspects of the Boston Marathon bombing last week, investigators, journalists, and the public have scoured his life for clues behind his motivations. They've questioned his friends and family members, dug into his school records, interviewed his mechanic, and even extrapolated his sleeping habits from his Twitter account. The timeline below shows the important things we know about his life. Check back for updates as his prosecution unfolds.
1993:
Dzhokhar Tsarnaev is born in Kyrgyzstan. His family is Chechen, one of many ethnic groups Soviet leaders
deported from their homelands
to the politically tumultuous Central Asian country in the 1940s.
2001:
Dzhokhar and his family move to Dagestan, Russia. He attends primary school in Makhachkala, Dagestan's capital, according to
his profile on Vkontakte
, the Russian equivalent of Facebook.
2002:
Dzhokhar and his family move to Cambridge, Mass.
2007:
Dzhokhar enrolls at Cambridge Rindge and Latin School. He wrestles for three years, serves as team captain, and is named all-star of the Boston metropolitan area, according to his former coach.
2011-2012:
Dzhokhar graduates from high school and receives a $2,500 City of Cambridge scholarship for higher education. Dzhokhar starts his freshman year the University of Massachusetts at Dartmouth, Mass., studying marine biology. Although he excelled in high school, he struggles in college. He fails seven classes, according to a college transcript
obtained by the New York Times
.
9/11/2012:
Dzhokhar becomes an American citizen on the 11th anniversary of the Sept. 11, 2001 attacks,
according to CBS
. He did not choose the date himself.
April 2013:
In the days before the attack, Dzhokhar's Twitter account shows no unusual activity. He quotes 50 Cent and references
Game of Thrones
and
Breaking Bad
.
4/15/2013:
Two explosions hit the Boston Marathon, killing three people and injuring many more at the finish line.
4/16/2013:
Dzhokhar visits a mechanic to pick up a white Mercedes E350 wagon that he had left at the shop two weeks earlier for a new rear bumper. The mechanic later
says
Dzhokhar appeared visibly nervous and demanded the car right away, but the Mercedes was not ready.
4/16/2013:
Dzhokhar continues to attend classes normally, hits the gym, and even
parties
with his soccer buddies. He appears "relaxed," according to one witness.
4/18/2013:
The FBI releases photos of Dzhokhar and his brother. Both are suspected of orchestrating the bombing.
4/18/2013:
Late at night, Dzhokhar and his brother allegedly kill an
MIT police officer
, hijack a car, and throw explosives at pursuing police. They are involved in a firefight with police in Watertown, Mass., where the brothers wield improvised explosive devices and homemade grenades. Dzhokhar's brother, already shot and suffering from wounds from an explosive device, dies after Dzhokhar runs over him with his car in his effort to escape.
4/19/2013:
Dzhokhar abandons the car and he flees on foot. Police begin a door-to-door search for Dzhokhar in Watertown, where they believe he may be hiding. Authorities put the city of Boston on lockdown.
4/19/2013:
A Watertown resident discovers Dzhokhar in his boat and contacts police, who verify the report with a thermal camera. They find Dzhokhar weak from multiple gunshot wounds, including a bullet wound to his neck that may suggest that he tried to kill himself, and use a robot and flashbangs to apprehend him. He is taken to the hospital in serious condition.
4/22/2013:
The White House
announces
that Dzhokhar won't be treated as an enemy combatant. The Department of Justice
announces
that Dzhokhar has been charged with "conspiring to use a weapon of mass destruction (namely, an improvised explosive device or IED) against persons and property within the United States resulting in death, and one count of malicious destruction of property by means of an explosive device resulting in death." The charges make Dzhokhar eligible for the
death penalty
.
4/22/2013:
Dzokhar indicates to authorities that he and his brother were not collaborating with any overseas terrorists and were
motivated by religion
. He tells them they learned how to make the bombs
over the Internet
. At a bedside court hearing, a judge reads Dzhokhar his Miranda rights, lists the charges against him, and appoints a public defender to his case.
↑ Jump to top