Highest Education
Colleges with the best reputations across the globe.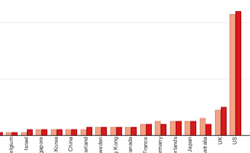 More than 40 of the world's 100 most reputable universities and colleges are American, according to the Times Higher Education's 2013 world reputation ranking of colleges and universities. The rankings are based on the Academic Reputation Survey, run by the global market research company Ipsos MediaCT for Thompson Reuters.
The Times Higher Education calls the survey the "largest invitation-only academic opinion survey." The judgments come from senior academics who are "the people best placed to know the most about excellence in our universities."
In addition to the chart above, the Guardian published one showing changes in reputation ranking from 2011 to 2013. Spoiler alert: Harvard, MIT, and Cambridge haven't budged from the top three spots.