Since 1980, 297 People Have Been Killed in School Shootings
An interactive chart of every school shooting and its death toll.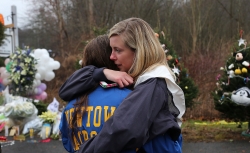 Filter by School Type:
All
Elementary
Middle
High
College
Showing: All shootings. Count: 137. Total killed: 297.
Showing: Elementary school shootings. Count: 17. Percentage of all incidents: 12%. Total killed: 59.
Showing: High school shootings. Count: 62. Percentage of all incidents: 45%. Total killed: 107.
Showing: Middle school shootings. Count: 14. Percentage of all incidents: 10%. Total killed: 21.
Showing: College shootings. Count: 39. Percentage of all incidents: 28%. Total killed: 101.
2012
Sandy Hook Elementary School
The Dec. 14 massacre at Sandy Hook Elementary left 27 victims, including 20 children, and the killer dead, making it the third-worst school attack in history after the 2007 Virginia Tech massacre and the 1927 Bath School bombing.
The chart above shows school shootings since 1980. The longer the red bar, the more people died in the incident it represents. Mouse over each to learn more.
According to the data, there have been a total of 137 fatal school shootings that killed 297 victims since 1980. Elementary schools saw the fewest shootings (17), while high schools saw the most (62). Each decade had more shooting deaths than the previous one.
Corrections, Dec. 19, 2012: This graphic originally showed that nine people were killed at the Duquesne University shooting in 2006. Nobody was killed. The article text and headline originally reported the total number of people killed in school shootings as 311; the number of deaths is 297. The article also originally referred to a total of 196 fatal school-shooting incidents, a number that reflected nonfatal and fatal shootings. The correct number of fatal shootings is 137.