Obama's 262 Drone Strikes in Pakistan
A map of all the reported attacks—five times as many under Obama as under Bush.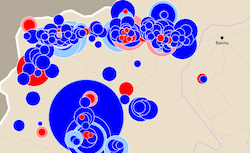 The war in Iraq is over, and the war in Afghanistan is ending, but unmanned aerial drones continue to wage an expansive war on terrorism. Obama has ratcheted up his predecessor's tactic of deploying unmanned aircraft into Pakistan and Yemen to kill supposed terrorists (even U.S. citizens). Since Obama took office, media outlets have reported more than 300 drone strikes in Pakistan targeting al-Qaeda or the Taliban, outnumbering the Bush administration's drone strikes five to one. Supporters say the strikes are an efficient way to kill militants, while critics say the strikes kill too many civilians, spur terrorist recruitment, shirk judicial oversight, and represent an abuse of presidential power. This map, which is based on data from the New America Foundation, displays the location and kill count of reported drone strikes since 2004 and shows that Obama has greatly extended the drone program.