Massive Failures of Justice
Why Texas is about to execute a profoundly mentally ill man.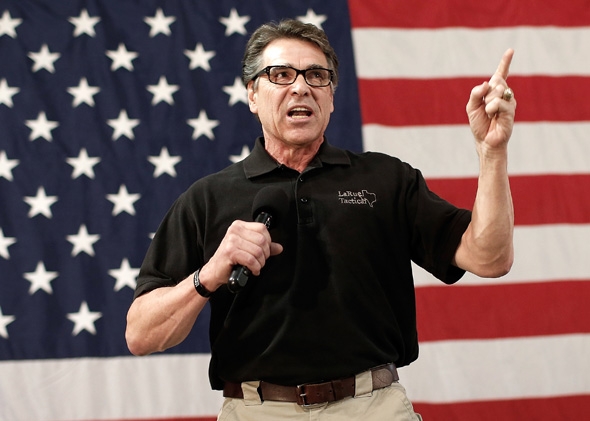 Listen to Dahlia Lithwick talk with Scott Panetti's lawyer about the case in this week's Amicus podcast:
Just before he surrendered himself to the county police for killing his in-laws, Scott Panetti dressed himself in a business suit. His head was shaved, with patches of hair still clinging to the spots he had missed. Sgt. Ranahan Iron Horse—an auditory hallucination—had made him do it. Panetti later called Sarge to testify to that effect at his 1995 trial, at which he represented himself.
Panetti, whose schizophrenia has been documented for 30 years, cannot distinguish fact from delusion. On Dec. 3, Texas plans to execute him. He believes he is being put to death because the state of Texas, in cahoots with the devil, wants to prevent him from preaching the Gospel.
Opposition to executing the insane dates back centuries. As the English jurist Sir Edward Coke wrote in 1680: "When a mad man is executed," it is "against Law and of extream inhumanity … and can be no example to others."
Or as Justice Thurgood Marshall wrote centuries later in Ford v. Wainwright:
[T]his Court is compelled to conclude that the Eighth Amendment prohibits a State from carrying out a sentence of death upon a prisoner who is insane. Whether its aim be to protect the condemned from fear and pain without comfort of understanding, or to protect the dignity of society itself from the barbarity of exacting mindless vengeance, the restriction finds enforcement in the Eighth Amendment.
At every turn, it seems that some system failed Panetti, whether it was the mental health system, the courts, the prison system, or the political branches. It is almost incomprehensible that Texas is about to go through with the execution, but the failures, feints, technicalities, and errors chronicled below have created a situation in which a man with three decades of profound mental illness will be sent to the death chamber.
1978-1992: Scott Panetti receives his first diagnosis of schizophrenia in 1978 at the age of 20. Between 1981 and 1992, he is hospitalized 14 times at six different institutions for showing symptoms of psychosis, characterized by tangential and circumstantial thinking, hallucinations, delusions, grandiosity, and paranoia. Extensive medical records chronicle these symptoms. In 1986 Panetti experiences a psychotic episode during which he tries to wash the devil from the walls of his house and buries furniture in the backyard, believing the devil is in it. He nails the curtains shut so that "the neighbors would not film him." At no point is there any suggestion that he is malingering or faking symptoms.
September 1992: Sonja Alvarado, his estranged second wife, tries to have him committed after Panetti comes after her with a knife. She takes his guns to the local police, but they return them, saying they have no legal right to prevent Panetti from having them.
Sept. 8, 1992: Following a fight with Sonja Alvarado, Panetti shaves his head, dresses in military fatigues, and drives to the home of Amanda and Joe Alvarado, his estranged wife's parents. He shoots them at close range with a rifle. He takes his wife and their infant daughter to a bunkhouse where he is living but eventually releases them unharmed. Panetti subsequently says that "Sarge" had controlled him at the time of the crime, that divine intervention meant that the victims did not suffer, and that demons had been laughing at him as he left the house.
Competency to Stand Trial
July 1994: A competency hearing to determine whether Panetti is fit to stand trial is scheduled. In Texas, such a competency hearing is held before a jury. This is unusual: In many other states, a judge determines competency, with input from psychiatric professionals. The jury is unable to come to a consensus, and the judge declares a mistrial. At this and a subsequent competency hearing, he is medicated with large doses of antipsychotic drugs.
Sept. 9, 1994: A second competency hearing takes place in front of a different jury. Panetti's lawyer testifies that in the previous two years, he had had no useful communication with Panetti because of his client's delusional thinking. A psychiatrist for the defense concludes that Panetti is not competent to stand trial. A psychiatrist for the prosecution agrees with the previous diagnoses of schizophrenia and that Panetti's delusional thinking could interfere with his ability to communicate with counsel. This doctor reports that Panetti does not know what year it is and cannot identify the president. Yet he concludes that Panetti is competent to stand trial, and the jury agrees.
April 1995: Panetti experiences what he calls an "April Fool's Day revelation" that God had cured his schizophrenia, and he stops taking his antipsychotic medications. He becomes convinced that he cannot trust his lawyers, whom he believes are conspiring with the police and the courts, and eventually tries to fire them. The trial judge apparently held no hearing on Panetti's competence to proceed to trial without counsel and allowed him to represent himself. Even if Panetti had the capacity to stand trial, it's not at all clear he had the capacity to represent himself.
In the 1993 decision in Godinez v. Moran, the Supreme Court held that a defendant who has been found to be competent to stand trial is also competent to plead guilty and to waive counsel. The Supreme Court's decision in Indiana v. Edwards in 2008 has since made courts exercise more scrutiny over granting mentally ill or otherwise hampered defendants permission to waive their rights to legal representation. But at the time, the 216th Texas Judicial District Court "decided to treat Scott Panetti as if he were anyone else," says Paul Appelbaum, a forensic psychiatrist at Columbia University.
Sept. 12, 1995: Panetti's trial begins, with the defendant representing himself. Court documents say his defense could be "described charitably as 'bizarre,' " while others who were present call it a "farce," a "joke," a "circus," and a "mockery." Panetti conducts his defense dressed as a cowboy in a purple suit and a hat. He attempts to call more than 200 witnesses, including John F. Kennedy, the pope, Anne Bancroft, and Jesus Christ. (The last he later recanted: "Jesus Christ, he doesn't need a subpoena. He's right here with me, and we'll get into that," Panetti said in court.)
He interrogates one prospective jury member as to whether the person had any "Indian blood," before launching into a tirade about an event he called "Wounded Elbow"—conflating the battle of Wounded Knee with something to do with the Ayatollah Khomeini. He cross-examines himself on the stand, addressing his alter ego, "Sarge." He gets rid of documents prepared for him by backup counsel because he was certain the prison guards were colluding against him. He presents no mitigating evidence. The judge declines to accept crucial medical records because Panetti had drawn all over them. A psychiatrist who had assessed Panetti prior to trial and witnessed the proceedings says Panetti was "acting out a role of an attorney as a facet of the mental illness, not a rational decision to represent himself at trial."
1999: Sonja Alvarado, the ex-wife whose parents Panetti killed, signs a petition calling for his life to be spared.
The trial judge determines in post-conviction proceedings less than two months after Panetti was sentenced to death that he was incompetent to waive counsel. In other words, he was deemed capable of acting as his own counsel at trial but not on appeal.
October 2003: The state trial court sets an execution date for Feb. 5, 2004. Panetti files a motion with the trial court for a stay of execution, and his lawyers file a motion claiming that he is incompetent to be executed under Ford v. Wainwright, the 1986 case providing that the Eighth Amendment prohibits states from carrying out the death penalty "upon a prisoner who is insane." The trial judge denies the motion without a hearing. A debate follows about which courts have jurisdiction to entertain this claim. A federal court asks the state court to assess whether Panetti is competent enough to be executed.
2004: The state court appoints two mental health experts who declare Panetti to be competent to be executed even though they had spoken only briefly with him and deemed him too uncooperative to conduct a comprehensive evaluation. Panetti seeks to appoint his own experts and hold an evidentiary hearing, but the court never rules on that request. The judge accepts the testimony of the two experts, finding that Panetti had "failed to show, by a preponderance of the evidence, that he is incompetent to be executed."
The federal district court later found the state court's failure to hold an evidentiary hearing (as required under state law) problematic. The district court schedules its own evidentiary hearing, appointing counsel and authorizing funds so that Panetti can hire a team of psychiatric experts.
The federal habeas judge overseeing Panetti's case allows Panetti to put on his own expert witnesses, who testify Panetti believes that the death penalty is a satanic plot, with the state "in league with the forces of evil" and trying to "prevent him from preaching the Gospel." The judge finds that Panetti lacks a "rational understanding" of the reason for his execution but notes that the narrow standard that the 5th U.S. Circuit Court of Appeals was using at the time demands that the defendant have only some "factual awareness" of the reason for his execution. The judge finds Panetti competent for the death penalty.
2006: The 5th Circuit upholds the federal court's ruling, agreeing that a prisoner is competent to be executed under Ford if he "knew that he was going to be executed and why he was going to be executed," and noting that the "awareness" required under Ford "is not necessarily synonymous with 'rational understanding.' "
The Supreme Court: Panetti v. Quarterman
June 28, 2007: The Supreme Court overturns Panetti's death sentence after finding the court hadn't adequately examined whether he was sane enough to be executed. The opinion, written by Justice Anthony Kennedy, found multiple errors at the state court level:
The state court refused to transcribe its proceedings, notwithstanding the multiple motions petitioner filed requesting this process. To the extent a more complete record may have put some of the court's actions in a more favorable light, this only constitutes further evidence of the inadequacy of the proceedings. Based on the materials available to this Court, it appears the state court on repeated occasions conveyed information to petitioner's counsel that turned out not to be true; provided at least one significant update to the State without providing the same notice to petitioner; and failed in general to keep petitioner informed as to the opportunity, if any, he would have to present his case. There is also a strong argument the court violated state law by failing to provide a competency hearing.
The court rules that "a prisoner's awareness of the State's rationale for an execution is not the same as a rational understanding of it," and sends the case back to lower courts to determine whether Panetti can understand the connection between his crime and punishment. The Kennedy opinion declines "to attempt to set down a rule governing all competency determinations," but clarifies that to be eligible for the death penalty, Panetti needs to both be aware he will be executed and have a "rational understanding" of the facts of his execution.
Aftermath of the Supreme Court
2008: Three psychiatrists and two fellow inmates, serving as witnesses for the defense, testify at a new hearing called by the district court. All conclude that Panetti is undeniably psychotic. The state of Texas counters with its own experts, who claim that Panetti is not irrational and is even faking his condition. They present secretly recorded conversations Panetti had with his parents in which he seemed lucid in speech.
It is extremely doubtful that someone could fake a mental illness for decades, says William Carpenter, an expert on schizophrenia and psychosis at the University of Maryland. Medical professionals are in agreement that psychosis, consistently diagnosed, is unlikely to be wrongly ascribed to a patient, even though symptoms vary and sufferers can display sense at times and nonsense at others.
The district court agrees with evidence from the defense that "it is not seriously disputable that Panetti suffers from paranoid delusions." However, because the federal judge concluded that Panetti had "thought about the death penalty and its moral and political implications," the district court rules that he is eligible for the death penalty.
August 2013: The 5th Circuit upholds the district court's decision. It accepts his secretly recorded conversations and the fact that he seemed "generally responsive" as evidence of his overall fitness to be executed, plus the testimony of one psychiatrist with dubious credentials who administered no tests, and technical findings about adequate levels of funding for Panetti's defense.
In fact, the 5th Circuit, which hears cases from Texas, Louisiana, and Mississippi, has never found an inmate incompetent to be executed.
Panetti has not had a competency hearing in nearly seven years.
Oct. 16, 2014: A state district judge signs a warrant setting the execution date for Dec. 3. Panetti's attorneys do not learn this until two weeks later—when they read it in the newspaper. The office of District Attorney Bruce Curry did not notify them on Oct. 16, when the date was set, as is the pattern and practice of capital law in Texas. Panetti's attorneys might have used that time to attempt to save his life. Texas had been scheduling executions in 2015. They pushed Panetti's ahead so it can happen in 2014.
The past two weeks: Panetti's attorneys and dozens of organizations and individuals from across the country have called on the Texas Board of Pardons and Paroles and Gov. Rick Perry to stop the execution of this mentally ill man.