The Guantánamo Memoirs of Mohamedou Ould Slahi
Since the torture has stopped, Slahi has learned to play chess and tend to his garden. Today his interrogators are the closest thing he has to a family.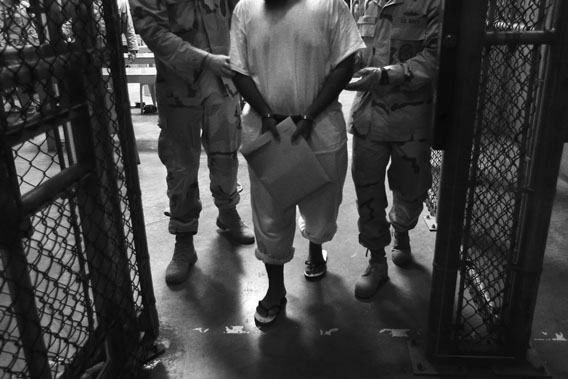 The violent interrogation of Mohamedou Ould Slahi dragged on through the fall of 2003. He remained in complete isolation in Guantánamo's Camp Echo. When representatives of the International Committee of the Red Cross visited the base in October, Guantánamo commander Gen. Geoffrey Miller told them Slahi was "off limits" "due to military necessity," but insisted that Camp Echo was not being used for violent interrogations—as the ICRC delegation suspected—but as a facility where detainees could have private conversations with their attorneys. Slahi writes that he remained in "the secret place" until August 2004.
I was interrogated [ ? ? ? ? ? ? ? ? ? ? ? ? ? ? ? ? ? ? ? ? ? ? ? ? ? ? ? ? ? ? ? ? ? ? ? ? ? ? ? ? ? ? ? ? ? ? ? ? ?]. It was so rude to question a human being like that, especially somebody who is cooperating. They made me write names and places [ ? ? ? ? ? ? ? ? ? ? ? ? ? ? ? ? ? ? ? ? ? ?]. I was like, what ruthless people!
"Show him no mercy. Increase the pressure. Drive the hell out of him crazy," said [ ? ? ? ? ?]. And that was exactly what the guards did. Banging on my cell to keep me awake and scared. Taking me out of my cell violently at least twice a day for cell search. Taking me outside sometimes in the middle of the night to make me do P.T. that I couldn't do due to my health situation. Putting me facing the wall several times a day and threatening me directly and indirectly.

"You know who you are?" said [ ? ? ? ? ?].
"You are a terrorist," he continued.
"If we kill you once, it wouldn't do. We must kill you 3,000 times. But instead, we feed you!"
In a matter of weeks I developed gray hair on the lower half of the sides of my head. In my culture, people refer to this phenomenon as the extreme result of depression.
Then, slowly but surely, guards were advised at the same time to 1) give me the opportunity to brush my teeth, 2) give me more warm meals, 3) give me more showers. [ ? ? ? ? ?] was the one who took the first steps, but I am sure there had been a meeting about it. Everybody in the team realized that I was about to lose my mind due to my psychological and physical situation. I'd been so long in segregation.
"I brought you this present," he said, while handing me a pillow. Yes, a pillow. I received the present with a fake overwhelming happiness—not because I was dying to get a pillow, but because I took the pillow as a sign of the end of the physical torture. We have a joke back home about a man who stood bare naked on the street, and when asked, "How can I help you?" he replied, "Give me shoes." And that is exactly what happened to me. All I needed was a pillow!!!
I had nothing in my cell. Most of the time I recited the Quran. The rest of the time I was speaking to myself and thinking about my life and the worst-case scenarios that could happen to me. I had been counting the holes of the cage I was in: There are about 4,100 holes. When they gave me a pillow as a first reward, I kept reading the tag over and over.
"Get up! Get your hands through the bin hole!" said the unfriendly-sounding guard [after a weekend without interrogation]. After they shackled me, they took me outside the building to where the [ ? ? ? ? ?] were waiting me. It was the first time for me to see the daylight. Many people take daylight for granted, but if you are forbidden to see it, you will appreciate it. The brightness made my eyes squint until they adjusted. The sun hit me mercifully with its warmth. I was terrified and shaking.
"What's wrong with you?" asked one of the guards later on.
"I am not used to this place."
"We brought you outside so you can see the sun. We will have more rewards like this."
No matter how bad your interrogators are, a family-like relationship develops. This family relationship is just a family relationship, no more, no less, with all the advantages and disadvantages.
The family comprises the guards and your interrogators. Yes, you didn't choose your family, nor did you grow up with it, but it is a family with all the qualities.
"I am going to leave soon," [ ? ? ? ? ?] said a couple days before he left.
"It's about time. But the other [ ? ? ? ? ?] is gonna stay with you." That was not exactly comforting. I was startled, and couldn't really think of an argument to convince [ ? ? ? ? ?] to stay. But it would have been a futile argument because the transfer of military intelligence agents is not a subject of discussion.
"We're gonna watch a movie together before I leave," [ ? ? ? ? ?] said.
"Oh, good!" I still hadn't digested the news yet.
[ ? ? ? ? ?] left and showed up a couple of days later with a laptop and two movies.
"You can decide which one you'd like to watch." I picked the movie Black Hawk Down; I don't remember the other choice. The movie was both bloody and sad. I paid more attention to the emotions of [ ? ? ? ? ?] and the guards than to the movie itself. [ ? ? ? ? ?] was rather calm. He paused the movie every once in a while to explain to me the historical background of certain scenes. The guards almost went crazy emotionally because they saw many Americans getting shot to death. But they missed the fact that the number of U.S. casualties was negligible compared to the Somalis who were attacked in their own homes. I was just wondering how narrow-minded human beings can be. When people look at one thing from one perspective, they certainly fail to get the whole picture, and that is the main reason for the majority of misunderstandings that sometimes lead to bloody confrontations.
After we finished watching the movie, [ ? ? ? ? ?] packed his computer and was ready to leave.
"Eh, by the way, you didn't tell me when you're going to leave!"
"I am done, you'll not see me anymore!" I froze as if my feet were stuck on the floor. He didn't tell me he was going to leave that soon. I thought maybe one month, three weeks, or something like that, but today? In my world, that was impossible. It was as if death was devouring some friend of yours and you just were helplessly watching him fading away.
"Oh, really, that soon. I am surprised! You didn't tell me. Goodbye. I wish everything good for you."
"I have to follow my orders and I leave you in good hands." And off [ ? ? ? ? ?] went. I reluctantly went back to my cell and silently burst into tears, as if I'd lost [ ? ? ? ? ?] and not somebody whose job was to hurt me and extract information in a the-end-justifies-the-means-way. I both hated and felt sorry for myself for what happened to me.
"May I see my interrogator please?" I asked the guards, hoping that they could catch him before he reached the main gate.
"We'll try," said [ ? ? ? ? ?].
I retreated back in my cell, but soon [ ? ? ? ? ?] showed up at the door of my cell. "That is not fair, you know that I suffered torture and am not ready for another round."
"You haven't been tortured. You must trust my government. As long as you're telling the truth, nothing bad is gonna happen to you!" Of course [ ? ? ? ? ?] meant The Truth as it's officially defined; I didn't want to argue with [ ? ? ? ? ?] about anything.
"I just don't want to start everything over with new interrogators," I said.
"It's not gonna happen," [ ? ? ? ? ?] said. "Besides that, you can write me. I promise I'll answer every email of yours," he continued.
"No, I will not write you," I said.
"Are you all right?" [ ? ? ? ? ?] asked.
"I am not, but you may leave."
"I am not leaving until you assure me everything's all right," [ ? ? ? ? ?] said.
"I said what I had to say. Have a good trip. May Allah guide you. I'll be just fine."
"I am sure you will. It will take at most a week and you'll forget me." I didn't speak after that, instead I went back and laid myself down. [ ? ? ? ? ?] stayed a couple of minutes, repeating, "I am not leaving until you assure me everything is all right."
"I heard yesterday's goodbye was very emotional. I never thought of you this way," [ ? ? ? ? ?] said the next day. "Would you describe yourself as a criminal?"
I prudently answered, "To an extent." I didn't want to fall in any possible trap, even though I felt that he honestly and innocently asked the question when he realized that his evil theories about me were null.
"All the evil questions are gone," [ ? ? ? ? ?] said.
"I won't miss them," I said.
Today [ ? ? ? ? ?] had come to give me a haircut. It was about time! One of the measures of my punishment was to deprive me from any hygienic shaves, teeth brushing, or haircut. Today was a big day; they brought a masked barber. Though scary looking, he did the job.
Although the rest of the world didn't have a clue where the U.S. government was incarcerating me, I knew since Day 1 where I was, thanks to God and the clumsiness of the [ ? ? ? ? ?]. During my incarceration in the secret place, from August 2003 to August 2004, [ ? ? ? ? ?] let slip some words giving away the location. "When I was in [ ? ? ? ? ?]," I said.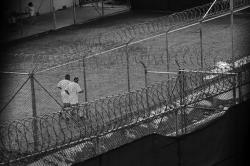 "Over there?" he said, gesturing with his fingers in the direction of [ ? ? ? ? ?]. He rapidly took his hand back and continued his conversation, but it was too late to take it back. Another time during [ ? ? ? ? ?]'s visit, he said, "Here in GTMO … uh, I mean in the Caribbean …" When everybody gave him a startled look, he tried to repair the irreparable.
"You know you are in one of the Caribbean islands?"
"Yes, you are." I always acted as if I hadn't known any clues about my whereabouts. Guards had been trying to figure out my knowledge about the place, and repeatedly commented that I was "in the middle of nowhere." But I always responded, "All I know, I am being detained by the DoD and the place doesn't matter, does it?"
[Finally] [ ? ? ? ? ?] came to me, "I have to inform you, against the will of many members in our team, that you are in GTMO. You've been honest with us and we owe you the same." I acted as if this was new information. But I was, at the same time, happy because it meant many things to me, to be told where I am. At the time of writing these lines I am sitting in the same cell, but I don't have to act ignorantly about where I am, and that is a good thing.
Shortly after that the International Committee of the Red Cross was allowed to visit after a long fight with the government. It was very odd to the ICRC that I had all of a sudden disappeared from the camp as if the earth had swallowed me. All attempts of the ICRC to see me or just to know where I was were thoroughly flushed down the tube. The ICRC has no real pressure on the U.S. government; ICRC tries, but the U.S. government doesn't change its path, even an inch. If they let the ICRC see a detainee, that means the operation against that detainee is over.
Nevertheless, I was happy when I saw [ ? ? ? ? ?] and his colleagues in around September 2004, and so were they. The ICRC was very worried about my situation. They couldn't come to me when I needed them the most, but I cannot blame them, they certainly tried. [ ? ? ? ? ?] categorically refused to give the ICRC access to me.
[ ? ? ? ? ?] tried to get me talking about the time they couldn't have access to me. "We have an idea because we talked to other detainees who were subject to abuse, but we need you to talk, so we can help stop further acts of abuse. We cannot act if you don't tell us what happened to you."
"I am sorry! I am only interested in sending and receiving mail, and am grateful that you're helping me in doing so." [ ? ? ? ? ?] brought a very high level ICRC [ ? ? ? ? ?] from Switzerland, who had been working on my case. [ ? ? ? ? ?] tried to get me talking, but to no avail. "We understand your worries. All we're worried about is your well-being, and respect your decision."
We detainees know that meetings with the ICRC are monitored. Some detainees were confronted with statements they made to the ICRC and there was no way for the [ ? ? ? ? ?] to know them unless the meetings were monitored. Many detainees refused after that to talk to the ICRC and suspected them to be interrogators disguised in ICRC clothes. I know some interrogators who presented themselves as private journalists. But to me that was very naive; for a detainee to believe such a thing and mistake a journalist for an interrogator, he must be an idiot, and there are better methods to get an idiot talking. Such mischievous practices led to tensions between detainees and the ICRC. ICRC people were cursed and spit on.
However, in the summer of 2005, I voluntarily confessed to [ ? ? ? ? ?] a bland rendition of the abuse I had been subject to. [ ? ? ? ? ?] asked whether or not he should share the information with the [ ? ? ? ? ?] and I answered positively.
"I was afraid of telling you the story because of possible retaliation. But since [ ? ? ? ? ?] was here the other day virtually threatening me; I don't seem to have anything to lose."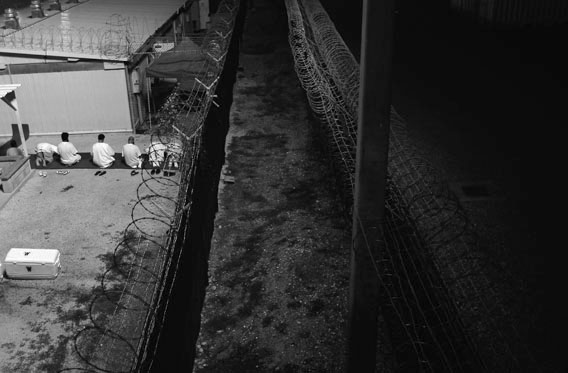 The ICRC was not the first to learn of Slahi's ordeal. In late 2003, the Marine lawyer assigned to prosecute Slahi before the military commissions started to wonder why the prisoner had suddenly become so "prolific." Working with an investigator from the U.S. Navy's Criminal Investigation Task Force, Lt. Col. Stuart Couch pieced together the circumstances of Slahi's interrogation and concluded that he had been tortured. Couch then refused to prosecute Slahi's case, citing his belief as an evangelical Christian in "the dignity of every human being." (See sidebar interview with Col. Morris Davis, former chief prosecutor of the Guantánamo Military Commissions.)
By 2005, Slahi's situation had changed completely. Since then, he has been granted unusual privileges, living, as the Washington Post reported in 2010, with one other detainee in a fenced-in compound where they are allowed to garden, write, and paint.
The guards wanted to be baptized with names of characters in the show Star Wars.
"From now on we are the [ ? ? ? ? ?] and that is what you call us. Your name is Pillow," said [ ? ? ? ? ?]. I, later on, learned that [ ? ? ? ? ?] are sort of Good Guys who fight against the Forces of Evil. For the time being, I represented the Forces of Evil and the guards the Good Guys.
[ ? ? ? ? ?] was in his early 40s, married with children, small but athletically built. He spent some time working in the [ ? ? ? ? ?], then [ ? ? ? ? ?] ended up doing a special mission for the [ ? ? ? ? ?]. "I've been working [ ? ? ? ? ?]," he told me.
"Your job is done. I am broken," I answered.
"Don't ask me anything. If you want to ask for something, ask your interrogator."
"I got you," I said. It sounds confusing or even contradictory but although [ ? ? ? ? ?] is a rough guy, he is humane. So to say, his bark is worse than his bite. [ ? ? ? ? ?] understands what many guards don't understand: If you talk and tell your interrogators what they wanted to hear, you should be relieved. But many of the other nitwits kept doubling pressure on me, just for the sake of it.
"My job is to make you see the light," said [ ? ? ? ? ?], addressing me for the first time while watching me eat my meals. Guards were not allowed to talk to me or each other. I couldn't talk to them either. I could say only, "Yes, sir, no sir, I need medics, I need interrogators." But [ ? ? ? ? ?] is not a by-the-book guy; he thinks more than any other guard and his goal is to make his country victorious. The means don't matter.
"Yes, sir," I answered, without even understanding what he meant. I thought about the literal sense of the light I haven't seen for a long time, and believed he wanted to get me cooperating so I can see the daylight. But [ ? ? ? ? ?] meant the figurative sense. [ ? ? ? ? ?] always yelled at me and scared me, but he never hit me. He illegally interrogated me several times, and that was why I called him [ ? ? ? ? ?]; [ ? ? ? ? ?] wanted me to confess to many wild theories he heard the interrogators talking about. Furthermore, he wanted to gather knowledge about terrorism and extremism. I think his dream in life is to become an interrogator. What a hell of a dream.
"You are my enemy," he said.
"So let's talk as enemy to enemy," [ ? ? ? ? ?] said. He opened my cell and offered me a chair. [ ? ? ? ? ?] did the talking for the most part. He was talking about how great the U.S. is, and how powerful; America is this, America is that … We Americans are so and so …" I was only wondering and shaking lightly. And every once in a while I confirmed that I was paying attention, "Yes, sir … Really … Oh, I didn't know … You're right … I know …"
During our conversations, he sneakily tried to make me admit to things I haven't really done. "What was your role in September 11?"
"I didn't participate in September 11."
"Bullshit!" he screamed madly. I realized it would be no good for my life to look innocent, at least for the time being.
Then I said, "I was working for AQ in Radio Telecom."
He seemed to be happier with a lie. "What was your rank?" he dug.
"I would be a lieutenant."
I both hated and liked when he was on duty. I hated him interrogating me, but I liked him giving me more food and new uniforms. He started to give me lessons and made me practice them the hard way. The lessons were proverbs and made-up phrases he wanted me to memorize and practice in my life. I still do remember the following lesson: "1) Think before you act. 2) Do not mistake kindness for weakness … etc." Whenever [ ? ? ? ? ?] judged me to have broken one of the lessons, he took me out of my cell and strewed all my belongings all over the place. After that, [ ? ? ? ? ?] asked me to put everything back in no time. I always failed to organize my stuff, but he only made me do it several times, after which I miraculously put my stuff back in time.
My relationship with [ ? ? ? ? ?] developed positively with every day that went by, and henceforth with the rest of the guards because they regarded him highly.
"Fuck it! If I look at Pillow I don't think he is a terrorist, I think he is an old friend of mine, and enjoy playing games with him," he said to the other guards.
I felt somewhat relaxed and gained some self-confidence. Now, the guards discovered in me the humorous guy and used their time with me for entertainment. They started to make me repair their DVD players and PCs; in return I was allowed to watch a movie. [ ? ? ? ? ?] didn't exactly have the most recent PC model, and when [ ? ? ? ? ?] asked me whether I have seen [ ? ? ? ? ?] PC, I said, "You mean the museum piece that [ ? ? ? ? ?] has?" [ ? ? ? ? ?] laughed hard and said "[ ? ? ? ? ?] better not hear what you said."
We slowly but surely became a society and started to gossip about interrogators and call them names. In the mean time, [ ? ? ? ? ?] taught me the rules of chess. Before the prison, I didn't know the difference between a pawn and the rear end of a knight, nor was I really a big gamer. I find in chess a very interesting game, especially the fact that a prisoner has total control over his pieces, giving him some confidence back. When I started playing, I played very aggressively in order to let out my frustration. [ ? ? ? ? ?] was really not very good at playing chess, but he was my first mentor and he beat me in my first game ever. But the next game was mine, and so were all the following games.
Chess is a game of strategy, art, and mathematics. It takes deep thinking, and there is no luck involved. You get rewarded or punished for your actions, your moves. [ ? ? ? ? ?] brought me a chessboard so I could play against myself. When the guards noticed my chessboard, they wanted to play me. When they started to play me, they always won. The strongest among the guards was [ ? ? ? ? ?]. He taught me how to control the center. Moreover, [ ? ? ? ? ?] brought me some literature, which helped decidedly in honing my skills. After that the guards had no chance to defeat me.
"That is not the way I taught you to play chess," commented [ ? ? ? ? ?] angrily when I won the game.
"You should build a strategy, and organize your attack! That's why the fucking Arabs never succeed."
"Why don't you just play the board?" I wondered.
"Chess is not just a game," he said.
"Just imagine you're playing against a computer!"
"Do I look like a computer to you?"
The next game I tried to build the strategy in order to let [ ? ? ? ? ?] win.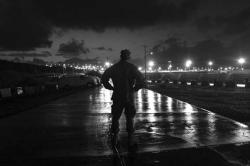 "Now you understand how chess must be played," he commented. I knew [ ? ? ? ? ?] had issues dealing with defeat, thus I didn't enjoy playing him because I didn't feel comfortable practicing my newly acquired knowledge. [ ? ? ? ? ?] believes there are two kinds of people, white Americans and the rest of the world. White Americans are smart and better than anybody. I always tried to explain things to him by saying, for instance, "If I were you … or … If you were me," but he got angry and said, "Don't you ever dare compare me with you or compare any American with you." I was shocked then, but I did as he said. After all, I didn't have to compare myself with anybody. [ ? ? ? ? ?] hates the rest of the world, especially the Arabs, Jews, French, Cubans, and others. The only other country he mentioned positively was England.
After one game of chess with him, he flipped the board.
"Fuck your nigger chess, this is Jewish chess!" he said.
"Do you have something against black people?" I asked.
"Nigger's not black, nigger means stupid," he argued.
We had discussions like that, but we had only one black guard who had no say, and when he worked with [ ? ? ? ? ?] they never interacted. [ ? ? ? ? ?] resented him. [ ? ? ? ? ?] has a very strong personality, dominant, authoritarian, patriarchal, and arrogant.
"My wife calls me Asshole," he proudly told me.
I remember the first August day when [ ? ? ? ? ?] surged through smiling and greeted me, "Salamu alaikum!"
"Waalaikum As-salam! Tetkallami Arabi? Do you speak Arabic?" I answered her greeting and wondered whether [ ? ? ? ? ?] spoke Arabic. In fact, [ ? ? ? ? ?] had already said all the Arabic [ ? ? ? ? ?] knew, namely, the greeting "Peace be upon you, As-salamu alaikum."
[ ? ? ? ? ?] and I started to talk as if we knew each other for years. [ ? ? ? ? ?] studied biology and joined [ ? ? ? ? ?] recently as an enlisted person, most likely in order to pay her college credit. Many Americans do. College education in the U.S. is sinfully high.
"I am going to help you start your garden," [ ? ? ? ? ?] said.
A long time ago, I asked the interrogators to get me some seeds in order to be able to experiment around, and maybe succeed in growing something in the aggressive soil of GTMO.
"I have experience in gardening," [ ? ? ? ? ?] continued.
"Oh, great!" Indeed, [ ? ? ? ? ?] seemed to have experience, and [ ? ? ? ? ?]helped me to grow different things such as sunflowers, basil, sage, parsley, cilantro, and things of that nature. But as helpful as [ ? ? ? ? ?] was, I kept giving [ ? ? ? ? ?] a hard time about one single bad experience [ ? ? ? ? ?] made me do.
"I have problem with crickets that keep destroying my garden," I complained.
"Take some soap and put it in water and keep spraying it lightly on the plants every day." [ ? ? ? ? ?] suggested. And I blindly followed [ ? ? ? ? ?] advice. However, I remarked that my plants were growing unhappy and sort of sick. Thus I decided to spray only the half of the plants with diluted soap and watch the results. It didn't take long to see the soap was responsible for the bad effects. So I stopped completely. After that I kept telling [ ? ? ? ? ?]: "I know what you studied! You studied how to kill plants with diluted soap!"
"Shut up! You just didn't do it right."
[ ? ? ? ? ?] treated me as if I were [ ? ? ? ? ?] brother, and I did as if [ ? ? ? ? ?] were my sister. Of course, some might say that all that interrogator's stuff is a trick to lure detainees to provide them information. So they can be friendly, sociable, humane, generous, sensitive, but still they are evil and ungenuine about everything. I mean, there is a good reason to doubt the integrity of interrogators, if only due to the nature of the interrogator's job. The ultimate goal of an interrogator is to get intel from his target, the nastier the better. However, interrogators are human beings with feelings and emotions. There are all kinds of interrogators, good, bad, and in-between.
Besides, here in GTMO Bay everything is different.
It's very funny how false the picture is that Western people have of Arabs: savage, violent, insensitive, and cold-hearted. And I can say with confidence that Arabs are peaceful, sensitive, civilized, and big lovers, among other qualities. [I told] [ ? ? ? ? ?], "You guys claim that we are violent, but if you listen to Arabic music or read Arabic poetry, it is all about love. On the other hand, American music is about violence and hatred, for the most part." During my time with [ ? ? ? ? ?] many poems went across the table; I haven't kept any copies, [ ? ? ? ? ?] has all the poems. [ ? ? ? ? ?] also gave me [ ? ? ? ? ?] small Diwan. [ ? ? ? ? ?] is very surrealistic, and I am terrible when it comes to surrealism. I hardly understood anything in her Diwan.
The next one and a half pages are redacted.
The above is an excerpt from Mohamedou Ould Slahi's handwritten 466-page memoir, composed during his detention at Guantánamo and declassified by the U.S. government. These excerpts were chosen by Larry Siems and edited by Slate. Since Slahi remains in custody and cannot freely communicate, we have limited our editorial changes to correcting grammar and clarifying idiomatic phrasing in order to preserve his unique voice. In the few instances where his meaning required additional context, we have inserted text marked off in brackets. Click here for more on the Guantánamo Memoirs.