The Guantánamo Memoirs of Mohamedou Ould Slahi
How the United States kept him silent for 12 years.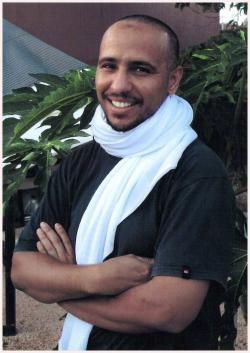 Mohamedou Ould Slahi began to tell his story in 2005. Over the course of several months, the Guantánamo prisoner handwrote his memoir, recounting what he calls his "endless world tour" of detention and interrogation. He wrote in English, a language he mastered in prison. His handwriting is relaxed but neat, his narrative, even riddled with redactions, vivid and captivating. In telling his story he tried, as he wrote, "to be as fair as possible to the U.S. government, to my brothers, and to myself." He finished his 466-page draft in early 2006. For the next six years, the U.S. government held the manuscript as a classified secret.
When his pro bono attorneys were allowed to hand me a disk labeled "Unclassified Version" last year, Slahi had been a Guantánamo detainee for more than a decade. I sat down to start reading his manuscript nearly 10 years to the day from the book's opening scene:
"[Redacted] July 2002, 22:00. The American team takes over. The music was off. The conversations of the guards faded away. The truck emptied."
We're in the middle of the action. Slahi's life in captivity had begun eight months earlier, on Nov. 20, 2001, when Slahi, then 30, was summoned by Mauritanian police for questioning. He had just returned home from work; he was in the shower when police arrived. He dressed, grabbed his car keys—he went voluntarily, driving himself to the police station—and told his mother not to worry, he would be home soon.
Slahi wasn't alarmed because he had been questioned many times: a résumé that read like success for the eighth child of Saharan camel herders was also full of red flags for intelligence services. At 18, he won a scholarship to study engineering in Germany. He interrupted his studies in 1990 to travel to Afghanistan to join the U.S.-supported fight against the communist government in Kabul, training in an al-Qaida–affiliated camp and formally joining the organization. He saw action a year later, in one of the last battles before the Soviet-backed government fell. He returned to his studies in Germany in March 1992, four years before Osama Bin Laden declared war on the United States, but a cousin stayed in Afghanistan, becoming one of Bin Laden's spiritual leaders. Slahi lived in Canada for a few months in late 1999 and early 2000, leading prayers at the same Montreal mosque Ahmed Ressam had attended; Ressam, who left Montreal shortly before Slahi arrived, was picked up entering Washington state two weeks before New Year's Eve with a trunkload of explosives and a plan to bomb Los Angeles International Airport.

When Slahi drove to his local police station, he expected more questions about Ressam. He had already been cleared of involvement in the foiled LAX plot twice, first by Canadian intelligence and then by his own government when he returned home in 2000. But things were different after the Sept. 11 attacks; this time, the Mauritanians handed him over to the U.S. government, which put him on a rendition flight to Jordan. When after eight months the Jordanians also concluded that Slahi had nothing to do with the millennium plot, the United States retrieved Slahi and, as he describes in his manuscript's first scene, sent him to Bagram Air Base in Afghanistan. Two weeks later he was sent to Guantánamo. Not long after his detention there, another suspicious association surfaced: In Germany, in 1999, Slahi had met Ramzi Bin al-Shibh, who now stands accused of facilitating the 9/11 hijackings, and two men the U.S. government alleges were among the hijackers, and housed the men for a night; under torture in a CIA black site, Bin al-Shibh claimed Slahi had directed the men to Afghanistan for training.
What followed was one of the most stubborn, deliberate, and cruel Guantánamo interrogations on record. Secretary of Defense Donald Rumsfeld personally signed Slahi's interrogation plan. Like Mohamed al-Qahtani, the Pentagon's other "Special Project," Slahi would be subjected to months of 20-hour-a-day interrogations that combined sleep deprivation, severe temperature and diet manipulation, and total isolation with relentless physical and psychological humiliations. He was told his mother had been detained and would soon be at the mercy of the all-male population at Guantánamo. He was threatened with death and subjected to a violent mock rendition. Declassified files, including the Defense Department's Schmidt-Furlow Report, the Justice Department's investigation of FBI involvement in Guantánamo interrogations, and the Senate Armed Services Committee's report on the treatment of detainees, document the Pentagon's plan and its meticulous and malicious implementation.
That all this abuse was fruitless is clear from the 2010 decision of U.S. District Court Judge James Robertson granting Slahi's habeas corpus petition and ordering his release. Once there had been talk of trying Slahi as a key 9/11 recruiter, a capital crime, but no criminal charges were ever prepared against him. The man first assigned to prosecute him, Marine Corps Lt. Col. Stuart Couch, withdrew from the case when he discovered Slahi had been tortured. When Couch's boss, former Guantánamo chief prosecutor Col. Morris Davis, met with the CIA, the FBI, and military intelligence in 2007 to review Slahi's case, the agencies conceded they could not link him to any acts of terrorism. During Slahi's habeas corpus proceedings, the government still alleged he played a role in recruiting the 9/11 hijackers, though by then it was acknowledging, as Robertson notes in a footnote to his opinion, "that Slahi probably did not even know about the 9/11 attacks." The only evidence the government offered to support allegations of Slahi's involvement in terrorist plots came, Robertson found, from statements he made in the course of his brutal interrogation.
Slahi testified by closed video link to Washington during the habeas corpus proceedings. What he said remains classified. Until now, one of the few documents we had of Slahi describing his ordeal, in his own words, is the declassified transcript of his November 2005 Administrative Review Board hearing. The document is remarkable for the characteristic clarity and sly humor of Slahi's voice; a masked interrogator, he tells the board, "had gloves, OJ Simpson gloves on his hands." It is also exceptionally earnest. Early in his statement, he tells the board, "Please, I want you guys to understand my story okay, because it really doesn't matter if they release me or not, I just want my story understood."
At the time, Slahi was already working on his memoir. When his pro bono attorneys met him for the first time in April 2005, he greeted them with 100 handwritten pages. With their encouragement, he delivered additional installments over the next year, complaining at one point in a letter, "You ask me to write you everything I told my interrogators. Are you out of your mind! How can I render uninterrupted interrogation that has been lasting the last 7 years? That's like asking Charlie Sheen how many women he dated." And yet Slahi's writing is much more than a litany of abuses. It is driven by something much deeper: not just the desire to "be fair," as he puts it, but to understand his guards, his interrogators, and his fellow detainees as protagonists in their own right, and to show that even the most dehumanizing situations are composed of individual, and at times harrowingly intimate, human exchanges. The result is an account that is both damning and redeeming.
This week, Slate is publishing a three-part series of excerpts from Slahi's declassified manuscript. Had Slahi been released following his habeas corpus victory in 2010, we may well have heard him tell many of these stories. But the Obama administration appealed Judge Robertson's decision, and later this year Slahi's attorneys will once again be arguing his habeas petition in a Washington, D.C., federal court. Slahi will again testify by video link from Guantánamo, and his testimony will likely once again be classified. Here, at least, is some of what he might say.