Some of America's Worst For-Profit Colleges Are Raking It In
Here's how much they're billing taxpayers.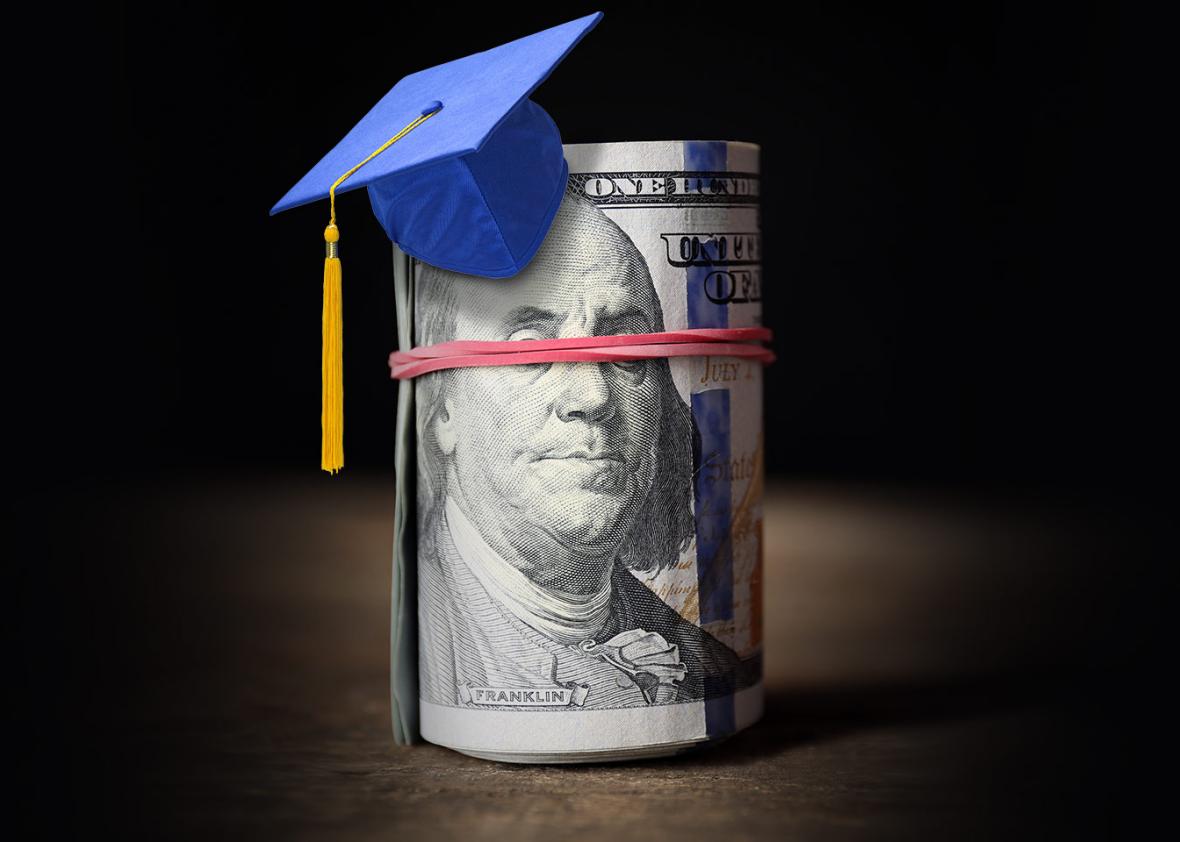 Alejandro Amor, the former owner and CEO of the now-defunct for-profit FastTrain College, made news last year when prosecutors alleged he told an associate to hire strippers—"the sluttiest girls he could find"—as a recruiting tool. Now he's facing a jury trial for fraud after his "admissions representatives" allegedly enrolled 1,300 students lacking eligibility requirements like high school diplomas so FastTrain could take in $6.5 million in federal student grants and loans. Amor owned a $2 million home and a 54-foot yacht named Big One.
While exotic dancers in the admissions office are an unusual way to boost enrollment numbers, FastTrain's other tactics—recruiting ineligible students and fudging their records—are not. In recent years, for-profit colleges like FastTrain have faced increased scrutiny for their business models, which often involve aggressive or misleading recruitment, excessively high tuition, poor academics, low graduation rates, high loan-default rates, and deceptive or fraudulent reporting. But as the New York Times reported in October, even campuses flagged for noncompliance by the Department of Education or facing Justice Department investigations manage to exploit loopholes and reap millions in federal student aid.
The Department of Education publishes a quarterly list of schools with financial or federal compliance issues that warrant additional spending oversight. Schools on this Heightened Cash Monitoring list must pay out student aid upfront and then request reimbursement from the government. Under normal circumstances, federal aid is awarded to schools in advance. Under Secretary of Education Ted Mitchell explains that while schools end up on the list for a range of infractions from "serious to less troublesome," HCM designation should be seen as a "caution light" to students and taxpayers.
Placement on this list can be devastating to colleges, particularly when paired with additional holds on federal payouts. Last year, heightened cash monitoring and a 21-day freeze on payments sent for-profit chain Corinthian Colleges into collapse, eventually causing the company to sell off or close its campuses and declare bankruptcy. Now, the Justice Department is investigating whether Corinthian's 80 bank accounts still contain federal dollars that never made it to students.
However, the added restrictions did not keep the rest of the hundreds of for-profit institutions on HCM from pulling in a total of $5.4 billion in federal grants and loans for the 2014–2015 academic year. At least $3.6 billion of that haul went to campuses owned and operated by just four massive companies—Education Management Corporation, Laureate International, Career Education Corporation, and ITT Educational Services.
Slate Academy: The United States of Debt
How did debt get so bad in the United States? Join personal finance columnist Helaine Olen as she takes in-depth look at the reality of debt in America. What's it like to empty out your 401(k) to help a family member? How does a first-generation college student navigate student loans at a for-profit school? What works—and what doesn't—for people struggling to get out of debt? Find out in this series. Join us today.
The largest beneficiary, EDMC—a sprawling company operating 28 Brown Mackie campuses, 52 Art Institutes, 17 South University campuses, and 20 Argosy University locations—has faced lawsuits or investigations by the Justice Department and at least 12 state attorneys general since 2011. Eighteen of its campuses found their way onto the HCM list. Even so, those 18 locations raked in $1.4 billion last year in federal student grants and loans.
And during heightened cash monitoring of ITT Educational Services last month, the Department of Education said it uncovered several discrepancies in company filings that "demonstrate a failure by ITT to meet its fiduciary obligations" and to meet "the standards of administrative capability" required to receive federal aid. The department is introducing additional restrictions and oversight to ITT disbursements, yet the company's continued failure to meet department standards did not stop it from taking in $579 million for campuses on the HCM list last school year.
The chart below (which pulls from the Department of Education's federal grants and loans volume report and the most recent HCM list) demonstrates that last school year, there were at least 21 for-profit companies whose HCM-listed campuses received $20 million or more in federal aid. Clicking on a company displays information about other lawsuits and investigations it faces from state attorneys general, the Justice Department, or other entities. If anything, the recorded federal funding amounts below are low: Although for-profit schools are capped at receiving 90 percent of their funding from federal grants and loans, a loophole counts GI Bill funds and Department of Defense Tuition Assistance funds toward the private, 10-percent side, leaving veterans particularly vulnerable to for-profit recruiting.
These Companies Received More Than $20 Million in Federal Student Aid to Run Campuses on the HCM List
Click on the bars to learn more.
Only a fraction of all this funding will actually support academic instruction. A 2012 Senate investigation of 30 for-profit schools (including eight charted below) found the companies spent 22 percent of all revenue on marketing, advertising, recruiting, and admissions staffing—and only 17 percent on instruction. In 2009, for-profit instructional spending averaged out to $2,050 per student, compared to $7,239 at public institutions and $15,321 at private nonprofits. Meanwhile, average for-profit CEO pay was $7.3 million.
And the majority of government funding is awarded in student loans, which many for-profit schools leave their graduates (and their dropouts) unprepared to pay back. A Brookings Institution paper this fall reported that 47 percent of student borrowers at for-profit schools who entered repayment in 2009 defaulted within five years. Last year, 13 of the top 25 schools whose students owed the most federal debt were for-profit institutions.
Although the Department of Education has stepped up its oversight in recent years by introducing heightened cash monitoring, freezing Corinthian's payouts, and putting ITT in hot water, billions of federal dollars are still finding their way into the hands of massive for-profit corporations with histories of predatory behavior, inferior academic programs, and outright fraud.