How Many People Have Been Shot in Your Neighborhood This Year?
A map of shootings in America.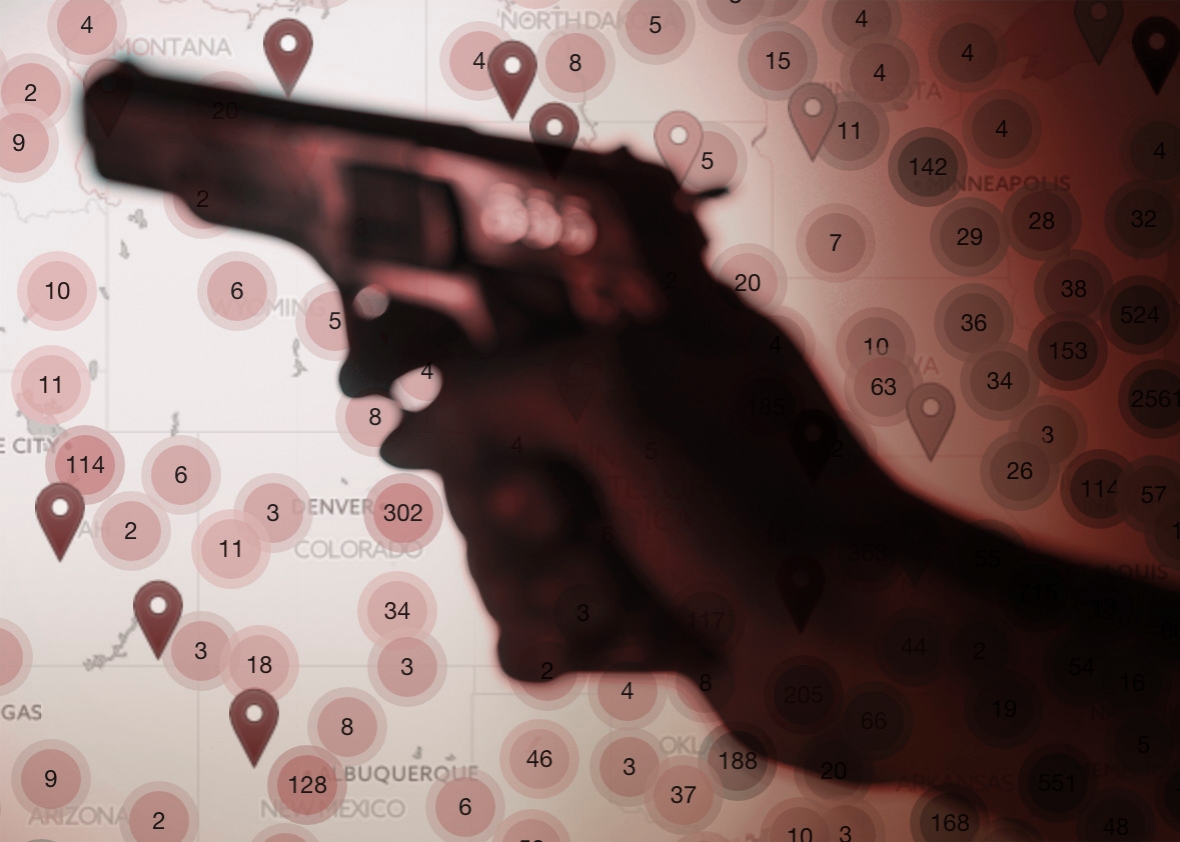 Update, June 14, 2016: On Sunday, an armed gunman killed 49 people at a club in Orlando, Florida, before dying in a shootout with police. This map has been updated to include that incident as well as all recorded incidents from June 13, 2015, to June 13, 2016.
In relentless succession, a parade of towns and cities has this year joined the ranks of American mass shooting locations. The mere mention of the places—Charleston, South Carolina; Chattanooga, Tennessee; Colorado Springs, Colorado; San Bernardino, California—evokes images made familiar at Columbine, Colorado, and Blacksburg, Virginia, and Tucson, Arizona, and Newtown, Connecticut: the police battalions rushing to respond, the shocked survivors and bereft loved ones, the eerie portraits of newly infamous killers.
But the truth is that these cities and towns and the events that now define them, however lethal they were and however large they understandably loom, constitute just a small fraction of the gun violence recorded in America during this or any year. In 2013, the most recent year for which government statistics are available, less than 2 percent of more than 33,000 gun deaths in the country were due to mass shootings. Tallies of gun-related fatalities are in turn dwarfed by totals for gun injuries. Every 12 months, more than 130,000 people are shot; many are left with devastating physical impairments and crippling health care bills.
Thanks to a nonprofit, nonpartisan project known as the Gun Violence Archive, data on gun homicides and nonfatal shootings is now available well before the federal government releases its statistics. Those data include location information that makes it possible to plot those shootings on a map showing how many have taken place in your vicinity.
Violent crime has fallen drastically since the 1990s, but guns stubbornly claim a disproportionate share of American misery, with the rate of firearms-related death largely holding steady for the past 15 years. That grim constancy has come as regulation, industry safety improvements, and public health campaigns have reduced the mortality of other products. Centers for Disease Control and Prevention tables show that in 2013, guns killed 3,428 more people than falls, 4,635 more people than alcohol, and 30,876 more people than fires. Researchers have forecast that 2015 will be the year that bullets kill more Americans than car accidents, which had long been the leading cause of injury death in the U.S.
Rarely does routine gun violence make the front pages. Always, there are Americans for whom it hits home. That may be the volunteer EMS crew in Imperial, Nebraska, who lost longtime member Dave Ridlen to a rifle accident in early November. Or the Carthage, Texas, family robbed of a 22-year-old son after Jonathan Todd Williams was asked by his father to answer a knock at the door, only to be blown away. It includes the South Carolina grandmother killed in her car when her 2-year-old grandson found a loaded revolver in the back seat. Or the eight members of Valerie Jackson's family, including six children, all murdered by her ex-boyfriend David Conley, who acquired a gun online despite being prohibited from owning one. But even as gun violence occurs all over the country, its burdens are unequally distributed. In parts of cities like St. Louis, Chicago, and Baltimore—not to mention forgotten parts of cities like Charleston, Chattanooga, and San Bernardino—shots ring out with terrifying frequency and density, without drawing CNN's broadcast trucks or prompting the president to step up to a podium.
Public opinion polls show that Americans are concerned about gun violence in general and dramatically under- or misinformed about its specific consequences. Asked in an October Washington Post/ABC News survey, 46 percent of Americans called new laws to reduce gun violence a priority. Those queried separately by the Huffington Post that same month grossly underestimated the number of Americans who died by guns, with the median guess coming in at 5,000 per year, less than a sixth of the actual total.
The interactive map included in this article is the result of a collaboration between Slate and the Trace, employing the aforementioned Gun Violence Archive data. It represents an attempt to close the gap between awareness and understanding. When shooting deaths and injuries are laid out geographically, one is able to assess first the sweeping reach of gun violence, and then its pernicious patterns, the dots growing ever denser as the reader scans from the countryside to the suburbs to the inner city. Finally, mapping gun violence this way makes it possible to see how often it has played out in your own neighborhood, town or city, and state—and how close it has come to touching the routes you travel in your own life, as well as those of your family members, friends, and co-workers.
In all, the map contains 30,215 incidents recorded by the Gun Violence Archive from Dec. 5, 2014, to Dec. 5, 2015. As comprehensive as it is, it's also incomplete: Guns are used in twice as many suicides as homicides (and are the most lethal means of suicide). But because many suicides are not reported in real time by the law enforcement sites and news outlets that the GVA mines in compiling its database, they are missing from this visualization. Also not included are an additional 9,000 episodes in which no one was struck by a bullet, though some of that gunfire undoubtedly affects those who witness or hear it.
What you're seeing, then, is gun violence in all its other forms: homicides, attempted murders, assaults, self-defense shootings, and accidents. For 80 percent of the cases, location information for the shooting is available down to the block level. Another 18 percent of locations are exact to the street level, with the remaining 2 percent limited to the city level.
Our plan is to update this map in two ways. The first is to add information about the ages and genders of the victims to the summary boxes that pop up when you click on a pin and the option to view layers of economic and demographic data to the map as a whole. Every three months or so, we'll also refresh the map with the most recent 12 months' worth of shootings. In the meantime, we'll work with the Gun Violence Archive to refine the underlying data as more granular information becomes available from press reports, law enforcement sources, and reader feedback.

This interactive is a collaboration between Slate and the Trace employing data provided by the Gun Violence Archive, an organization that records U.S. shootings in real time by monitoring more than 1,200 sources, including media reports and police blotters. GVA's team of researchers verify each incident by double-checking the details against published accounts; when information remains uncertain, GVA requests corroborating materials from local police and coroners as they become available.
Correction, Dec. 31, 2015: A headline for an update of this article originally stated that 32,000 shootings happened in 2015. The Gun Violence Archive dataset currently includes 30,088 reported shootings in 2015. The headline has been revised to reflect this.
Correction, Dec. 10, 2015: This map originally misidentified 69 incidents in which somebody killed himself or herself without hurting anyone else, or tried to. Although these incidents occured, they should not have appeared on the map, which charts homicides, attempted murders, assaults, self-defense shootings, and accidents. These suicides or attempted suicides have been removed; suicides or attempted suicides in which somebody else was hurt, such as murder-suicides, remain. The map now includes a total of 30,215 incidents. This map also misidentified the location of several shootings around Washington, D.C. Their locations have been updated.
Update, Dec. 8, 2015: The map has been updated based on user responses to distinguish accidental shootings, defensive shootings, and officer-involved shootings. Contextual characteristics about the incidents now appear in incident pop-ups. Information about the methodology behind the map has been added.
Correction, Dec. 8, 2015: Due to an editing error, this article originally misspelled Alex Yablon's last name. Also, the map originally included some incidents involving a gun in which somebody was injured but no shots were fired, such as pistol whippings, and incidents involving pellet guns. These events have now been removed. The map now contains 30,284 incidents instead of 30,920.