Did Your State Pass Any Gun Control Laws Since Newtown?
The 20 states that passed 41 new state laws to restrict guns or improve background checks.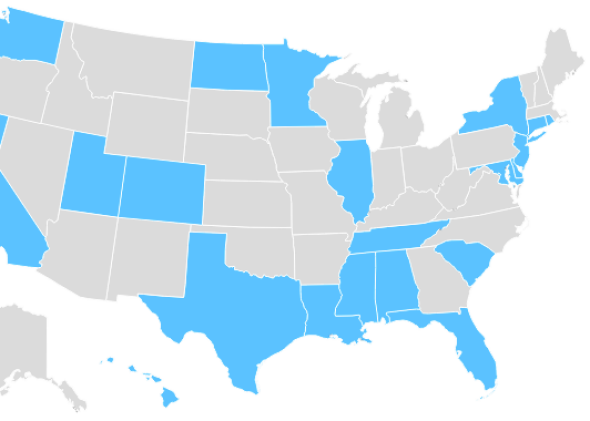 The massacre of 26 people at an elementary school in Newtown, Conn., a year ago spurred new legislative effort to rein in guns across the country. Although attempts to increase gun control at the national level failed, 20 states were able to ban some types of guns, limit magazine capacities, expand background checks, or otherwise restrict gun ownership, according to the Law Center to Prevent Gun Violence. Even some conservative states passed new gun control laws, mostly to strengthen coordination with a federal database of people ineligible to own guns.
Below is the map Slate created from a list of 2013 gun legislation compiled by the Law Center. Each state shaded blue passed gun control legislation in this year. Click on a state to see the Law Center's descriptions of the gun bills it passed.
Here's a full list of the 41 laws included on this map, with the Law Center's descriptions:
Gun Laws Passed Since Dec. 14, 2012
Click on a state to learn more about its new laws.
AL S 133: Strengthens requirements regarding sending mental health records to the National Instant Criminal Background Check System (NICS) and require petition for relief of disability due to mental health issue to be directed to circuit court rather than probate.
CA S 140: Provides funding to the Department of Justice to address the backlog in the Armed Prohibited Persons System.
CA A 48: Bans "conversion kits" that create large capacity ammunition magazines.
CA A 170: Prevents corporations, partnerships, and other organizational "persons" from receiving a permit to own an assault weapon.
CA A 231: Expands child access prevention law to cover anytime a weapon is left in a place where a child may gain access to it.
CA A 500: Requires safe storage of firearms for people living with prohibited persons. Allows DOJ to obtain an additional 30 days to conduct a background check when the ordinary 10 day period is insufficient.
CA A 539: Allows prohibited people to transfer their firearms to a firearms dealer to hold for them until they become eligible to possess a firearm again.
CA A 1131: Extends the prohibition on owning a firearm for persons who have made specific credible threats to a psychotherapist from six months to five years. Makes reporting of such threats to DOJ electronic.
CA S 363: Holds firearm owners liable for leaving guns where a prohibited person is likely to gain access if such a person does gain access and takes the gun into a public place or harms someone with it.
CA S 683: Requires all gun purchasers to obtain a firearm safety certificate (previously handguns only).
CA S 127: Requires electronic reporting of credible threats against specific people to DOJ.
CO H 1224: Bans sale, transfer, and possession of large capacity ammunition magazines (LCAMs).
CO H 1229: Requires background checks for private sales and mental health reporting to NICS.
CO S 195: Prohibits online training for CCW permit applicants.
CO S 197: Provides mechanisms to help disarm domestic violence perpetrators.
CT H 6702: Strengthens law requiring subjects of restraining orders to surrender firearms.
CT S 1160: Strengthens assault weapon ban, bans LCAMs, creates gun offender registry, requires permit for long guns and ammunition purchase (note CT S 1094 provides amendments).
DC B 888: Expands prohibition on certain types of ammunition.
DE H 35: Requires background checks for private sales of firearms.
DE S 16: Requires any owner of a firearm to report the loss or theft of the firearm within seven days after the discovery of the loss or theft to either local law enforcement or the state police.
FL H 1355: Expands mental health prohibitions and reporting of records.
HI S 69: Requires all gun registration applicants to be fingerprinted.
IL H 1189: Requires private firearms sellers to use the State Police's dial-up system to verify that the buyer is the holder of a valid FOID card before making a transfer; requires owners of firearms to report loss or theft of firearms.
LA H 717/S135: Strengthens laws requiring reporting of certain prohibited persons to state supreme court and NICS and provides process for relief from disabilities.
MD S 281: Strengthens assault weapon ban, bans LCAMs, provides a mechanism to remove firearms from unstable individuals, regulates ammunition possession, requires a handgun license, requires registration for new residents, and requires lost or stolen firearm reporting.
MN S 671: Requires submission of records regarding prohibited persons to NICS.
MS S 2647: Facilitates the reporting of certain information to the FBI solely for the purpose of inclusion in the NICS database and allow prohibited individuals to petition for relief from mental health disability.
ND H 1327: Requires a NICS check to be completed on CCW permit applicants.
NJ A 3687: Disqualifies any person named on the federal Terrorist Watchlist from purchasing a firearm.
NJ A 3717: Requires submission of certain mental health records to NICS.
NJ A 3797: Would have required law enforcement to include gun trafficking information in certain reports and state databases.
NY S 2230: Imposes numerous provisions to: strengthen the assault weapons and LCAM bans; provide a mechanism to remove firearms from unstable individuals, close private sale loophole, require lost and stolen reporting, require safe storage and regulate ammunition sales.
RI H 5286/RI S 455: Makes it unlawful for any person to receive, transport or possess any firearm which has had any maker, model, manufacturer's number or other mark of identification removed, altered, or obliterated.
RI H 5992/RI S 862: Creates a Behavioral Health and Firearms Safety Task Force to review, and make recommendations for, statutes relating to firearms and behavioral health issues.
SC H 3560: Strengthens prohibitions on firearm possession by dangerously mentally ill, requires submission of records to NICS and cross-checking of mental health adjudications with CCW permittees for purposes of disarming prohibited persons.
TN S 789: Requires courts to submit mental health adjudication information to NICS.
TX S 1189: Provides that a police officer taking a person into custody because he or she is mentally ill and poses a serious risk of harm to self or others may immediately seize a firearm in the person's possession. Provides a procedure for return or other disposition of the firearm.
UT H 50: Allows a court to prohibit the subject of a dating relationship protective order from possessing firearms.
UT H 121: Authorizes a cohabitant who owns a firearm to voluntarily commit the firearm to law enforcement for 60 days if the cohabitant believes another cohabitant is an immediate threat.
WA H 1612: Creates a gun offender registry.
WA S 5282: Creates a statewide database of mental health information, and require the submission of mental health commitment records to the state department of licensing.