Weight Watchers
The skinny on which trendy diet is best.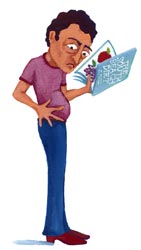 America must be getting thinner, right? McDonald's has stopped super-sizing. Coke has launched its "half the sugar, half the carbs" C2 cola, and it seems like every week a new diet book hits the shelves and the best-seller lists.
I myself have been a fat skinny-guy since I started drinking beer at age 14. Imagine Chris Farley's belly on Mick Jagger's frame. That's me. I've tried running, a daily sit-up routine, yoga, swimming. Once I even tried to stop drinking. That lasted an afternoon. Lately I've been watching Nip/Tuck and fantasizing about getting my gut sucked out with a tube. Then I thought about the cost (about $3,000) and the bruises. Eventually, I came to accept that I would always have my new friends, the gut and love handles. Maybe we could start a band together.
After a friend told me he lost 15 pounds on a low-carb fad diet, I decided to head to my local Borders bookstore to see if there was a diet book right for me. When I discovered an entire section dedicated to diet books, I was immediately overwhelmed. What's the difference between Atkins and The Zone? Dr. Phil is loud, mean, and kind of chubby himself—why should I listen to his dietary recommendations? Does the Maker's Diet involve drinking large quantities of Maker's Mark? Isn't alcohol what got me bloated in the first place? What's a fat skinny-guy to do?
Admittedly, it was the "Lose Belly Fat First!" emblazoned inside a gold circle on the cover of The South Beach Diet that won me over.
At a recent summer barbecue, reluctantly rejecting beer, potato salad, and the most succulent watermelon I have ever seen, I told friends I was starting Day 1 of the South Beach Diet (for a story I was writing for Slate, I made sure to disclaim), a regimen that begins with a two-week induction period in which sugars, carbohydrates, higher-fat meats, and alcohol are to be avoided like anthrax. My friends looked at me with a combination of disbelief and disdain. I was, after all, a seemingly skinny guy. Then I slowly lifted my T-shirt and introduced them to my inner Michelin Man. After they stopped laughing, my friends agreed maybe the South Beach Diet wasn't such a bad idea.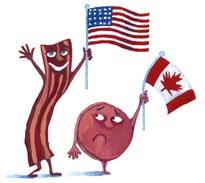 I cheated a little during the induction phase, mostly on the alcohol ban (I had a wedding to attend, four cross-country flights to endure, and two air-guitar competitions to compete in—as if I could avoid all alcohol under such circumstances!). I also sometimes ate "American" bacon instead of Canadian bacon—let's just call that patriotism. Despite my occasional straying from the South Beach dogma, I did manage to lose about seven pounds. By Day 4, my gut really did feel different. It was smaller and less blubbery. I think I actually detected muscle under there for the first time in almost 15 years.
Giddy with my success in completing Phase 1, I decided to return to my normal eating and drinking routine (usually a mixture of gourmet foods and lowbrow junk) and celebrated with three slices of pizza and an ice-cold Coca-Cola (regular, not C2). To my surprise, sugary things tasted too sweet and I began to stare at high-carb foods with confusion and distrust, like a dog tilts its head after being yelled at for peeing on the divan. Bread now seems like a bizarre thing with which to begin a meal. I've been drinking vodka (among the lowest in carbs of all alcohols) mixed with soda (no sugar) instead of beer, and I still feel pretty good. I've only gained back a pound or two.
Though I chose to do South Beach, I was still curious: What really makes one diet different from the next and how does the average, uninformed person like me know which book in the heap to reach for? I decided to compare some of the books in a highly unscientific study to find out how each of them "weighs in," in terms of crucial factors—like, what celebrities are doing it? What delectable foods are off-limits? And, most important, how easy is the diet?
The Skinny
The first and most successful of the low-carb diets, Atkins prescribes a high-protein, high-fat, low-carb, low-sugar diet.
Atkins has become the fast-food chain of diets. There's the Atkins line of "controlled carb" snacks and Atkins-brand foods like EndulgeTM Peanut Caramel Clusters, Atkins Ready-to-Drink Shakes, and Quick QuisineTM Pasta Sides. Atkins has also teamed up with national chains like TGI Friday's and Subway to carry Atkins-approved items on their menus.
Chewing the Fat
Criticisms leveled against Atkins include the fact that the high protein intake (often in the form of red meat or dairy products like butter) means adherents are ingesting a large amount of saturated fats, which means higher "bad cholesterol" or LDL, which can mean clogged arteries.
Catchy Slogan
"Everyone knows someone who has lost weight on Atkins. Now you can be that someone!"
Can't Touch This ...
Induction phase: No more than 20 grams of carbohydrates per day. No fruit, bread, grains, starchy vegetables, dairy except cheese, cream, and butter (that means no yogurt or ice cream), alcohol, or caffiene.
Caffeine is discouraged as Atkins claims that "excessive caffeine has been shown to cause a hypoglycemic reaction which will provoke cravings and cause you to overeat." It also promotes productivity and allows me to even consider getting out of bed in the morning. But I guess these are the choices we must weigh if we want to shed the pounds.
Subsequent phases allow gradual introduction of things like berries, wine, and starchy vegetables.
Author's Life-Changing Miracle
Atkins was the first to go against the American Heart Association's guidelines advocating a high-carbohydrate, low-fat diet. Americans responded by buying over 10 million copies.
Supposed Devotees
Gerri Halliwell, Calista Flockhart, Renée Zellweger.
Not Good To Do If ...
You're a vegetarian or you have an advanced kidney disease (rare), which makes it difficult for your body to handle protein.
For Lovers Of ...
Red meat, fish, eggs, salad.
Best Recipe
Roasted Salmon With Macadamia-Cilantro Crust
Worst Recipe
Italian Tuna Paté made with one can of tuna, one stick of butter, parsley, lemon juice, salt and pepper, pureed in a food processor. Tuna and butter?
Hardest Claim To Swallow
"Most people find that once they shake off the sugar addiction, they feel no strong desire to go back to it."
Do-ability
It's hard to say no to so much bacon and butter.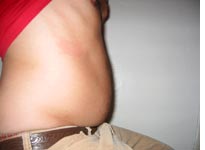 The Skinny Though very similar to the Atkins Diet, the South Beach Diet has been so successful in part because it is simply a more organized, better read. It's also an easier and more flexible diet to follow than many of the other diets out there.
Agatston's approach combines the most productive part of Atkins—a two-week induction phase that seems to miraculously let the air out of the tire around the middle of your torso—with an ongoing maintenance diet that is low in carbs, low in saturated fats, and high in fiber.
It's similar to Atkins, but with Canadian bacon.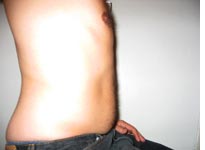 Chewing the Fat Though you may lose a substantial amount of weight quickly on South Beach, it's not exactly the healthiest of long-term diets—it encourages the consumption of processed foods like low-fat cheeses and egg and butter substitutes.
Catchy Slogan
"The Delicious, Doctor-Designed, Foolproof Plan for Fast and Healthy Weight Loss."
Can't Touch This ...
Phase 1: No alcohol, fatty meats, pasta, sugar, sugary veggies like carrots and beets, all fruits and fruit juices, cookies, potatoes, milk, ice cream.
Subsequent phases allow the re-introduction of "healthy carbs" like fruit and some whole grains. South Beach is more specific than Atkins about which fruits you can reintroduce (apples, berries, cherries = good; bananas, pineapples, raisins, watermelon = bad).
Author's Life-Changing Miracle
As a cardiologist, Agatston was searching for a way to reduce heart disease arising from obesity; he tried his low-carb low-sugar theory on himself and lost eight pounds in seven days.
Supposed Devotees
Bill and Hillary, Bette Midler.
Not Good To Do If ...
You are Italian and you live with your mother. (Pasta is always strictly off limits.)
For Lovers Of ...
Eggs—and lots of them, lean meats, fish, nuts, ricotta cheese (used in lots of desserts).
Best Recipe
Spicy Tuna from Miami Beach's China Grill Restaurant with roasted spices and jalapeño vinaigrette.
Worst Recipe
Surprise South Beach Mashed "Potatoes" made with 4 cups cauliflower, 1 ounce of I Can't Believe It's Not Butter! spray, 1 ounce fat-free half & half, salt and pepper, pureed as a surrogate for Thanksgiving turkey's favorite companion.
Hardest Claim To Swallow
"You're going to be shocked at how painlessly 2 weeks will pass without these foods."
Do-ability
Though some of the suggested foods (turkey wrapped in lettuce, desserts made with ricotta cheese and lemon zest) can be a little bland, it's not a very difficult regimen, and you can still eat a lot of pleasurable foods such as steak, fish, chicken, and vegetables.
The Skinny
"Want to eat well, stay fit, and look fantastic the way the rich and famous do in the Hamptons?" Written by a former medical director of the Atkins Institute who lives in Dallas but happens to have a house in East Hampton, N.Y., the diet's actual relationship to the Hamptons is about as thin as a South Beach thong.
The Hamptons Diet touts its big difference—the inclusion of macadamia nut oil—as the only oil worth cooking with due to its high levels of monounsaturated (aka good) Omega-9 fatty acids and high smoke point (the temperature at which an oil begins to form trans-fatty acid); but aside from that, the diet is quite similar to Atkins, South Beach, and even Okinawa (see below). The diet proscribes simple carbohydrates (bread, pasta, rice, pretzels, etc.) and trans-fats (partially hydrogenated oils, processed foods) and encourages healthy proteins (lean meats, fish, nuts) and high monounsaturated fat oils (like macadamia nut and olive oil).
Chewing the Fat
While it's an obvious attempt to capitalize on the South Beach Diet craze, the Hamptons diet is a healthy way to lose weight. It focuses more on whole and organic foods and healthy fats for long-term health. Macadamia nut oil, preferably from Australia—the book makes one wonder if Pescatore is getting kickbacks from Australia's nut oil exporters—has the highest amount of monounsaturated fat on the market. Pescatore doesn't provide a great deal of evidence that eating oils high in monounsaturated fat is good for you or that it will help you lose weight; he simply points to the Mediterranean and Japanese diets as examples of how high monounsaturated fats can help reduce rates of heart disease and cancer.
Catchy Slogan
Diet secrets of the rich, famous, and thin.
Can't Touch This ...
White flour products, refined carbs, and processed foods; all sugar and high sugar fruits like bananas; trans-fatty acids (found in processed foods and margarine); high Omega-6 oils like corn, safflower, sunflower (which increase inflammation levels in the body), and highly processed oils like canola and many olive oils.
Author's Life-Changing Miracle
Disagreed with his employer, Dr. Atkins, that "all fat is good for you," and decided to break out on his own.
Supposed Devotees
Sarah Jessica Parker, Reneé Zellweger (diet slut!), Matt LeBlanc.
Not Good To Do If ...
You don't like the flavor of macadamia nut oil (Pescatore claims he's never "known anyone who doesn't") or you're allergic to it.
For Lovers Of ...
Fish, nuts, vegetables, and organic foods.
Best Recipe
Pecan Bacon-Wrapped Pork Tenderloin.
Worst Recipe
Daddy's Meatballs.
OK, the name frightened me—weren't the Friedmans (as in "Capturing the") from Long Island? That's near the Hamptons, right?
Hardest Claim To Swallow
"This summer everyone will be leaving South Beach and going to the Hamptons!"
Do-ability
The menu plans are a little difficult to follow (meals are broken down into different carbohydrate count categories), and counting carbs is a bit of a hassle, but the suggested foods are generally tasty.
The Skinny
After dropping from 180 pounds to 104 pounds due to Crohn's colitis—an inflammation of the small intestine and colon that essentially prevents the body from digesting and absorbing any nutrients—author Jordan Rubin visited countless doctors and tried every nutritional supplement he could find. Then a nutritionist recommended he try the "diet of the Bible" (based in part on the Kosher menu) including raw goat's and cow's milk, organic meats and eggs, sprouted grains, raw nuts and seeds, and other raw foods.
Jordan nursed himself to health by combining his biblical diet with HSOs—homeostatic organisms in the form of a black powder resembling dirt, which are supposedly missing from today's soils, and which contain bacteria and organisms needed by the digestive tract for good health. As Jordan notes, "countless numbers of microorganisms live in the soil, in and on plants, and in the human gut," but he suggests that modern life has separated man from the earth and therefore we do not maintain a healthy level of microorganisms. Based on the diet that led to his recovery, Rubin wrote The Maker's Diet as a model for healthy living.
Where the Maker's Diet really differs from other diets is in the addition of partial-day fasts and "Clenzology," which "addresses the proper cleansing of the areas under the fingernails and the membranes around the eyes and nose" (cleanliness is next to godliness, after all) three times a day. As L. Ron Hubbard appropriated the word "Science" into his religion (making it seem, to some, more authentic), Rubin claims that Clenzology is the "the first real advancement in how we wash since the bar of soap was invented 150 years ago."
Chewing the Fat
This diet is a really big commitment.
Catchy Slogan
"The 40-day health experience that will change your life forever."
Can't Touch This ...
Phase 1 of the Maker's Diet is very similar to that of the South Beach Diet, though all non-kosher foods like pork and shellfish, as well as artificial sweeteners, are not permitted.
Other interesting foods to avoid: veggie burgers, eel, shark, soy milk; any commercial dairy products (the book's appendix provides a list of farms from which one may order raw goat and cow's milk); luncheon meats such as roast beef, corned beef, and turkey (organic turkey is acceptable, as long as it's not processed); canola, safflower, and sunflower oils; all fruits except berries, grapefruit, limes, and lemons.
You Could Probably Lose More Weight By ...
Wandering for 40 days and 40 nights in the desert.
Author's Life-Changing Miracle
From the "worst case of Crohn's disease" his doctor had ever seen to a buff, best-selling author and founder of a $50 million company.
Supposed Devotees
None reported, but I suspect Mel Gibson.
Not Good To Do If ...
You're an atheist or you don't have a lot of money to spend on organic foods and strange microorganism supplements ($45 at your local health food store or online).
For Lovers Of ...
Kosher and organic foods, Christianity, cleanliness.
Best Recipe
Easy Broiled Steak (the only ingredients are steak and butter).
Worst Recipe
Chevon Meat Loaf (chevon is goat) made with grass-fed goat and cow meat, breadcrumbs, and ketchup.
Hardest Claim To Swallow
"The Maker has given me a program for vibrant health based on His Word and the best available science, in that order."
Do-ability
Raw goat's milk and homeostatic organisms? No lunchmeats? Cleaning one's mucus membranes thrice daily? You decide.
The Okinawa Program, by Bradley J. Willcox, M.D., D. Craig Willcox, Ph.D., Makato Suzuki, M.D., $14 (Paperback).
The Skinny
Okinawa, a group of islands off of mainland Japan, has the highest life expectancy in the world and among the lowest rates of cancer and heart disease. Based on a 25-year study of the centenarians of Okinawa, the Okinawa Program offers a diet, exercise, and lifestyle program designed to help the reader achieve health and longevity.
Stressing a diet high in "good carbohydrates" (fruit, vegetables, and whole grains) Omega-3-containing foods (oily fishes like salmon or tuna, Omega-3 eggs, flaxseed), flavonoids (tofu and soy products), and good fats (olive and canola oils), the Okinawa Program differs from the other diets in that it does not include an initial strict two-week induction phase and also includes more carbs and soy products. There is a four-week program for "everlasting health," with "Western" and "East-West" menu variations, fitness suggestions (walking, tai chi), psychospiritual prescriptions (e.g., "Reach out to someone with whom you have lost contact"), and integrative health recommendations (herbal tonics and vitamins). While the four-week program is not designed specifically for weight loss, it's likely that if followed, one would drop a few pounds and perhaps become addicted to the healthy lifestyle approach that combines eating well, regular exercise, healing herbs, and spirituality.
Chewing the Fat
The authors of the Okinawa Program knock the anticarb trend and suggest that Americans are being misled by the no-carb diets. Rather than focusing on how many carbs a food has, the authors suggest looking at food's Glycemic Index, a measure of how much one's blood sugar rises after eating a particular food. Eating high GI foods means large amounts of glucose are released into the body. A large amount of glucose leads to the release of excess insulin to get rid of the extra glucose, which can lead to adult onset diabetes and obesity. Though the Glycemic Index is similarly discussed in both Atkins and South Beach, those diets have been boiled down to a simple low/no-carb diet regimen. Like many of the other diet books, the Okinawa Program includes the Glycemic Index of common foods but suggests that the Glycemic Index has been misinterpreted, resulting in an "irrational fear of carbohydrates."
Catchy Slogan
"How the world's LONGEST-LIVED people achieve EVERLASTING HEALTH—and how you can too." (Note: their caps—is this a pronunciation guide? Is that Mr. Miyagi * talking?)
Can't Touch This ...
Saturated fats (animal and dairy fat—chicken without the skin is OK—red meat) and trans-fats (cakes, cookies, chips) are strongly discouraged.
Authors' Life-Changing Miracle
Going to meet their first Okinawa centenarian, the authors encountered a sprightly man gardening in his yard that they assumed was the son of the man they were seeking to study. The miracle: He was 100 years old!
Supposed Devotees
An entire island of centenarians isn't enough for you?? You want celebrities?? You people make me sick.
Not Good To Do If ...
You don't like Japanese food or soy-based products; you want to lose a lot of weight quickly. (Since there's no boot-camp induction phase, weight loss may take longer.)
For Lovers Of ...
Carbs! "A healthy diet is high in unrefined, complex carbohydrate, high in fiber, and relatively low in fat, protein, and calories. So break out the bagels (whole-grain, please) because carbohydrates are back in!"
Best Recipe
The Okinawa Program had the best recipes of the diet books sampled. Highlights are Okinawan Blueberry Pancakes, Zesty Potatoes Wasabi Style, and Beef Teriyaki with Cabernet Sauce.
Worst Recipe
Paradise Burgers made with tofu, celery, onion, garlic, tuna, bread crumbs, salt, soy, and pepper formed into patties, baked and served on whole wheat hamburger buns.
Hardest Claim To Swallow
"Perhaps family members might be more inclined to eat vegetables and soy foods if they were presented aesthetically." Yes, Johnny will eat his Brussels sprouts if they are just done up Wolfgang Puck style.
Do-ability
The book has both "Western" and "East meets West" diet options and is a guide to healthy eating that should be achievable by almost anyone. Living to age 100, on the other hand, might not be so simple—or desirable!
The Skinny
Published in 1995, the Zone Diet, like Atkins Diet, went against the U.S. government's dietary recommendations for a low-fat/high-carb diet. Being in the Zone means eating a diet composed of 40 percent carbohydrates, 30 percent fat, and 30 percent protein.
Chewing the Fat
The diet, originally designed to increase the performance of elite athletes, involves a lot of math (calculating your lean body mass, tracking units of carbs, fats and proteins for every meal, doing protein to fat ratios, etc.). As we all know, Americans are about as good at math as they are at keeping fit.
Not-So-Catchy Slogan
"A Dietary Roadmap to lose weight permanently, reset your genetic code, prevent disease, achieve maximum physical performance, and enhance mental productivity."
Can't Touch This ...
High Glycemic Index carbs (like white breads, sugary foods), "bad" fats like egg yolks, deli meats, and fatty red meats.
Author's Life-Changing Miracle
The author's father, grandfather, and three uncles were killed by heart attacks by the age of 54. Sears went on a quest to save his own life, and believes he found it in the Zone.
Supposed Devotees
Jennifer Aniston, Reneé Zellweger (how many diets can this poor woman be on?), Cindy Crawford, Demi Moore.
Not Good To Do If ...
The sentence, "Maintaining the protein and carbohydrate blocks in a one-to-one ratio will always generate the desired protein-to-carbohydrate ratio of about 0.75, and that ratio positions you squarely in the middle of the Zone," makes you want to gouge out your eyes with a hot spoon.
For Lovers Of ...
Obsessive-compulsive dieting.
Worst Recipe
Lean Cuisine Homestyle Turkey With Vegetables (3 protein blocks). This isn't exactly a recipe, but this is the one diet book that suggests that for those who hate cooking, store-bought diet meals are A-OK!
The Zone is not exactly chock-full of delicious recipes.
Hardest Claim To Swallow
"I think you'll agree that this is an extraordinarily flexible program."
Do-ability
This diet is more complicated than doing an itemized tax return.
The New Sugar Busters, H. Leighton Steward, Morrison C. Bethea, M.D., Sam S. Andrews, M.D., and Luis A. Balart, M.D., $7.99 (paperback)
The Skinny
Also originally published in 1995, Sugar Busters was one of the first diet books on the block to tout the benefits of lowering one's daily insulin requirements by eating low Glycemic Index foods and the right (low insulin-producing) carbohydrates.
Chewing the Fat
Some critics have said that weight loss on the Sugar Busters diet is due to a lower calorie intake rather than the lower sugar intake and that there is no evidence that high insulin levels encourage the storage of extra fat. Nonetheless, Sugar Busters' overall diet prescription is a healthy one: no refined sugars or processed grains, moderate amounts of lean meats, fruits, nuts, and grains.
Catchy Slogan
"Cut Sugar to Trim Fat."
Can't Touch This ...
White potatoes, white rice, bread made with highly refined flour, corn products, beets, all refined sugars (table sugar, corn syrup, honey molasses), soft drinks, and beer.
Author's Life-Changing Miracle
One of the book's four authors lost 20 pounds, and has kept it off for 10 years—without exercising!
Supposed Devotees
Sharon Stone, Tori Spelling.
Not Good To Do If ...
You are a marathon runner or exercise junkie—"High levels of exercise require foods that generate large quantities of glucose to fuel your engine."
For Lovers Of ...
Whole grains, beans, lentils, nuts, lean meats, and sugar-free foods.
Worst Recipe
The recipes in this book come from famous restaurants in the United States and around the world, and the only real complaint is that some (like Herb-Perfumed Chicken Breast With Vegetable Fleurettes and Sweet Potatoes) have a lot of ingredients and are rather time-consuming to make. Sugar Busters! Quick and Easy Cookbook is also available for the lazier among us.
Hardest Claim To Swallow
"The world of nutrition is not flat, but round!"
Do-ability
Sugar Busters is less restrictive than many of the other diets, but it is also less structured. Part of the reason diets like South Beach are so successful, is, I believe, that they tell us exactly what to eat on a day-to-day basis.
Correction, Aug. 19, 2004: This article originally and incorrectly referred to "Mr. Myagi" from The Karate Kid. The correct spelling of the character's name is Mr. Miyagi. (Return to corrected sentence.)