Student-Loan Debt, School by School
Think student loans are an across-the-board burden? Think again.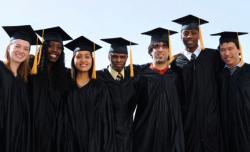 Calling student-loan debt "the next debt bomb for the U.S. economy" (as a bankruptcy attorneys group did earlier this month) may be a stretch, but debt loads can indeed be large—and vary tremendously from school to school, regardless of whether the institution is public, private, or for-profit. The percentage of students taking out loans ranges even more widely—from fewer than one in 10 at Yale University and Midland College in Texas, to 100 percent at the American Institute Of Business (and 17 other private schools).
The map below draws on data from the New America Foundation's Federal Education Budget Project, and details the debt loads at more than 1,800 four-year colleges and universities.* State-level averages are color-coded by quintile in the map; click on any dot to find details for a particular school, or use the slider to filter by percentage of students taking out loans. For more details on the data used here, please see the fine print below.
Slide to limit schools by percentage of students taking loans
All
> 20%
> 40%
> 60%
> 80%
As this map shows, the federal government makes the vast majority of student loans each year. (The balance of student loans are made by private lenders or other institutions.) To learn more about the history and cost of the federal loan program, please see this issue brief from the New America Foundation's Federal Education Budget Project.
Slate Academy: The United States of Debt
How did debt get so bad in the United States? Join personal finance columnist Helaine Olen as she takes in-depth look at the reality of debt in America. What's it like to empty out your 401(k) to help a family member? How does a first-generation college student navigate student loans at a for-profit school? What works—and what doesn't—for people struggling to get out of debt? Find out in this series. Join us today.
This map displays average student loan debt for 1,841 four-year colleges and universities—every such institution in the Federal Education Budget Project dataset for which 2009 student loan data were available. Two-year colleges and non-degree-granting institutions were not included, though the state-level averages do reflect students from such schools.

School-specific debt numbers show the average for the school's first-time, full-time students who have taken out loans in a given year. This is not an average for all students.
States are categorized by quintile. The exact dollar ranges for each color on the map are:

       Top Quintile: Greater than $7,217.07
       Second Quntile: $6,772.38 - $7,217.07
       Third Quintile: $6,417.62 - $6,772.38
       Fourth Quintile: $6,048.73 - $6,417.62
       Bottom Quintile: Less than $6,048.73

Note that state-level averages reflect all first-time, full-time students' debt, not just those at four-year insitutions. As a result, state averages are often lower than many of the school-specific averages mapped here.
Advertisement

"Annual net price" takes into account the average amount of grant or scholarship aid received by a school's full-time, first-time students, to provide a better measure of actual cost than an institution's "list price" for tuition, fees, etc. This measure includes grant or scholarship aid from federal, state, or local governments, or the institution. Other sources of grant aid are excluded. Aid received anytime during the full academic year is included. Data for public institutions are based on in-district or in-state tuition rates.
Total enrollment reflects the number of students enrolled for credit in fall of the academic year. This can include part-time students, who are not part of the loan-debt data details above.
A school's default rate reflects the percentage of a school's borrowers who default on federal student loans within two years after entering repayment. A default occurs when a borrower fails to make payments on his or her loan for 270 days.
All data are for 2009, and come from the U.S. Department of Education. Additional analysis and data are available at http://edbudgetproject.org.
Correction, Feb. 25, 2012: When originally published, this map significantly overstated the average debt load for most schools—labeling those dollar figures as the average for all first-time, full-time students. That reflected how the data are defined in the Department of Education's Integrated Postsecondary Education Data System—the "average amount of student loans received by full-time, first-time degree/certificate-seeking undergraduate students"—but the numbers are the average for students receiving loans.
This revised map corrects that error and makes clear what percentage of a school's students actually take out loans. The resulting picture is a more-nuanced "all-student average," but it also spotlights an important reality: There is a very large gap between students who take out no loans and those who borrow thousands per year. (Return to the corrected map.)