Is Chinese Takeout Really More Popular on Christmas?
A look inside GrubHub's data.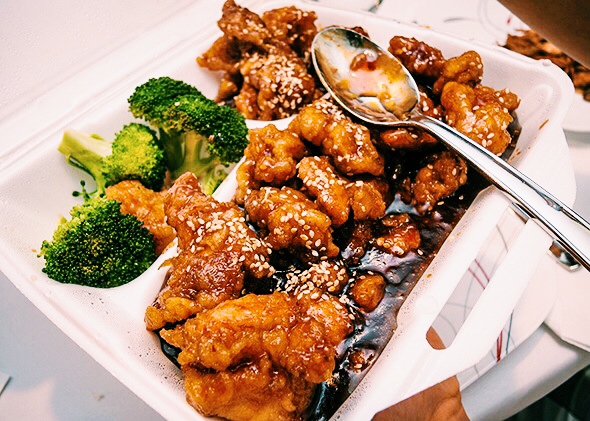 In the United States, a traditional Christmas dinner might consist of ham, mashed potatoes, and green bean casserole. Unless, of course, you don't celebrate Christmas, in which case you just order beef with peapods, sesame chicken, and a side of lo mein. But is this supposed custom of ordering Chinese on Christmas actually true in practice? Do Chinese restaurants experience a boom in sales every Dec. 25? And is the increased demand for Chinese from noncelebrants enough to make up for the drop-off in business from all those Christmas revelers cooking at home?
To answer these questions I reached out to GrubHub, the popular online food delivery and takeout service. The company's customer base admittedly skews toward a certain subset of the population; a representative told me its customers "typically range from 18–34 and are in mainly urban areas." But GrubHub is available in more than 800 cities, and it offers all types of cuisines, so it has one of the largest available data sets pertinent to this question.
GrubHub did not provide me we with the raw volume of orders to different cuisines, out of concern for the privacy of its customers and clients, but it did provide me with information about the proportion of total sales enjoyed by different cuisines and how those proportions change on any given day.
Here's an example from the data: On Feb. 2, 2014—Super Bowl Sunday—the percentage of all orders that were for pizza increased 22 percent. This could mean pizza sales increased from 10 percent of all GrubHub sales to 12.2 percent of total sales that day. But it could also mean pizza increased from 1 percent to 1.22 percent. Any percent increase described in this article represents a percentage change in percentage of orders, not a percentage change in number of orders.
So, what about Christmas? On Dec.25, 2013, the percentage of all orders that were for Chinese food increased by 152 percent. By comparison, the fraction of orders from restaurants listed on the site as American, pizza, or Mexican all declined by at least 30 percent last Christmas.
It also turns out that Christmas isn't the only day of the year in which interest in Chinese food spikes. Christmas Eve also saw a large increase in Chinese orders relative to the competition. Here are the other holidays in which Chinese experiences a bump: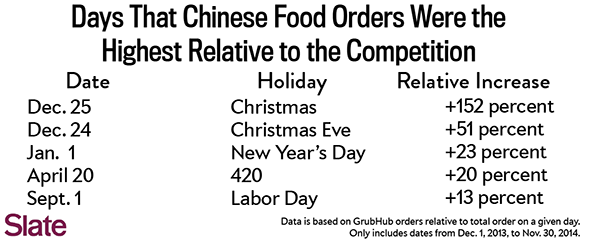 By contrast, the worst day for Chinese orders relative to the competition is Super Bowl Sunday, when there was a 16 percent decrease in the percentage of orders represented by Chinese.
GrubHub, of course, offers its users the chance to order food for takeout or delivery but doesn't take into account the dine-in experience. So I called Ted Chang, owner of Uncle Ted's, a Chinese restaurant in Manhattan, to get a sense of his experience on Christmas day. Chang said that Christmas day is "always the best day of the year" and that both restaurant visits and takeout orders increase. He said that Christmas Eve is popular as well but more akin to a typical busy Friday or Saturday night. Chang posited that his location in Greenwich Village may be ideal for a Christmas-time uptick saying "a lot of people in the neighborhood don't celebrate Christmas" and may "eat Chinese food and go watch a movie."
Chinese isn't the only cuisine that enjoys calendar-based fluctuations in business. Below I've listed the best and worst (relative) day for various other cuisines in the timeframe studied (December 2013 to November 2014). Cinco de Mayo, Super Bowl Sunday, Thanksgiving, and July Fourth all see notable relative increases or decreases in orders.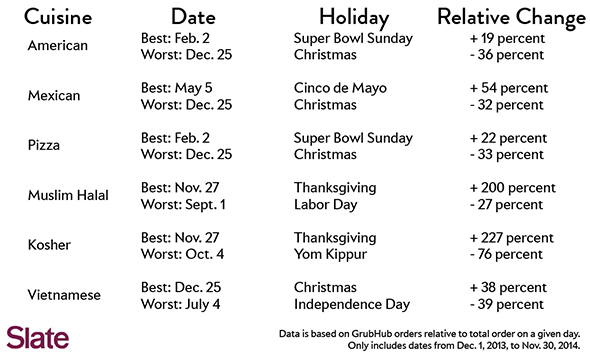 Below is an interactive where you can explore the data for yourself.
Relative Popularity of
Chinese
Orders by
Month
Hover over bars for more detail
Month-by-Month
Day-by-Day
Day of the Week
Chinese
American
Mexican
Pizza
Seafood
Muslim Halal
Indian
Dim Sum
African
Kosher
Healthy
Greek
Thai
Vietnamese
A few other interesting takeaways:
Restaurants that list themselves as healthy on GrubHub see a small decline on the weekends (approximately 1 percent on both days). They also saw a sizable spike between December 2013 and January 2014, before slowly receding as a fraction of GrubHub orders. In the first six months of 2014, the worst day for healthy food, as a fraction of all sales, was April 20.



Pizza orders make up the largest portion of orders Friday and Saturday. It also appears there may be pizza fatigue at the beginning of the week. Pizza sales are at their lowest (relatively) on Monday but increase each day leading back to the next weekend.



Mexican orders saw their biggest relative spike on Cinco de Mayo and continued to be strong throughout the rest of the summer months.



Orders of Chinese, seafood, Muslim halal, Indian, dim sum, kosher, Thai, and Vietnamese food all had relative increases on Christmas Day. American, Mexican, pizza, African, healthy, and Greek food all had relative declines, perhaps in no small part because fewer restaurants in the latter group are open on the holiday.
So, at least according to GrubHub, Chinese food is quite popular on Dec. 25. But is it popular enough to overcome the fact that many Americans are cooking Christmas dinner in the comfort of their kitchens? I asked a GrubHub analyst for some more granular numbers here, and he obliged me. When compared with the five days before and five days after Christmas 2013, total Chinese food orders were "slightly lower" on Christmas day, according the analyst. So while Chinese does better than the competition, it doesn't do well enough to overcome the overall drop-off in business. So if you're one of those people who prefer Peking duck to Christmas turkey, don't forget to slip the deliveryman a nice Yuletide tip.