Initial Interrogation of Suspect A
In which the police talk to Abraham about the near-sacrifice of his son Isaac.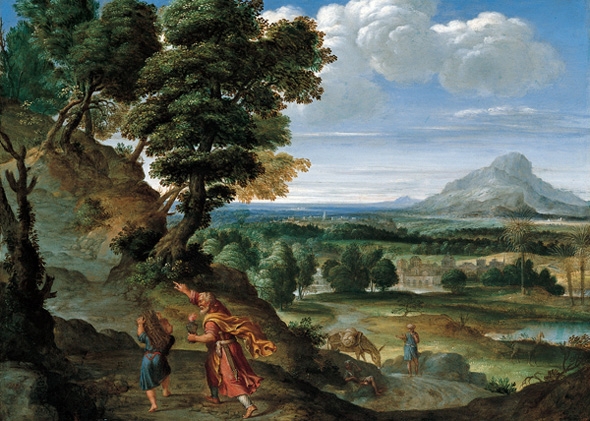 "And He said, 'Take your son, your favored one, Isaac, whom you love, and go to the land of Moriah, and offer him there as a burnt offering on one of the heights I will point out to you.' "—Genesis 22:2.
FOLLOWING IS TRANSCRIBED FROM RECORDING OF INITIAL
OBSERVATION SESSION.
Yes, all right. Water ...
We don't have any fancy bottled stuff. Tap okay?
Great. Good. We'll get that for you. So ... you know why we brought you in?
And you're sure you don't want a lawyer? That's your right.
Because you could say something that'll get you into a lot of trouble.
Trouble with who?
Heh ... that's ... you're joking, right?
Oh. OK. Well ... then I guess ... sure, I'll answer your question. You'll get yourself into trouble with the law.
"All right?" As in you understand?
Good. Because there's something I don't understand. And maybe you can help me understand it. Do you think you can do that?
Good. You try. And let's start with this—and I apologize if I'm kinda just leaping in here ... My wife says I'm a little ... y'know, blunt? But here we go. I just want to know ... I want you to explain ... exactly why you tried to kill your son.
You didn't ... well, crap. Crap, Abe ... I guess you're right. That's why I said you tried to. In fact, it says here ... it says that you were spotted tying him up—
OK. Wow. Sure. You were binding your kid ... and then—and if any of this sounds wrong to you, Abe, you just speak up—but then you were seen putting your son ...
Right. Isaac. You were seen putting Isaac on top of a pile of wood.
He was meant to be a burnt offering.
My son. I was told to make a burnt offering of him.
So ... God. He told you to ... light your son on fire?
After I had killed him, yes.
Sure ... because burning him alive ... that would be inhuman.
It's what I was asked to do.
God tells you to kill a child ... your own child ... for what? Why? What do you get in exchange for your "offering"?
He had already given me ... given us ... something.
My wife—Sarah ... she was way past the point of being able to get pregnant. But He said He would give us a child. And He did.
This would be ... God again?
He gave you a son. So you could raise him. And love him. Then kill him.
And you just ... ? You didn't ... question it?
Your wife ... Sarah ... what'd she have to say about this?
Of course you didn't. And Isaac ... I'm guessing you didn't tell him either. You just walked him up that mountain and he had no idea what you were gonna do.
So what changed your mind?
Nothing did. He stopped me.
And this angel ... what'd he say?
That I didn't need to kill Isaac.
Because now He knew that I feared Him.
No. God. He knew I feared God.
But that's not what you told me.
You told me you were willing to kill your son just because He asked. Not because you were afraid of Him.
On the mountain. I only heard your voice. But now ... yes, I recognize it. You. You're the angel. Calling to me a second time.
I'm an ... ? C'mon. You're insane, Abe. You've lost your goddamned mind.
And yet you think ... I'm an angel.
OK. Fine then. You got me. I'm an angel. And why is it ... I'm "calling to you"? A second time?
Because you want to make sure.
That I fear God. That's why you asked me.
Ah ... so He's testing you. Again. Because ... what? Getting you to stab your kid to death wasn't proof enough?
—Yeah, yeah. I got it, Abe.
He spoke to me, you know. Outside Sodom. Did He tell you that?
He was ready to destroy the whole city ... and I asked Him if He would spare them. If there were just 50 innocent people inside, wouldn't it be worth letting the rest live? And He said He would. Then I said, What about 45? And He said yes, He'd spare the city then, too. We negotiated for a while. I was able to get Him down to 10—if there were just 10 innocent people, He agreed not to destroy it.
This is ... wow ... this is a great story.
But He did destroy it. He rained fire down on Sodom. Gomorrah, too. Burned them all. And when I learned of this, I thought to myself ... Maybe I should have pushed further ... Maybe I should have asked God to spare the cities if just one innocent person could be found. Do you know why I didn't?
Because I knew. I knew He was going to destroy those cities no matter what I said.
SUBJECT BEGINS TO AUDIBLY CRY NOW ... THIS LASTS FOR ALMOST SIX MINUTES, FOLLOWED BY A PERIOD OF SILENCE. AFTER WHICH:
Yes, all right. Water ...
We don't have any fancy bottled stuff. Tap okay?
Great. Good. We'll get that for you. So ... you know why we brought you in?
---------------------------------------------------------------------------------
FROM THIS POINT ON THE SEQUENCE BEGINS AGAIN.
SUBJECT WAS OBSERVED FOR A PERIOD OF 90 MINUTES UNDER WHICH THE ABOVE SEQUENCE WAS REPEATED 19 TIMES.
THE SEQUENCE WAS REPEATED VERBATIM.
SUBSEQUENT OBSERVATIONS DETERMINED SUBJECT SPEAKS ONLY THE WORDS TRANSCRIBED ABOVE AS IF ON A PERPETUAL LOOP.
THOUGH THE TRANSCRIPT SUGGESTS THERE ARE TWO PEOPLE PRESENT, THE SUBJECT WAS ALONE IN HIS CELL FOR THE DURATION OF THE RECORDING.
SLIGHT FLUCTUATIONS IN TONE AND ACCENT WOULD SUGGEST THE CREATION OF THE SECOND CHARACTER, PERHAPS AS A PROXY BY WHICH TO CONFESS AND/OR PROCESS SUBJECT'S ACTIONS.
10–15 mg. OLANZAPINE, twice daily. Limit interaction with family (particularly the victim), continue observation.