Martini Madness
Promotional gimmicks, conceptual stunts, regional twists, and other martini variations.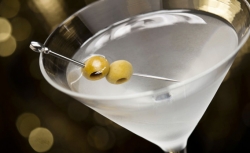 For years, the cult of the cocktail has centered on an ecumenical rift between those advocating the consummately dry Martini and those seeking to play havoc with its genetic structure. Being the pampered pet of purists, the Martini has always flirted with at least an occasion violation. The strict Martini recipe provides a stable springboard from which mixologists have been able to indulge in a variety of deviations.
There are, in theory, an infinite number of variations on the proper martini. There are also, in actuality, an infinite number of variations on the proper martini. To be clear, we're not even talking about "chocolate martinis" or "vodka martinis" or any of the pastel distractions served in stemmed glasses. We're talking strictly about variations that retain the essential elements of gin and vermouth (or one of vermouth's closest cousins on the fortified-wine shelf): If can be done, it has been done, and if it cannot be done, it has been done nonetheless. The most complete rendering of martini variants would include promotional gimmicks (the Algonquin's diamond-garnished "Martini on the Rock"), conceptual stunts (the Oak Bar's "Mel Gibson"), regional twists (a Douglas Fir-scented version from Tacoma, Wash.), and bygone curiosities (Barnaby Conrad III mentions a Martini-Sicle created using "a thermos of minus 400 degrees Fahrenheit liquid nitrogen").
But with notable nutty exceptions, most of the recipes below simply ask the reader to augment the primal drink with half an ounce of This or two dashes of That or a garnish of The Other Thing. In some cases—such as the Third Degree (which requires a bit of absinthe) and the Paisley (which asks for a touch of scotch)—the extra ingredient is not even discernible in itself but instead serves to intensify the existing herbal interplay. In some others, the goal is to nudge the dryness and clarity of the proper martini in a flashier direction.
Most famous is the Vesper, created by a British secret agent who named it for his one true love: "It sounds perfect and it's very appropriate to the violet hour when my cocktail will now be drunk all over the world." Yes, that's Vesper as in vespertine. No, I don't know whether Ian Fleming, writing "violet hour," was intentionally echoing the martini classicist Bernard DeVoto, who memorably attached the crepuscular phrase to cocktail time. In any case, the point stands that purists and innovators inhabit the same long shadow.
Indicate which of the following experiments are worthy of a purple evening by upvoting and downvoting the recipes below; the most popular will enter into Slate's Martini Madness tournament. (Voting ends Sunday, March 17 at 6 p.m. EDT; tipoff is Tuesday, March 19.)