Charm Offensive
Advance your personal style from abject to alluring.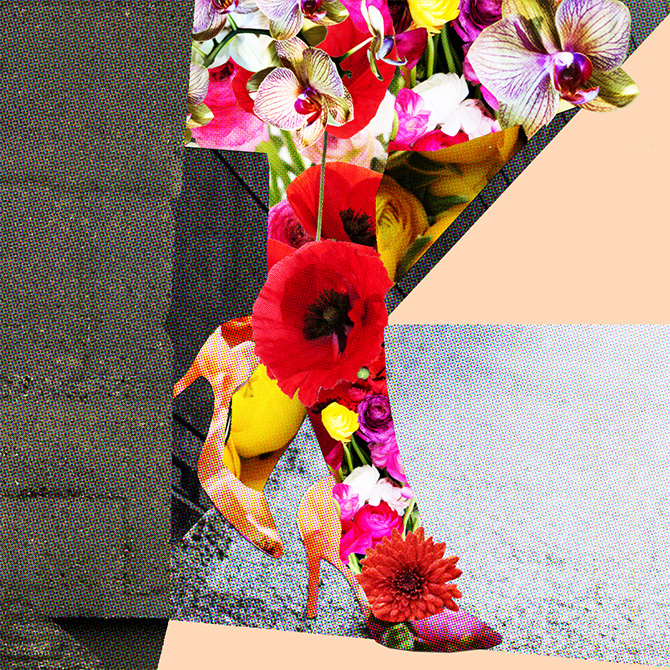 Normcore, the recently coined term for dressing with exaggerated, logo-free simplicity, has many advantages: It's convenient, anonymous, and low-risk. But is it charming? No, emphatically no.
Defenders of this and other understated approaches to personal style—I can't help feeling there is a dotted line between the fresh-faced millennial normcorers and those aging, leathery-faced, WASP-y prepsters who dress with equally purposeful anonymity—loathe overtly fashionable dressing and believe that it cheapens the wearer. (I myself enjoy being cheapened every now and then, but, hey, different strokes.) They believe that a subtler approach reveals and even highlights the charm of the person beneath the threads. I fear they may be wildly overestimating the charm potential of the average wearer. When it comes to schmattas, we inhabitants of planet Earth need all the furbelows we can get—a dollop of flamboyance, a burst of glam-rock sass—especially if we wish to appear charming.
Adding charm to your appearance has become infinitely more challenging in recent years. The style landscape has turned into a seething ocean of conflicting trends and infinite choice. Small wonder that so many have thrown in the Versace towel and taken a vow of normcore. Embarking on a charm-quest, particularly if it involves sartorial experimentation, can be scary. Your only hope is to climb aboard my raft, cling to me and beg me for guidance. Well, it's not your only hope, but it's not a bad place to start, right?
In order to simplify the process, I have elected to get acronymic on your asses. How do you spell charm? Let me break it down for you.
Ultra-charming fashion photographer Tim Walker snapped this year's Oscar contenders for the recent issue of W magazine. As I gazed at Tim's multiple spreads, I found myself overwhelmed by the charm of the images. 'Ere long I realized why: Whether she's wearing a massive tomato sombrero (Reese Witherspoon) or a sleazy '70s jersey turban (Amy Adams), almost every single thesbot is sporting glamorous headgear of some description. Those predicable torrents of tortured coiffure—red-carpet porno-tresses, extensions, wigs, and weaves—had been replaced by a charming cavalcade of coquettish chapeaux. The fact that hats have fallen out of favor in recent years (for the first half of the 20th century people rarely left their houses without plonking something or other on their heads) only adds to their charm. Conclusion: The quickest and easiest ways to charm up your appearance? A jaunty cloche, a Joan Collins-y Dynasty entrance-maker, a Tyrolean trilby, or a floppy fedora.
Freud claimed that handbags, if they appeared in one's dreams, were vaginal symbols. This sounds like a crazily provocative, uncharming thing to say, until you mull it over and realize that it makes perfect sense. Handbags are mysterious, closed, and closely guarded. You do the math! However, just because an accessory has genital resonance does not mean that it can't be incredibly charming. Au contraire! There is no shortage of charming handbags in the universe this season: Moschino's Chanel-meets-McDonald's quilted pastiche and Anya Hindmarch's Tony the Tiger cereal box totes are my personal faves. If you can't afford designer prices then snag a ridiculously charming vintage Enid Collins embellished purse on eBay.
Lots of American women still cling to the notion that charming style is a French thing. This kind of masochistic Francophilia has no rationale. The reality is that American women are far more stylish, and certainly less grumpy, than their French sisters. Truth be told, French women are secretly jealous of America style, and with good reason. Did France create Western style, hippie style, sporty Adidas style, or hip-hop style? American style genres are the envy of the world and infinitely more charming than all that much-vaunted bon-chic bon-genre. If proof is needed, please enjoy this clip of Lee Remick extolling the smartness of her nifty rodeo look in Anatomy of a Murder.
As a veteran fashion person who has been through many dark punky periods, I can tell you honestly, without fear of contradiction, that the color black—the chosen hue of the fashionrati—is fundamentally uncharming. An old-fashion sage once told me that she switched from black to white, "because my guru told me that my black clothes were shriveling my internal organs." Charmed, I'm sure.
Black is chic. Black is satanic. Black is severe. Black is ecclesiastical. Black is intellectual and majestic. But charming? Not so much. Primrose yellow, on the other had, is madly charming, as is Pepto-Bismol pink, fluorescent chartreuse, and even teal. If you want to increase your charm quotient, simply turn up the Technicolor. #Pucci.
Recent decades have seen a very uncharming development in makeup: I call it the spackle effect. It's a function of our growing terror of aging. In the old days, makeup was used to add an exotic allure: Think Maria Callas eyeliner, exotically exaggerated Siouxsie Sioux eyebrows, or emerald-green and peacock-blue Fellini-esque lids. Now makeup is used to conceal flaws and "reduce the appearance of fine lines and wrinkles." This is all very uncharming. Theatrical makeup is always a delight. Blokes too. A swarthy dude with a smokey eye? #freddiemercury #rockercharm
So there you have it: C.H.A.R.M. You have now completed the personal style component of my charm-school syllabus. Congratulations! Your appearance has now been reimagined, or at least violently jiggled. All that's left is to pop the cherry on the sundae—we need to talk about the art of the signature flourish.
Miley Cyrus has her tongue. Man Repeller has her dungarees. Nick Wooster has his twirly moustache. Kim has her bum. Iris Apfel has her giant specs. In order to make the most of your style/charm potential you need to adopt a charmingly memorable signature flourish. You can buy all the Tony the Tiger purses and Tyrolean fedoras you want, but if you do not have a little proprietorial quelque chose d'autre, then quelque chose is lacking. How about a monocle? Mismatched gloves? Red fishnets? A beauty mark? Those readers who already have a charming signature flourish—mine, by the way, is my collection of floral Liberty print shirts—should kindly reveal it on the comments page for the inspiration of those charm-seekers who have yet to find theirs.