How To Make a Truly Spectacular Cup of Coffee
The best barista in the U.S. reveals her secrets.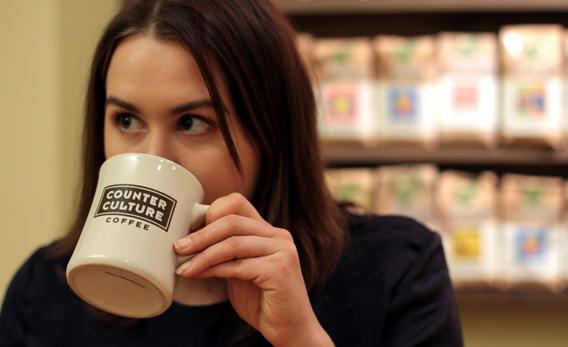 The first cup of coffee that 2012 U.S. Barista champion Katie Carguilo served tasted rich and flavorful to me, but it wasn't up to Carguilo's high standards. "This coffee is really chocolatey, really nutty, but it tastes a little bit too bitter in the finish," she explained. "The grounds were too fine, so the water couldn't get through, and it overextracted the coffee."
For Carguilo, making an excellent cup of coffee is like baking—a pursuit that requires both precision and a willingness to experiment. She places her brewing apparatus on top of a scale so she can see exactly how much water she has poured through the carefully weighed coffee grounds, and she uses a timer to measure how long the process lasts. "That cup took more than four minutes to brew," she said, looking down at the readout. "For a single cup of coffee, I would want it to take closer to three."
Most of us are satisfied with any good cup of joe, especially on a winter's morning, but if, like Carguilo, you want it to be truly great, you must treat your kitchen like a laboratory. "The way I've mastered coffee brewing is to focus exclusively [on one batch of beans] for a month or so, recording all the variables, and keeping good notes," says 29-year-old Carguilo, who has worked in the coffee profession for a decade, first as a barista and now as a trainer for Counter Culture Coffee. Working with one type of coffee for a four-week period, "I write down how much coffee I'm using, how much water. I take a record of the time it took to brew, of the grind size. And then if I don't like it, I change one variable each time. Tomorrow, or by the end of the week, it'll be good, and then you can have another three weeks of blissful coffee making at home."
Carguilo "fell in love" with coffee while working in a coffee shop during her days at George Washington University and decided to make a career of it after graduation. Baristas may have a reputation for being slacker musicians and writers pulling shots of espresso between gigs, but their skills are honed by endless repetition and meticulous attention to detail. When Carguilo teaches master classes to the employees of cafes, restaurants, and markets that sell Counter Culture Coffee, students pull hundreds of shots in the course of a day's training, and she competed for several years before winning the U.S. Barista Championship in April.
Even if you're not quite ready to turn coffeemaking into a science experiment, America's best barista has some great advice about equipment and technique.
Carguilo uses a dripper rather than a machine because it offers more control. Coffeemakers have a bad rap because "they're usually really dirty, they're usually made fully of plastic, which over time doesn't really make your water taste good; and they usually don't get the water hot enough." But if you can avoid those problems, by all means let a machine do the work.
Still, most coffee professionals prefer what's often called the pour-over method. Carguilo used a Kalita Wave in our demonstration. (They can be a little hard to find—the Hario V60 is easier to locate.) These drippers are inexpensive—usually between $20 and $40. Less pocketbook-friendly is the burr grinder that Carguilo believes is essential for really spectacular coffee. "Coffee loses its aromatics within 10 minutes of being ground—if you don't have the aromatics, it's not going to taste flavorful, so you can't grind it at the store." Blade grinders are less expensive, but they "indiscriminately chop the coffee so you get big pieces and really small pieces, and you can never brew well." A burr grinder, on the other hand, mills the coffee to a relatively uniform grind profile, which is important when the water moves through the coffee. A good electric burr grinder can cost around $150, but hand grinders are available for as little as $35, and you can take them on camping trips.
In our demonstration, Carguilo used a Bonavita electric kettle (also available in a stovetop model), which has a gooseneck spout. The thinner pouring stream allows for more control when adding water to the coffee grounds, but it's not absolutely essential.
The key ingredient, of course, is the coffee itself. It should be fresh: "You can't make a great coffee if the coffee is old and stale," Carguilo says. "When coffee is stale, the aromatics and the gases that are inside of the beans are seeping out, and if those aren't there, it doesn't smell good and it doesn't taste good. It's got to be within a month of roasting. If you buy from a good company, ideally they're going to put the roasting date on the bag." You can't cheat on freshness by storing coffee in the freezer. Unless the package is vacuum-sealed, there's a chance that moisture will get into the beans, and coffee takes on odors very easily. Most of all, experiment with different coffees to see which ones you enjoy. Carguilo recommends "if you're going to spend money on coffee, buy from companies that give you a lot of information on the bag. Things like variety and farm and process. That way you can start to gather what it is that you like about coffee. If you like washed vs. natural coffees, for instance."