How Would You Have Died in 1811?
Play our Wretched Fate game and risk dropsy, quinsy, consumption, and worms.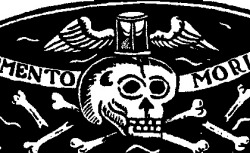 The main reason life was so different 100, 200, or 300 years ago than it is today is that death was so different. People died young—in infancy or childhood, mostly—and they died miserably of communicable diseases. We barely remember the names of some of these diseases today, but they were once the most dreaded words in the English language: consumption (tuberculosis), pleurisy (swelling), putrid fever (typhus), quinsy (tonsillitis), and iliac passion (a particularly violent gastrointestinal disorder). Life expectancy has doubled in just the past several generations, and that's largely because public health efforts and modern medicine have vanquished the diseases of the past.
If you've ever fantasized about traveling back in time, this game is for you. Pick a year on the timeline and spin the wheel of fortune. If you had existed back then, what would have killed you? Our tool serves up causes of death in proportion to how many lives they claimed in the chosen year. The earliest data come from parish records or local "bills of mortality," lists of how many people died of various causes in a given year. Medical historians have translated some of the old terms into modern disease categories—ague probably referred to malaria, for instance—but most of the terms are merely descriptions. We'll never know what caused most of these fatalities from fever, flux (dysentery), or chrisomes (death in an infant younger than one month). Death was capricious and mysterious.
Spin the wheel as many times as you like—you get infinite reincarnations. Not that you would want to be reborn many times in, say, 1811 if you could help it, though. It was a lousy time to be a human but a great time to be a germ—sewage mixed with drinking water, houses were cold and crowded and ridden with vermin, and everybody coughed tuberculosis bacilli on one another. Go ahead, face your fate!