Chart: The Deadliest and Most Common Cancers
Cancer mortality rates at five, 10, 15, and 20 years after diagnosis.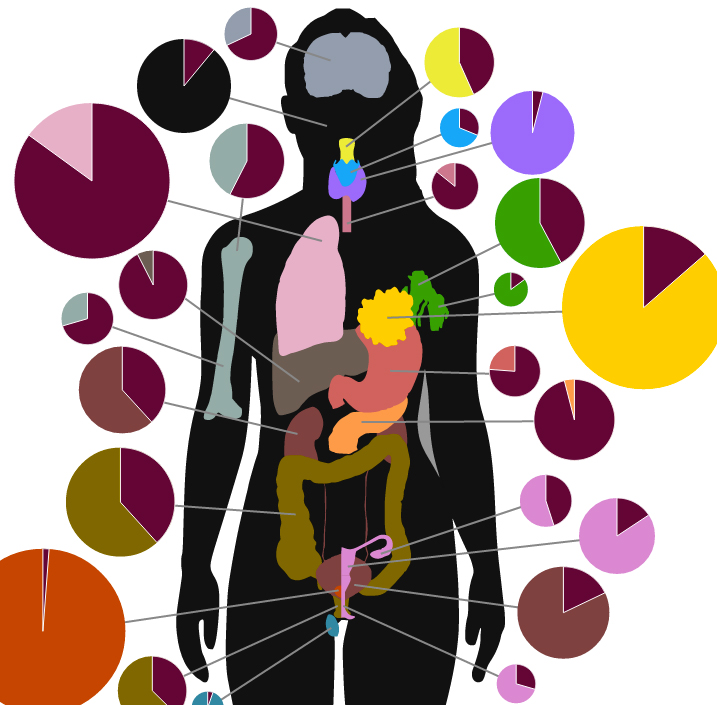 Here's a chart that's a little disturbing: The interactive graphic above, created by biotechnologist David Taylor and appearing first on his data-visualization blog, illustrates how common and deadly various types of cancer are. Each pie chart represents an organ (matched for color) and is sized according to the incidence of cancer of that organ. The charts are based on data from the American Cancer Society and a 2002 study of long-term survival rates. The red wedges show the proportion of patients who die from the cancer within the selected number of years after diagnosis.
As the chart reflects, breast and prostate cancers are the most common, with 235,000 and 239,000 new cases last year respectively. Fortunately, they are relatively survivable cancers, though their mortality rates more than double by the 20-year mark. Pancreatic cancer is the most deadly, killing 96 percent of patients within five years. That's partly because pancreatic cancer typically does not cause symptoms until it's at a late stage of progression. For the same reason, liver cancer is the second-deadliest cancer, killing 93 percent of patients within five years.
Chart reproduced here with permission.
Correction, Feb. 12, 2014: The size of the lung cancer pie chart was originally smaller than it should have been. The chart has now been resized to accurately reflect lung cancer's incidence.