Watch the Ig Nobel Prizes
Tonight is the weirdest night in science.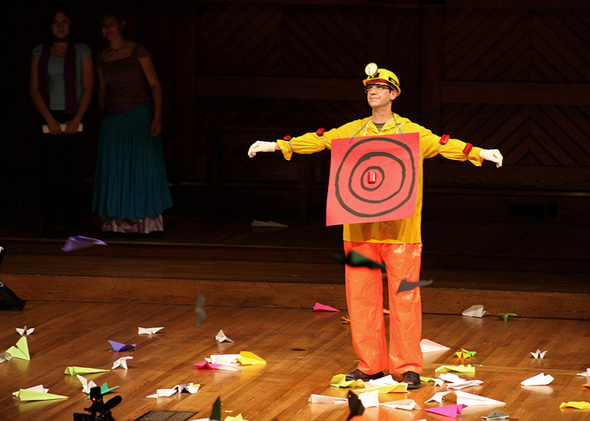 It's one of the most exciting nights of the year for fans of science, humor, and bizarre, unexpected, highly improbable research. Tonight, the 10 winners of the 2013 Ig Nobel Prizes will be announced. Who will they be? The suspense is killing me! Watch a live webcast here on Slate starting at 5:35.
For those who have never seen an Ig Nobel ceremony before, you're in for a treat. One never knows what to expect, but the show will feature real Nobel Prize winners presenting prizes to their, um, peers. Past winners include researchers who studied race-based cheese preferences, brain activity in a dead salmon, injuries caused by falling coconuts, the five-second rule for judging the safety of food dropped on the floor, and homosexual necrophilia in a mallard duck. There will also be an opera: The Blonsky Device, celebrating 1999 winners George and Charlotte Blonsky, who invented a machine for "facilitating the birth of a child by centrifugal force." U.S. patent No. 3216423A. For more about the Ig Nobels, read master of ceremonies Marc Abrahams' book This Is Improbable: Cheese String Theory, Magnetic Chickens, and Other WTF Research.
Update, Sept. 13: This year's Ig Nobel Prize in medicine goes to a team from Japan, China, and the United Kingdom that studied the effects of opera music on heart transplant patients. That are mice. Good news: Post-surgery, mice that listened to La Traviata lived longer. The psychology prize goes to a team from France, the Netherlands, Poland, and the United States (Ig Nobel–worthy work requires big international teams) for a study of faux beer goggles. People who are drunk—or who merely think they are drunk—also think they are extra attractive. The prestigious physics prize is awarded to a team from Italy, the United Kingdom, Switzerland, Russia, and France, that calculated that people could walk on water, at least if the water is in a low-gravity environment such as the moon.