Lean In: The Movie
An exclusive peek at the Sheryl Sandberg–inspired script.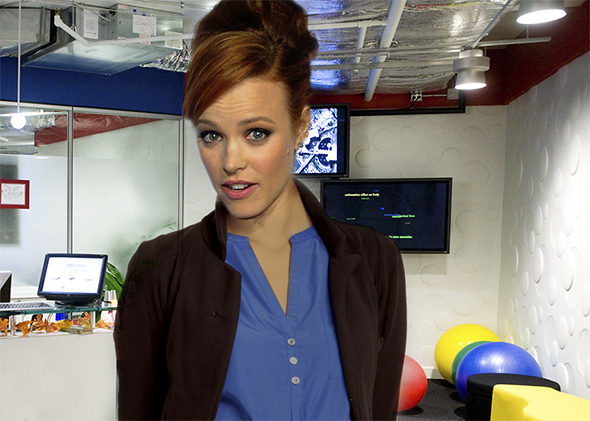 Late last week, it was reported that Sony Pictures had bought the rights to Sheryl Sandberg's best-selling book, Lean In. Today, Slate has obtained an exclusive first look at the script. We can't wait to see how it all comes together on the big screen.
BECKY (Rachel McAdams), a gorgeous genius who secretly believes she is garbage, sits in an office waiting room in a skirt suit and tottering heels, hyperventilating.
Becky, Mr. Zaggerburk will see you now.
It's OK? I can just leave now? And never come back?
Female Receptionist throws open the door to reveal a warehouse-style office strewn with MacBook Airs and ergonomic balls. To their left, BROS are hard at work rearranging a set of oversized arrows on a vast white board. To their right, BROS play a pickup game of trashcan basketball. DAX (Jason Segel), a man, palms a NERF BASKETBALL, takes a shot, and rockets Becky in the head.
Female Receptionist and Becky arrive at a child's playpen at the corner of the office. MAX ZAGGERBURK (Michael Cera), somehow a billionaire, lies on his back, batting a ball of yarn over his head.
Mr. Zaggerburk? I'm so sorry to waste your time. I'll just­—
Please: Call me Max. Take a seat.
Becky carefully lowers herself onto an enormous ergonomic ball.
Becky, GooBookIn would like you to come join a team
that's collaborating to pivot a mission-critical project for us.
Becky looks behind her. Her face says, Who, me? She topples off the ball.
But I'm just a top-of-my-class Wharton MBA. I don't know
the first thing about business.
The job pays $100,000 to start.
BECKY
(driving her hardest bargain)
Max shakes Becky's trifling little hand.
INT. – GOOBOOKIN OFFICE – DAY
Becky, perched precariously on a ball at her hacker space, intently fills out a spreadsheet on an iPad. She presses "PRINT" with a flourish, then surveys the office. Across the room, Dax grabs a giant yellow arrow mounted to the wall, spins it like a pinwheel, and scratches his chin. Becky looks at her watch. It is 9:08 a.m.
How could I have already completed my ask for the day?
I must have done it all wrong. Typical Becky.
Becky deletes her spreadsheet and starts from scratch. Max zigzags through the office on a UNICYCLE.
Becky watches the office bros pick up their balls and file into a conference room. She struggles to lift her ball, but her tiny lady arms can't get around it. She bends over, grunts, and rolls the ball after them.
INT. – CONFERENCE ROOM – DAY
Max, Becky, Dax, and TAD (Jonah Hill), a man, join a collection of LESSER BROS sitting on balls around a long CONFERENCE TABLE.
The good news is that GooBookIn is stronger than ever. The bad
news is that we're hemorrhaging money and have no discernable
business model. Let's spitball some collaborative solutions. Tad?
We could ideate until innovations come out.
Good. I like that. Yes. Becky?
Um? I noticed that we're spending a lot of money on expensive
devices, then just haphazardly scattering them around the office?
Ruining them?
Like, Tad's service snake alone crushed three iPads in its jaws this
morning.
Becky takes a deep breath. You've got this.
I said instead of constantly replacing our assets, we could make
an effort to better protect our investments.
Or maybe you could make an effort to stop being such a bitch,
Becky.
OK. Dax?
Becky writes "TO DO: STOP BEING BITCH" on a NOTEPAD. Dax rises from his ergonomic ball and bounces it on the floor with two hands.

Here's my idea: Instead of constantly replacing our assets, we make
an effort to better protect our investments.
The Bros rush to fist-bump Dax. He throws his ergonomic ball in the air. It lands on Becky's head, knocking her to the floor.
INT. – GOOBOOKIN OFFICE BATHROOM – DAY
Becky sits on a toilet seat, softly weeping. She hears the bathroom door CREAK open. A pair of shoes CLICKS ASSERTIVELY, yet EMPATHETICALLY, on the tile.
Excuse me, this is the women's room?
The stall swings open, revealing BERYL BOSSBERG (Sigourney Weaver). She wears a MASCULINE, yet FEMININE, suit. Her posture is CONFIDENT, yet OPEN. She flashes a WARM, yet FIRM smile.
BERYL
(a woman, yet the COO)
I'm not just a woman. I'm the COO.
Beryl extends a SOFT, yet STURDY tissue to Becky.
BERYL
(clear, yet inscrutable)
Don't leave before you leave, Becky.
Don't leave the bathroom?
Becky reaches the bathroom door just in time to catch Beryl disappearing into her OFFICE. But not before: Dax shoots the BASKETBALL to Beryl. She catches it, pivots, pitches it over her head, and lands it in the trashcan with an audible SWOOSH.
INT. – GOOBOOKIN OFFICES – NIGHT
Becky sits alone at her hack space, now strewn with discarded spreadsheets.
The Bros have all left for the evening. She takes a spreadsheet, crumples it into a ball, and throws it at the trashcan. Air ball.
How did they ever let me into this office? All of the other
candidates must have died in a tragic accident. Their only
legacy is my failure, which brings dishonor upon all of their
families.
At the far end of the office, Becky sees a LIGHT flicker on in BERYL'S OFFICE. She gravitates toward it like the worthless bug that she is, knocks softly, then cracks open the door.
INT. – BERYL'S OFFICE – NIGHT
Hello? Beryl? I'm so sorry to bother you.
BERYL
(maternal, yet patronizing)
Becky, you're a fertile young woman. Have you considered
starting a family?
Becky collapses onto an ergonomic ball.
It's all I think about. But how could I possibly juggle kids
while incompetently pursuing my career?
Becky, let me show you a little trick.
Beryl opens a desk drawer, revealing a SQUIRMING INFANT.
You keep a baby? In your desk?
Beryl lifts her pointer finger to her lips and performs an EXAGGERATED, yet AUTHENTIC wink.
Becky, no. But if you sign up via your GooBookIn profile, you can
be an early adopter of my new female empowerment program,
TILT FORWARD—NOT THAT MUCH—JUST RIGHT™.
Becky tilts forward precariously on the ball. It slips out from under her butt, hits the wall, and POPS LOUDLY.
MONTAGE – set to BRITNEY SPEARS' "Not a Girl, Not Yet a Woman"
Beryl picks up the BASKETBALL and models the correct form. She passes the ball to Becky, hitting her in the WOMB. Beryl lets out an EXASPERATED, yet SYMPATHETIC SIGH.
Becky comes out of a dressing room, modeling a pair of STILETTO HEELS. Beryl shakes her head—too high. Becky emerges again in a pair of MANNISH OXFORDS. BERYL shakes her head—too low. BECKY returns in a pair of SENSIBLE, yet FASHIONABLE pumps. BERYL nods—just right.
Beryl balances her Squirming Infant in one hand and a BRIEFCASE in the other. She steps onto a LADDER and begins climbing it QUICKLY, yet SLOWLY. Becky takes studious notes.
Becky lurches on her ergonomic ball, seesawing back and forth. She tilts back. Her feet flail into the air. Beryl squats next to her. She adjusts her torso to TILT FORWARD. NOT THAT MUCH. JUST RIGHT. Yes.
INT. – GOOBOOKIN OFFICES – DAY
Becky approaches the playpen. She takes a DEEP, yet SHALLOW breath.
Max. I noticed that you've only stocked the office with exercise
balls ergonomically designed to fit men's bodies. It's practically
impossible for my strong, yet dainty frame to complete my
deliverables while balancing on these man balls. You need to
order some female sizes ASAP.
Oh, word? Cool. We'll get some lady balls.
BECKY
(victorious, yet humble)
Becky turns and strides through the office SMILING, yet NOT SMILING. Dax palms the BASKETBALL and passes it to Beryl. Beryl locks eyes with Becky. She tosses the ball her way. Becky CATCHES! She SHOOTS! She SCORES! She WEEPS OPENLY, or ELSE THERE IS SOMETHING IN HER EYE.