The End of Pantyhose?
L'eggs has launched its first ad campaign in 15 years—but it may be too late to pull nylons back from the brink of extinction.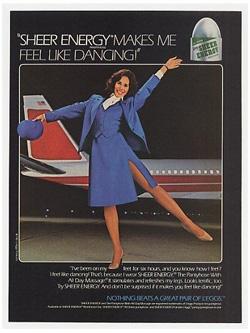 Whither pantyhose? For the last 15 years, sales have been going down, down, down, the victim of leg tanner, open-toed shoes, more casual dress codes, and the general fickleness of fashion. But in recent months, pantyhose makers have sighted just the faintest glimmer of hope. If hosiery sales were previously "hemorrhaging," in the blunt words of independent retail analyst Marshal Cohen, now they have "kind of stabilized." Buoyed by the news, the hosiery giant L'eggs has launched its first TV ad in nearly 15 years. The new ad first ran in the spring and is now back as part of an even bigger campaign for autumn, traditionally an important season for hosiery.
The brand's hope is to introduce the concept of pantyhose to young women who were toddlers when L'eggs last advertised on television. These young women appear happy to buy what's called "novelty" hosiery (colored and textured tights, for instance, are doing relatively well). But the lion's share of the hosiery business, the sector that's doing poorly and that brands like L'eggs would most like to boost, is sheer pantyhose, the sort favored by earlier generations. And that's precisely the problem. Sheer pantyhose have come to be seen as fusty, the province of grandmas, nurses and orange-legged Hooters girls. Many women in their 20s and 30s don't even don pantyhose to attend weddings, much to the astonishment of older women who wouldn't dream of attending a formal event bare-legged. Michelle Obama, whose days as first lady are ruled by protocol, has described pantyhose as "painful" and said she no longer bothers with them.
It's not clear how much the L'eggs ad now airing nationwide can do to change perceptions. It features a young woman changing into several cute outfits complemented by different pairs of pantyhose and Spanx-style shapewear, and prancing down the street to a dance song. The message is that L'eggs smoothes and refines one's look. In spirit, the ad also owes something to pantyhose ads of the '80s, which—in an effort to emphasize comfort—tended to show women in hose and heels dancing, twirling and, in one improbable instance, playing basketball. Here's a look back at these and other marketing approaches from past decades, when pantyhose ruled the world:
The newest L'eggs ad is definitely a throwback, and that's part of its problem. The sort of polished look that pantyhose offer looks antiquated now, like a woman is trying too hard. "Many people associate sheer with grandma," Cohen says. Reversing that would require the opposite of an earnest and upbeat TV ad. It would require sophistication or cleverness or irony or shock value. It would require making pantyhose seem somehow new again.
The hosiery industry believes several forces are already at work remaking consumers' perceptions. In an effort to explain why pantyhose sales are no longer sliding at the rate they once were, some news outlets have argued that Kate Middleton, an avid wearer of hose, is helping revive the category by looking so damn good in them. Angela Hawkins, the director and general manager of hosiery at Hanesbrands Inc., which owns L'eggs, told me that pantyhose are coming back because "we are in a very feminine fashion cycle" dominated by dresses and skirts.
But Cohen, of the marketing research company NPD Group, has a darker assessment. Pantyhose sales stopped their freefall and plateaued over the last year and a half because the category had reached its natural bottom, he says, with older pantyhose wearers continuing to replace their old pairs, but few new converts to the product. "It stabilized because it wasn't really going to get any smaller," Cohen says. And fortunately for hosiery companies, "their customers weren't dying off at a great enough rate." Oof.