DoubleX Gabfest: The "What Does Anderson Cooper Do at Night?" Edition
Listen to Slate's show about Michele Bachmann; Mac McClelland on sex, violence, and PTSD; and Bad Teacher.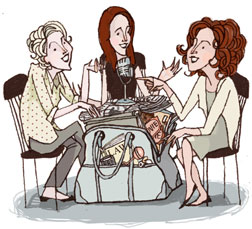 To listen to the DoubleX Gabfest, click the arrow on the player below:
In this week's gabfest, DoubleX founding editor Hanna Rosin, managing editor Jessica Grose, and editor Nina Shen Rastogi discuss journalist Mac McClelland's brave piece in Good about how violent sex eased her post-traumatic stress disorder; whether Minnesota Rep. Michele Bachmann can go mainstream; and whether the Cameron Diaz movie Bad Teacher is good for women in comedy.
The DoubleX weekly "coffee talk" endorsements:
Nina Rastogi raves about British actor Mark Rylance's performance in the Broadway play Jerusalem.
Here are some links to other things we discussed this week: