DoubleX Gabfest: The Dodo and Barbie Edition
Listen to Slate's show about Dominique Strauss-Kahn's alleged sexual assault, Schwarzenegger's secret love child, the rise in vaginoplasty, and Roseanne Barr's New York article.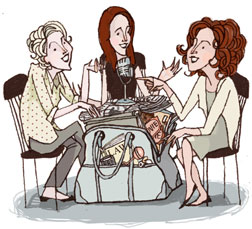 To listen to the DoubleX Gabfest, click the arrow on the player below:
In this week's gabfest, DoubleX founding editor Hanna Rosin, along with managing editor Jessica Grose and editor Kate Julian, discusses the alleged sexual assault of a hotel maid by French IMF head Dominique "Dodo" Strauss-Kahn, Arnold Schwarzenegger's secret love child and sordid past, an Atlantic article about aesthetic vaginal surgery, and Roseanne Barr's piece about her television experience in New York.
The DoubleX weekly "coffee talk" endorsements:
Jessica Grose read Zoë Heller's The Believerswhile she was on vacation and even though it is too dark to be described as a beach read, she enjoyed the complex portrait of a family falling apart after its patriarch, a leftist lawyer, has a debilitating stroke.
Here are some links to other things we discussed this week: