Double X Gabfest: The Little Prince Edition
Our editors discuss Manning Up by Kay Hymowitz, the all-girls Pink Academy preschool, and the Middleton family.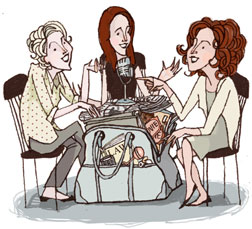 To listen to the DoubleX Gabfest, click the arrow on the player below.
In this week's gabfest, DoubleX founding editor Hanna Rosin, managing editor Jessica Grose, and editor Kate Julian discuss the recent spate of "end of men" books like Kay Hymowitz's Manning Up and Dan Abrams' Man Down, a new all-girls preschool called The Pink Academy and the debate over single-sex education, and the Austenian media narrative of princess-to-be Kate Middleton's family.
The DoubleX weekly "coffee talk" endorsements:
Jessica Grose recommends the lowbrow charms of this season of The Celebrity Apprentice. Why? Two words: Gary Busey.
Hanna Rosin cannot stop eating Chip'ins, the popcorn chip (and no, she is not getting paid for this endorsement). The mom in the 100-percent-absurd promotional rap video that Chip'ins made says "they're the greatest thing to happen since my children were born."
Here are some links to other things we discussed this week: