DoubleX Audio Book Club: Mr. Peanut
The DoubleX Audio Book Club on Adam Ross' new novel, Mr. Peanut.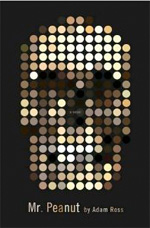 Mr. Peanut is a murder mystery and also a meditation on the violence hidden within love. Nashville writer Adam Ross' first book opens with the murder of Alice Pepin by her husband, video game producer David Pepin. It trails the story of two detectives who also have their own stories of dark domesticity. DoubleX co-editor Hanna Rosin wonders whether beneath the harrowing stories lies a more hopeful vision of marriage. Slate editor Emily Bazelon elaborates on the misogyny in the portrayal of the sorry wives, particularly Hannah Hastroll, who won't get out of bed. New Yorker writer Margaret Talbot praises the reimagining of Sam Shepard, a doctor who in the 1950s was convicted and then exonerated for killing his wife. All praise the novel's complex structure and would heartily recommend it, even for summer reading.
Here is a list of other articles mentioned in the Book Club: