What a Bar With Decorative Bullet Holes Really Means
It's shameful—and part of a broader gentrifying instinct to mine the past for authenticity.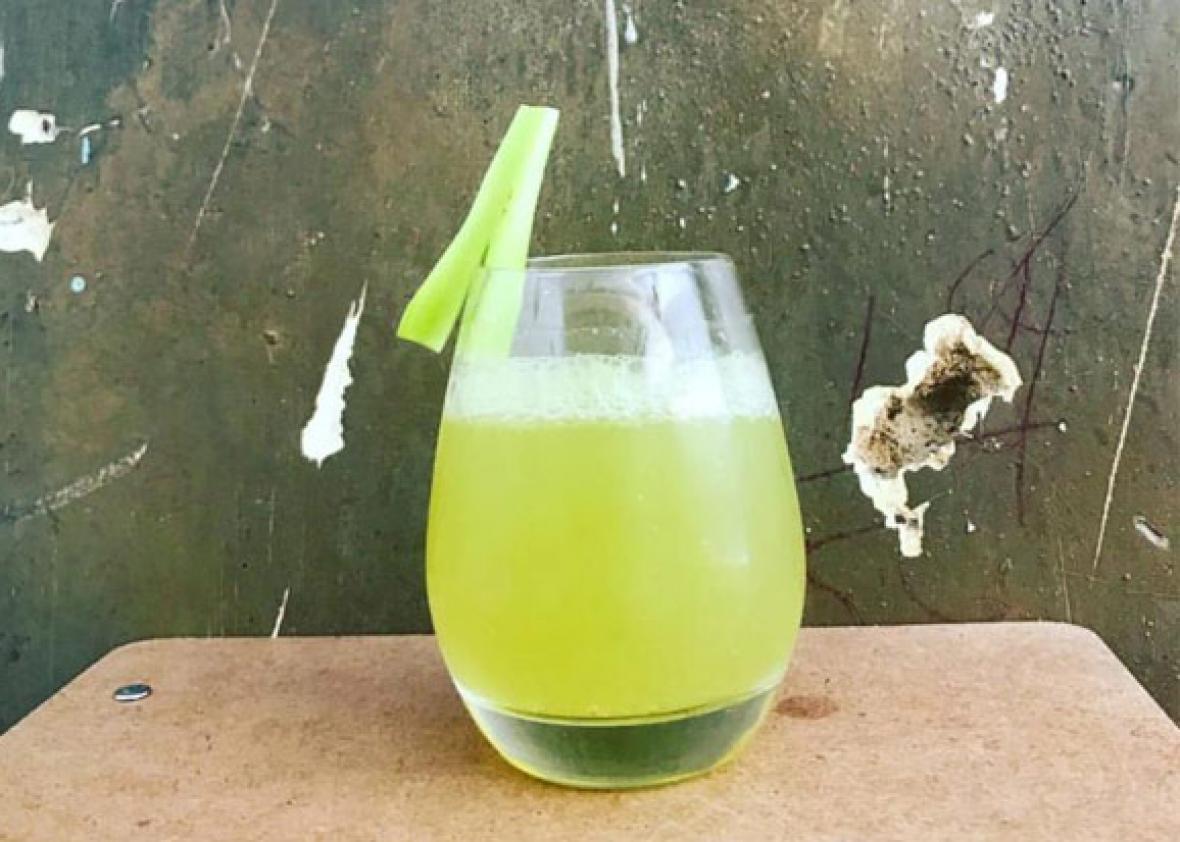 On Saturday afternoon, there was an anti-gentrification protest in Brooklyn. The target was a new bar-restaurant called Summerhill, whose owner's tone-deaf marketing caused an uproar on the internet and then one in real life.
Here's the story: Toronto transplant Becca Brennan opened her establishment in Crown Heights, a gentrifying Brooklyn neighborhood that has for the past few decades been divided between West Indian immigrants and Hasidic Jews. In an effort to paint a bit of Brooklyn character into the corner storefront that is her first hospitality venture, Brennan made a regrettable decision: She decided to stock 40-ounce bottles of rosé and spotlight a "bullet hole-ridden wall" as a remnant of the space's rumored past as an underground gun market. That "raised eyebrows for its apparent capitalization on stereotypes of black violence and poverty," Eater wrote. (In the 77th precinct, where the bar is, the murder count fell from 82 in 1993 to 10 in 2016.)
The New York blog Gothamist, which gave Brennan the shovel to dig her hole in the first place, reported that posters began appearing around the neighborhood midweek calling Brennan a "racist" and a "gentrifier":
"It is up to white people to call white people on their shit," said the person who created the posters, a 31-year-old white woman who has lived in the neighborhood for five years. "Through words, images, and objects, Summerhill sends a unified, blaring message to the neighborhood: this is not for you—you only have meaning as a prop."
And by Saturday, Gothamist's Emma Whitford reported, dozens of people had gathered on the sidewalk outside—about half black and half white, which in Crown Heights can be loosely inferred to mean half longtime residents and half relative newcomers—denouncing Brennan and Summerhill as patrons sat warily inside. A black man with dreadlocks held a sign: "This is what gentrification looks like!"
Indisputably, Summerhill is what gentrification looks like, even if it is not what gentrification is. Population change is a drip, manifest in the private language of a new lease or miles away in housing court. A moving truck, a new name on the buzzer might be all you see of it. The Census only tells us who has moved in and out every 10 years. In between, we have cold-brew coffee shops and other signifiers to serve as real-time affirmations of the hunch that high-income, white residents are displacing people of color.
Then again, those businesses aren't just symbols. Even without the thoughtless invocations of gunfire, they are the change that many people resent.
In some cases, that resentment takes shape as violent opposition. In 2015, an East London café that serves cereal was besieged by a mob throwing paint and smoke bombs as patrons, including children, waited uneasily inside. In East Los Angeles, anti-gentrification activists have targeted art galleries and coffee shops with demonstrations and vandalism. Those places are pegged as interlopers, disconnected from a place and its history.
But the most despised establishments are those that, like Summerhill, make a crass attempt to recycle neighborhood history. Why is this instinct to reach back for some rootedness so strong? And why does it provoke so much anger from first-wave gentrifiers in particular? Or, as a Summerhill cook (who is black) observed to Gothamist on Saturday: "It's the gentrifiers going off on a gentrifier."
Reading the coverage of Brennan's comments closely, it's clear she was flailing to achieve some kind of historical authenticity. The rumored gun-running? That was mined from an anonymous comment left on a blog last fall. She didn't invent Forty Ounce Rosé, which was pioneered by a respected New York sommelier to approving notice in blogs like Eater last year. (Michael Arceneaux, writing for the Root, had a more interesting take on it.) But her joke about serving it from paper bags (it was always to be served on ice, she clarified later) strikes me more as a blind grasp for a bit of hip-hop culture than a deliberate nod to broken-window policing.
Anyway, it was all dumb, and I understand why Crown Heights residents are offended. But it's far from anomalous. In his book Vanishing New York, the blogger Jeremiah Moss (the paragon of the angry, first-wave gentrifier) collects an astonishing array of stories about this kind of mythmaking pastiche. Stripped of the racial tension that accompanies such borrowing in Brooklyn, the examples are no less dumbfounding. A perfume store downtown sold a High Line fragrance to smell of "wildflowers, green grasses … and urban renewal." The Marc Jacobs boutique that replaced the Biography Bookshop sold blank notebooks with titles like "Moby's Dick (LOL)" and "As I Lay Tanning." The John Varvatos that replaced legendary punk club CBGB sold bracelets of gold razor blades for $215. A whole chapter could be devoted just to cheeky cocktail names.
Or take Washington, D.C., where in 2012 Stephen A. Crockett Jr. bemoaned an epidemic of "swagger-jacking" around U Street NW, which was for decades a center of black nightlife:
In a six-block stretch, we have Brixton, Busboys and Poets, Eatonville, Patty Boom Boom, Blackbyrd and Marvin. All are based on some facet of black history, some memory of blackness that feels artificially done and palatable.
All of it, from good-faith homage to allusions to past violence, is part of a culture of manufactured nostalgia that has always accompanied the migration of the upwardly mobile into older urban neighborhoods. (And they are hardly the only ones to succumb to that tendency these days.) The idea, present in the Brooklyn Heights gentrification of the 1960s, was that "historical diversity had to be exhumed," as Suleiman Osman puts it in The Invention of Brownstone Brooklyn. For young Americans who move downtown from the perceived soullessness of the suburbs, whether they are opening a coffee shop or just sitting in one, the atmosphere of historical continuity makes them feel they belong. It suggests a rootedness to gentrification itself.
As for those gentrifiers who stand up to protest, the first thing to say is that they are right: It is grotesque to trade off a recent history of violence. There's a guilty instinct to self-police, too. If the problem is rising rents, your moving to the neighborhood at all is a greater contributor than a 40 of wine in a paper bag. But there's something more existential in the rage of the first-wave gentrifier. Ham-handed appropriation delegitimizes more thoughtful invocations of folklore and history in the same way an actor with a bad accent can break the fourth wall on a whole production. Each one makes the present feel all that much more broken from the past and one's presence, in turn, all the more aberrant.
One big controversy in Crown Heights concerns the use of the name "Crow Hill," a 19th-century term for the area that may have been a derogatory reference to the neighborhood's black population. There's a Crow Hill CrossFit, and there was until recently a Bar Corvo (Italian for crow) nearby. Crow Bar on Franklin Avenue changed its name after pressure from activists. There's also a Crow Hill Community Association.
That is part of a much broader quest to excavate (or invent) an older and more precise toponymy of urban neighborhoods. It's often a way to sell something, like beers, or more significantly, houses. But it also reflects the needs of a generation with few civic ties—to church, to politics, to other community institutions—to find identity in geography. One reason South Brooklyn and Bedford-Stuyvesant persisted so long as mega-neighborhoods of hundreds of thousands of people was that residents relied on more nuanced descriptors of community: their parish, for example, or a union local. Absent those markers, it's little surprise that newer Brooklynites care for neighborhood names, their history, and their misuse.