The Slate Group Announces Panoply, a Podcasting Network for Media Brands and Authors
The network launches with 12 partner shows from Inc., New York Times Magazine, HBO Documentary Films, Real Simple, New York, Huffington Post, Popular Science, FX's The Americans, and others.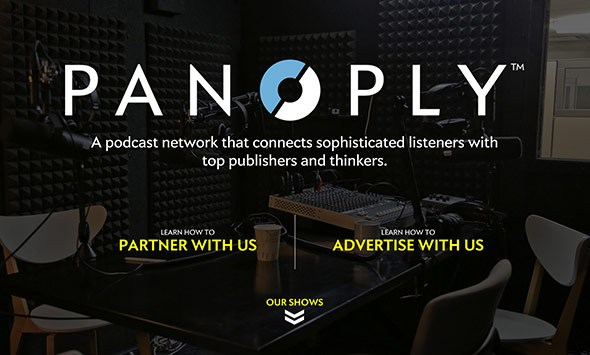 NEW YORK—Jacob Weisberg, chairman of The Slate Group, announced Wednesday the launch of Panoply, an innovative, full-service podcast network for media brands, authors, personalities, and premier organizations. As the audio arm of The Slate Group, Panoply will provide production, marketing, sales, and audience development services for its expanding number of partners.
Under the direction of Slate podcast chief Andy Bowers and general manager Brendan Monaghan, Panoply builds on Slate's decade of experience in audio-on-demand. Slate has created a successful stable of 15 podcasts with more than 6.5 million monthly downloads. As Panoply's chief content officer, Bowers is working with partners to build a "dream team" network of information audio. At launch, Panoply holds 12 commitments for a total of 18 shows from media outlets and organizations, including programming from: the New York Times Magazine; HBO Documentary Films; Inc.; New York magazine/Vulture; the Huffington Post; WBUR radio; Real Simple; Popular Science; Gretchen Rubin, author of the No. 1 New York Times best-seller The Happiness Project; Food52; FX's The Americans; the National Constitution Center; and many more to come. In addition to Slate's existing podcasts, Slate is introducing a new podcast, Whistlestop With John Dickerson, on the Panoply network.
Panoply will create and acquire outstanding audio-on-demand programs in audience- and advertiser-friendly categories such as news and politics, culture and lifestyle, sports, women's issues, technology, business, and more. Panoply partners will rely on expertise and attention from a world-class sales and audience development team as well as Slate's highly engaged listeners. Partners will also have access to groundbreaking audio technology.
"I've never seen audiences engage with ANY form of content as intensely as they do with Slate's podcasts," said Weisberg. "Through Panoply, we intend to share the secrets of our success with other media brands. We're lending our expertise to help our partners develop audio programming that's as attractive to advertisers as it is addictive for users."
"This is an incredibly exciting time for podcasting," added Bowers. "But the medium itself presents two key problems. First, for a listener, seeking out high quality content can be challenging. And for a content provider, it's difficult to get noticed and build significant audience numbers. Panoply addresses both issues by offering programming of only unquestioned quality, and creating cross-promotion opportunities among all our partners' unique audiences. It's a win-win for both listeners and Panoply partners, and we're thrilled to be creating something so valuable for the medium."
With Panoply, listeners can expect the highest quality content, curated by Panoply's team of audio experts. Listeners will be able to access Panoply on iTunes as well as on Stitcher, SoundCloud, and on all major podcast apps.
Says Panoply's Brendan Monaghan, "We're delighted that so many premium brands are looking to Panoply to enter or intensify their presence in the podcasting arena. We look forward to welcoming additional brands and personalities over the coming months as the network expands." Chief revenue officer Matt Turck, Slate's former publisher who recently joined Panoply, will oversee sales efforts.
The following podcasts, among others, will be offered through Panoply:
Slate's stable of podcasts: The Gist, Whistlestop With John Dickerson, Political Gabfest, Culture Gabfest, and 12 others
The official insider podcast for FX's critically acclaimed spy drama The Americans
Four podcasts from HuffPost: Religion: All Together, Weird News, Love+Sex, and Politics: So That Happened
Four podcasts from Real Simple: Things Cooks Know, Adulthood Made Easy, Domestic Disturbances, and I Want to Like You
HBO Documentary Films
Our National Conversation About Conversations About Race with Baratunde Thurston, Raquel Cepeda, and Tanner Colby
The Ethicists from the New York Times Magazine
The Vulture TV Podcast and a podcast on sex from New York magazine
The National Constitution Center's We the People
Happier With Gretchen Rubin
Popular Science's FutureCast
Inc. Uncensored
Burnt Toast from Food52
WBUR's The Checkup
For more information, or to subscribe to Panoply, visit Panoply.fm or iTunes. A Panoply app will be forthcoming but will not be available at launch.
About The Slate Group: The Slate Group is an online publishing entity established in 2008 by the Graham Holdings Company. Currently consisting of Slate, The Root, and Panoply, The Slate Group's mission is to develop and manage a family of digitally native content providers. Monthly readers of Slate number more than 28 million; The Root's monthly readers are more than 4.5 million. Jacob Weisberg serves as The Slate Group's chairman. Visit www.Slate.com, www.TheRoot.com, and www.Panoply.fm for more information.