Mad Men, Season 5
A persuasive theory of Don and Joan.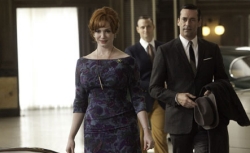 I can't exactly defend Mother Lakshmi's stratagem, Julia, but we can probably agree that this is a woman whose judgment is not state-of-the-art. There's the fact that she's with Kinsey in the first place to consider, as well as Kinsey's curious, period-appropriate suggestion that back when her name was Janet, it was promiscuity that led her to drugs and prostitution, and not the other way round. I saw Lakshmi as a little foreshock tremor to the great earthquake of muddleheadedness to come. Remember, in just a few month's time, one Charles Milles Manson will be released from prison and make his way to San Francisco, to begin assembling his own damaged and impressionable family.
One of David Simon's knocks on weekly recappers is that we tend to judge characters and events on the basis of incomplete information, before we've experienced a season, or a series, in its novelistic entirety. Mostly I think this is, uh, bunk. But at least in the case of Pete Campbell, we stand guilty as charged. Just last week we dinged Pete, querying the basis for his rapid ascent at the firm and wondering why we hadn't seen him doing any really impressive work. And where was Pete while we were carping? He was out making rain! Jaguar is hardly a done deal, to be sure, and Pete, naturally, spent most of this episode indignant about how underappreciated he is. "No one has given me the reaction I desire from this blessed event!" he sputters. Bert Cooper is able to control his excitement because he's got no love for the British roadster. ("They're lemons," he says. "They never start.") But Pete must be doing something right if Lane is reduced to lying to his own wife in order to divert some of the credit. Jaguar came "crawling back," he tells her. "The firm can't do it without me."
The one thing that bugged me about Don's rousing speech was that when we pan across the assembled troops, everyone (save Lane) greets the news that they will spend six consecutive weekends, plus Christmas, in the office with thunderous, shit-eating applause. I get that landing "a car" would mark a key inflection point in the firm's ascent, and Don has roused in his employees a sense of pride and ambition that had heretofore been lacking. But that kind of emotional uniformity at the end of an episode, where the music swells and our characters converge, all brimming with an identical sensation, is an irksome mainstay of network dramas, to say nothing of Krishna chant sessions. Whereas I tend to savor Mad Men for its dissonance.
Having said that, Don's galvanizing catharsis at the end of the show may actually be the product of a brief episode of dissonance at home. We've noticed, lately, that Don is not as engaged by work. He bristles at the thought of staying past 5:30 and has subcontracted most of the creative legwork to the creatives. But commenter Abe Froman suggested a perceptive reading of Don's encounter with Joan:
A satisfied Don Draper is not one to be inspired and creative at work. He needed this "fling" with Joan, fully consummated with a wild ride in the Jag, to get his inspiration back. Add the fight with the wife and flowers the next morning for his mistress and the pseudo-affair is complete.
Don cites that old firecracker, Bobbie Barrett, who said, "I like being bad, then going home and being good." But for Don, it was always just as important, following his various dalliances, to go to work and be good. With its fluorescent lights, clean lines, and library quiet, the workplace was always an antidote to Don's stormy romantic extracurriculars—a realm that he could master. I always loved that he kept a drawer in the office full of starched white shirts. It felt like the ultimate signifier for a guy who is both prone to caddishness and fixated on appearances. But thinking about it now, those shirts are a metaphor for renewal, as well. A nod to Gatsby, maybe, but also to something darker. Even a snake can shed its skin.
Your mother did a good job.