2012: The Year in TV Moments
Happy Endings: Brad and Jane's Spring Smackdown.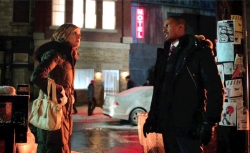 I took one look at Happy Endings when it debuted two years ago and dismissed it as the latest in a long, disappointing line of Friends copycats. (I say that as someone who got choked up last week watching "The One Where Ross and Rachel Take a Break" for the umpteenth time in syndication.) Thankfully, savvier TV-watchers than I convinced me to give the series a chance, and what I found was something that resembles Friends only in its most basic outlines: It's a show about a group of young people making their way in the big city. But that city is Chicago, not New York. And one of the friends is gay. And all of the friends talk in a rapid-fire patter thick with pop cultural ephemera. (Last week's episode had a recurring joke that required a strong working knowledge of Frasier.) And most important, at the center of the show isn't will-they-or-won't-they romance like Ross and Rachel's, but one of the strongest, funniest, sexiest marriages on television—the one between Brad (Damon Wayans Jr.) and Jane (Eliza Coupe).
Sitcoms usually mine the tensions of marriage for laughs. Even one of network TV's sweetest series, Modern Family, falls back on the bickering between goofy Phil and uptight Claire or grumpy Jay and flamboyant Gloria for its comedy. Brad and Jane occasionally have their differences, but Happy Endings consistently finds a way to make their happy marriage—and torrid sex life—a source of humor. In one of my favorite scenes from last season, Jane removed Brad's pants in the heat of passion … to discover he was wearing a shirt dress he mistook for a dress shirt.* "Daddy likes a deep tuck," Brad explained. "God, you make it work," replied Jane. Cut to a steamy kiss.
Late last season, we learned that things haven't always been so rosy between Brad and Jane. It turns out that every March for the past five years they've had a fight so epic that it has come to be known as "Spring Smackdown." Brad and Jane weren't in the mood for a fracas this year, but not wanting to disappoint their friends—who so look forward to the annual spectacle that they print T-shirts in anticipation—they staged a Smackdown as their buddies looked on through a window. Their faces twisted into angry furrows, Brad and Jane pantomimed a battle royale, growling sweet nothings ("I appreciate everything you do for me!") and hurling trashcans as they discussed household minutiae ("Do you think we should switch to paperless billing?"). It's a terrific set-piece, just one of many instances when the show has managed to make marital bliss as funny as marital discord. A series so littered with cultural references could easily become an empty exercise in archness. The hot-burning love of Brad and Jane gives Happy Endings its heart.

Correction, Dec. 18, 2012: This article originally stated that the shirt-dress scene aired in Season 1. It was in Season 2. (Return to the corrected sentence.)