RIP, Charlie Haden
The jazz great loved a gorgeous song.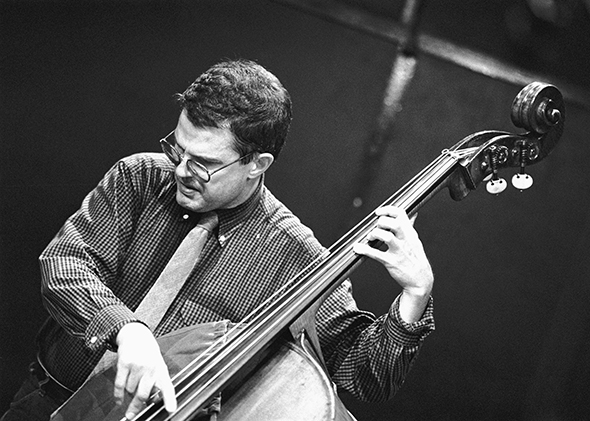 Charlie Haden, one of the greatest, most innovative bass players in jazz, died Friday, at age 76, after a long illness.
He was often called a "free jazz" musician because of his association with Ornette Coleman, but Haden was above all a romantic; he loved a gorgeous song, and when he played one, he didn't want to be boxed in by the standard chord changes, he wanted to take the music where he felt it should go.
I first interviewed him in 2002, when he was celebrating his 65th birthday by playing a week of duets—each night with a different pianist—at the Blue Note jazz club in New York. "I'd been playing in a lot of bands," he recalled of his early days in Los Angeles in the late 1950s, "and often I'd feel like improvising not on the chords but on the melody or the rhythm or just the mood of a song. But I couldn't. The other musicians didn't know what I was doing, they got thrown off."
Around that time, he heard Ornette Coleman playing at a jam session. The other musicians didn't understand what he was doing either; they threw him off the bandstand. But Haden heard a kindred spirit. They started playing together, along with a band that included Don Cherry on trumpet and Billy Higgins on drums. In 1959, they recorded an album called The Shape of Jazz to Come, which proved as prophetic as its title.
But Haden wasn't a purely emotional bass player, and those musicians who imitated "free jazz" simply by playing what they wanted misjudged what they were up against. The pianist Paul Bley, who hired Haden to play with him in 1957, once said of Haden, "He had perfect time—that's rare." To play gorgeous melodies, with inventive harmonies and free rhythm, all while keeping perfect time—that's rarer still, and that's what Haden did, as a matter of course. Bass players often go unnoticed in jazz groups. There are lots of inside jokes about audiences talking during bass solos. But Haden was riveting from the beginning.
"When we had jam sessions," Bley recalled of the early days, "the usual 29 tenor sax players would line up, waiting to sit in. But when Charlie sat in, none of them wanted to play. They all just wanted to listen. That's how good he was."
Haden was born in 1937 in Shenandoah, Iowa, and grew up in Springfield, Mo., the youngest of four children in a family of professional country musicians. The Haden Family Singers were regulars at the Grand Ole Opry and had a nationwide network radio show. Charlie's mom would rock him to sleep by humming folk songs. One night, he started humming the harmony. He wasn't quite two years old. He started singing with the family band right away.
One night, during that week of duets at the Blue Note in 2002, Haden played with the great pianist Geri Allen, and at one point they launched into "Lonely Woman," Ornette Coleman's dark anthemic ballad. It was a long, breathtaking rendition, and when Haden took his solo, he segued into "Barbara Allen," "Old Joe Clark," and "Fort Worth Jail," country tunes that he'd sung with his family as a child.
Haden always saw links between jazz and country music. He told me, "The old folk music of England and Ireland and Scotland came over to America and evolved in the mountains of Appalachia and the Ozarks. Wherever there was a struggle in the hills, the music from that was very moving, very soulful. Jazz grew out of spirituals and the blues, which came from the struggle of the African slave and the freedom movement. So they're both music of struggle."
He was a man of the left, and for a while his music reflected it. One of his most stirring compositions, which he played many times with many different bands, was a ballad called "Song for Che." In the late 1960s, he formed the Music Liberation Orchestra, a big band that played songs inspired by various revolutionary movements.
But even in this phase, the music, more than the politics, is what moved him. You could see it in the way he played. He seemed to be romancing the bass, swaying it back and forth, eyes closed, his head turned away, grimacing with intensity, leaning over at an almost perpendicular angle to hear his own playing more keenly, sometimes beaming when he heard someone else in the band play something remarkable.
He was youthful, at whatever age he happened to be, and a perpetual hipster, punctuating most sentences with "man," even when he was talking with a woman.
After settling in L.A. in the mid-1980s, he formed a band, called Quartet West, that played noir ballads inspired by Raymond Chandler novels and movie themes of the 1940s. When he'd come east during those years, he either brought the band with him or played duets with old friends who still lived in or around New York. One of his most striking albums from this later era is a 1995 duet with the pianist Hank Jones called Steal Away: Spirituals, Hymns, and Folk Songs.
In 1989, the Montreal Jazz Festival featured a Charlie Haden tribute, where he played each night with a different band. Many of the concerts were released on CD. The best (or my favorites) are two trio albums, one with Paul Bley and drummer Paul Motian, the other with Don Cherry and drummer Ed Blackwell.
Charles Edward Haden went out on a huge critical and commercial success, a duet album with pianist Keith Jarrett. (Haden had played in Jarrett's quartet in the 1970s, but they hadn't worked together since.) The album was called Last Dance, partly in anticipation that this would probably be the last Charlie Haden record, and it not only topped the jazz charts for several weeks (remarkably the first No. 1 jazz record in Jarrett's career) but also, at its peak, hit No. 20 on Amazon's chart for all music.
An earlier Jarrett-Haden duet record, Jasmine, came out four years ago. Both albums were recorded at the same session, in 2007, before Haden took ill (a recurrence of the polio that briefly struck him when he was 15, compounded in the last few months by liver cancer).
Both albums consist of ballads and standards, and they're just gorgeous. But what's clear, only after letting the music wash over you a few times, is how much Charlie Haden is the session's leader. Ornette once said of Haden that he "plays the music, not the background," and that's what he's doing here.
At times he'll do what most bassists do: play the root of a chord (say, a C note to stress a C chord) or spell out the chord's notes in an arpeggio or fragments of a scale. But sometimes he'll play along with the melody or pluck a counter-melody, or invert the chord in a strange way, or alter the rhythm to heighten, then ease the tension, or he'll play some notes that have no apparent relation to the song but rouse a mood that somehow fits it.
Haden was a master listener, above all else, and so is Jarrett. Last Dance and Jasmine are albums about the art and pleasure of listening. And I think it's appropriate to close with a link to the first track of Last Dance, "My Old Flame," which ECM has given us permission to let you hear, for free, in its entirety:
One more thing: a list of my favorite Charlie Haden albums, most of which are still in print.