Bob Dylan's World
For his 72nd birthday, a map of every street, town, and city Dylan has ever sung about.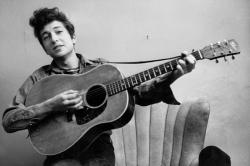 Places Bob Dylan sang about
Click a marker to see the corresponding lyric, song, and album.
Zoom to: World | U.S. | Europe | Asia | NYC | New Orleans
Bob Dylan's music, it's often said, happens in a world of its own—where the highway is for gamblers and you're always 1,000 miles from home. It's a surreal, ethereal realm, lawless but for chance, allusion, and rhyme.
And yet it is our world, because there's another, parallel tendency in Dylan's songs: the direct place-name reference. Once the amateur Dylanologist tries to think of some, they flood the brain. "I'll look for you in old Honolulu/ San Francisco, Ashtabula." "Born in Red Hook, Brooklyn/ In the year of who knows when." "Oxford town, Oxford town/ Everybody's got their head bowed down." From the personal—"that little Minnesota town"—to the political—"Ever since the British burned the White House down/ There's a bleeding wound in the heart of town"—Dylan uses place-names to maintain rhythm or rhyme, to reference other works of art, or to evoke certain thoughts and emotions. (We never do learn what it's like "to be stuck inside of Mobile with the Memphis blues again," though we feel like we do.) It's only natural, after all, that a man who left tiny Hibbing, Minn. for New York City at age 19, quickly became world-famous, and has spent the last 25 years on a "never-ending" worldwide tour, might have a curious perspective on the concept of place.
And so, to mark Dylan's 72nd birthday and the 50th anniversary of The Freewheelin' Bob Dylan, his breakthrough album, we present Bob Dylan's World, an interactive map with entries for every place-name in a song written by Dylan and released on some kind of album (including the official Greatest Hits and Bootleg series). If you see anything missing, please note it in the comments and we'll try to put it in. Happy travels.
Correction, May 24, 2013: A marker on this map originally misidentified the Carbondale mentioned in the Bob Dylan song "Duquesne Whistle." It is Carbondale, Penn., not Carbondale, Illinois.
Correction, Oct. 15, 2014: Kingsport, Tennessee, mentioned in the song "Kingsport Town" on the album The Bootleg Series, Vol. 1, has been added.