My Night With Raquel
Bombshell crashes Fashion Week!
Raquel Welch is wearing a slinky tobacco-colored jersey dress by Michael Kors. Her petite torso is configured into an impressive hourglass shape. Gold, strappy Jimmy Choos adorn her coquettishly tiny tootsies. The pièce de résistance? The feline natural beauty of her face, still mesmerizing at 71. The pièce de la pièce de résistance? That perfectly fluffed wig.
"What's this one called?" I ask with genuine enthusiasm. Like Raquel, I am big believer in wigs. I cannot understand why anyone would opt for painful plugs or time-wasting, budget-busting weaves and extensions when wigs are an option. As Raquel succinctly put it in her 2010 autobio Raquel: Beyond the Cleavage, "with the aid of a wig, I have more versatility in my life, and so can you!"
"This particular wig is called Spotlight," says Miss Welch, patting her man-made coiffure with obvious affection. Fabricated from heat-friendly synthetic hair, Spotlight is one of a multitude of fetching styles from Raquel Welch's hugely successful wig collection. Each model has a showbizzy name like Scene Stealer or Ovation. There is even a Callista Gingrich-esque style named Upstage. If you have even the slightest inclination to impersonate Callista next Halloween, then you would be well-advised to cough up the $340 now. Who knows how popular (or unpopular) that style might prove to be come October?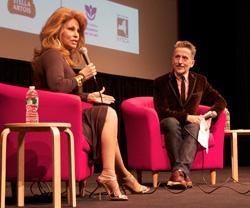 Last Friday night, the three of us—Spotlight, Raquel, and I—headed onto the stage of the Film Society of Lincoln Center* to kick off a four-day retrospective titled Cinematic Goddess: The Films of Raquel Welch. I was charged with interviewing Miss Welch in front of a packed house, prior to a screening of Myra Breckinridge, the cult camp catastrophe in which she plays the transgender hero/heroine of the title. When it opened in 1970, Time magazine described this cinematic rendering of Gore Vidal's 1968 novel as being "about as funny as a child molester."
Miss Welch was greeted by the audience with alternating waves of affection, adulation, and lust, all of which are richly deserved. I kicked off the conversation by reminiscing about my first memory of her: "You were riding a motorbike, wearing a bikini, and suddenly you opened your mouth and took a bite out of the air … aaargh!"
"That wasn't me. That was Ann-Margret," replied Miss Welch matter-of-factly, and accurately. As I scrambled to salvage the situation, I realized this was not the first time I had committed this kind of public celeb-conflating bungle. I once wrote a long smarmy letter to Danielle Steele telling her how much I loved Scruples. Apologies to Judith Krantz.
The lovely Raquel seems unfazed by my idiocy. She proves to be a warm, droll, intelligent, delightfully unguarded and extremely cheeky interviewee. Her account of working with Mae West on Myra—she leaps from her chair and does a spirited imitation—is riveting. Two tidbits stand out: Firstly, Raquel tells us that, after a close-up scrutiny of Mae's sturdy, butch hands—a rogue fake fingernail unglued itself while Raquel was clutching La West's paw—she was left with the distinct impression that Miss West might not have been, how shall I say, woman-born. Secondly, according to Raquel, Mae had only one speed. It mattered not whether the cameras were whirring. Her entire life was spent mincing about in circles and dispensing those double-entendres in that voice.
After our chat, and another standing ovation, we headed across the street to the Lincoln for dinner. Party of five: me, Raquel, jewelry designer Janis Savitt, my husband Jonathan Adler, and Spotlight. Being out in public with one of the greatest sex symbols of all time is a mind-blowing experience. It was also, on this particular occasion, a wind-blowing experience: While Raquel dodged paparazzi and horny heterosexual autograph-hunters, Spotlight was subjected to terrifying gusts of wet wind. This unscheduled road-testing proved to be an impressive endorsement: Spotlight held up magnificently.
Conversation over dinner ranges from Camille Paglia—she and Raquel have been pals since the '90s when Camille wrote a Welch appreciation for British Tatler—to reality television. Despite being deluged with offers she has wisely remained a skeptical and amused observer of trash culture.
Eventually, the conversation turns to wigs, and the correct maintenance thereof: "I hang mine up over night, upside down. Clip it to a coat-hanger," Raquel advised, adding, "by the morning it is perfectly fluffed." I am familiar with this technique. During my decades-long career in window dressing, I inverted many a wig. For quicker results, I used to grab a wig, upside down, of course, and beat it five times against the nearest wall. Then, without further delay, I would simply plop it on the mannequin-head and hairspray it into place while it was still up-fluffing and vivacious.
When the check arrived, I grabbed it from Raquel's clutches. I explained that allowing a cinematic goddess such as herself to pick up the dinner tab would annihilate the last vestiges of my perceived masculinity. She graciously accepted and the five of us said goodnight and went our separate ways.
Sitting through endless fashion shows at Lincoln Center this week and watching the cavalcade of pale, asexual flat-chested Eastern European girls stomping down runways, my mind kept returning longingly to the fabulously groovy Raquel. Knowing that Mother, Jugs & Speed and Kansas City Bomber or One Million Years B.C. (deerskin bikini-clad Raquel plays Loana of the Shell People) were unspooling just yards away from fashion week was a real test of my sangfroid. Why, oh why, is fashion so gruesomely devoid of that playful Welchian sensuality?
And speaking of froideur: As I scurried to the Diane von Furstenberg show on Sunday afternoon I found myself wishing that I, too, was wearing Spotlight or maybe even Scene Stealer, because that's the other great thing about wigs: They always keep your head snuggly and cozy.
Correction, Feb. 17, 2012: This piece originally referred to the Film Society of Lincoln Center as the Lincoln Center Film Society. (Return.)