I Will Win!
Trump loves Puccini—and new research is showing how fascism infused the composer's work.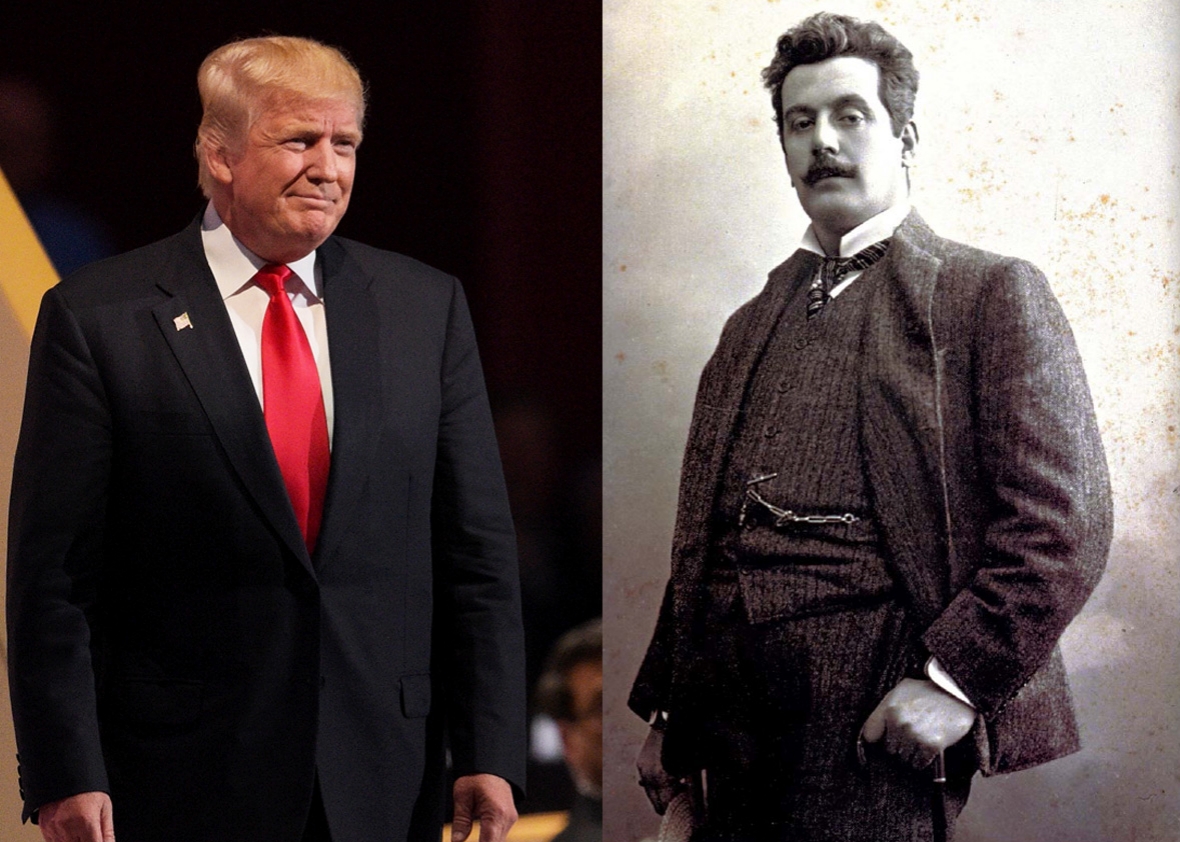 In his heyday, the beloved Italian tenor Luciano Pavarotti was committed to bringing the music of Puccini, a fixture in opera houses everywhere, to the masses. (Even as a product pitchman: Witness a 1980s American Express TV commercial built around the strains of Madama Butterfly.) But since the tenor's death in 2007, Pavarotti's family has kept a tight rein on his image—until 2016, when his signature recording of the aria "Nessun Dorma" began appearing regularly at Donald Trump's campaign events. In July, Pavarotti's family told Trump to stop playing the aria at rallies, saying the GOP nominee's values are "incompatible" with the singer's "values of brotherhood and solidarity."
An advocate for refugees and human rights causes, Pavarotti probably wouldn't be a Trump supporter. But the aria itself, and the composer behind it, gave expression to authoritarianism during Italy's darkest period. In fact, Trump's use of it might read as yet more evidence for those who already view the bombastic businessman as a fascist in the making.
First, an introduction to the piece, which you've almost certainly heard whether you're an opera fan or not. "Nessun Dorma" is from Puccini's opera Turandot; it's a victory aria sung by Calaf, an unknown prince who wins the heart of the icy and murderous Princess Turandot. The clincher is the soaring, repeated "Vincerò!" ("I will win"), a rousing moment which has propelled the aria's crossover success, spanning Three Tenors concerts (featuring Pavarotti), TV talent contests, action thrillers, raucous English soccer matches, and a curious cover by Aretha Franklin.
But there's a more fraught history to the aria, too. Not only is Turandot an opulent, Orientalist fantasy set in imperial China by a composer who never set foot in Asia; Puccini also held a sympathetic spot in his heart for the fascist Italian dictator Benito Mussolini. The composer's late-career admiration for Mussolini's policies has prompted a new generation of historians to see his operas—especially Turandot—through a political lens.
It is "quite easy to read Turandot as a political allegory," writes Arman Schwartz in the book Puccini's Soundscapes, "one consistent with fascism's own narrative of the degradation of post-World War I Italy and of Mussolini's heroic rise." Schwartz suggests that the opera's setting, in an ancient but rundown imperial capital, echoes Rome in the 1920s. The principal characters—a virile hero and a childless, possibly lesbian woman who must be conquered to restore the gender order—embodied fascist rhetoric. The opera's chorus, a group of singers who express amazement or bloodthirsty glee, stands for "the very modern-seeming crowd, as violent as it is irrational and easily swayed."
Schwartz told me in an email that while there's no real evidence Puccini's audiences interpreted Turandot as a fascist allegory, the composer was certainly "responding to/playing with general cultural anxieties." Other musicologists would agree. In The Puccini Problem, Alexandra Wilson calls Turandot "a fitting emblem for Fascist Italy, caught between presenting itself to the world as modern and keeping faith with tradition."
Though Puccini made no showy public gestures of support for Mussolini, he expressed his support in letters to colleagues. "Mussolini was undoubtedly sent by God for the salvation of Italy," the composer wrote to his librettist, Giuseppe Adami on Oct. 30, 1922, the day after Il Duce's historic March on Rome. A few days after the dictator took power, Puccini sent Mussolini a congratulatory telegram. A year later, the composer was made an honorary member of the Fascist Party, and, soon after, a "Senator of the Realm."
Puccini died on Nov. 29, 1924, nearly 18 months before Turandot premiered in an unfinished form and before he could really clarify his political views. However, it's clear that Puccini, like many bourgeois Italians, wanted to see order restored to his country after the chaos of World War I. Turandot delighted Mussolini, who went on to feature the composer's Inno a Roma (Hymn to Rome) at fascist parades and ceremonies.
Which brings us back to Trump and his rallies. Leon Botstein, a conductor and the president of Bard College, believes that Puccini's music created a vacuum into which authoritarianism could enter. "His was a musical aesthetic that the state could easily appropriate," said Botstein. "It represented a regressive, narcotic, illusionistic music that didn't provide any resistance to a fascist regime." It's not a leap, Botstein adds, from the image of the heroic tenor to the authoritarian strongman. In August, the Bard Music Festival, which Botstein directs, will focus on Puccini and host a panel and concert examining the composer's relationship to nationalist movements.
Trump's interest in Puccini goes beyond "Nessun Dorma." In February, he used an arrangement of the composer's aria "O mio babbino caro" in a video touting his building projects. In his 2004 book How to Get Rich, he praised the late soprano Beverly Sills, stating, "I may not enjoy sitting through opera, but I have always respected opera singers and enjoy the highlights of opera." Opera, or at least the "highlights" of the genre, easily plays into the image of an outsized billionaire.
It's unclear if Trump has ever actually attended opera in New York (though a 1992 review of the Metropolitan Opera's Turandot proclaimed it "as vulgar as Trump Tower"). Regardless, Dana Gorzelany-Mostak, a Georgia College music professor and creator of Trax on the Trail, a website devoted to presidential campaign music, believes opera suits him.* "There's certainly a disconnect on many levels between Trump and the leftist artists he uses despite their protests," she says. "But opera is believably Trump's music." And yet, there's a combativeness in the way he uses Puccini right down to the high decibel levels that serve to drown out dissent. "You take an aria that's about dominance," Gorzelany-Mostak adds, "and it comes from an opera with all of its history of colonial baggage—it suggests a kind of defiance."
While Trump's use of Queen's "We Are the Champions" gets fists pumping and the Beatles' "Revolution" feeds his supporters' rebellious mood (original progressive intent aside), Puccini's appearance on Trump rally playlists is far more subversive. It's an empty signifier that arouses grand emotions over rationality—which is surely music to Trump's ears.
*Correction, Aug. 1, 2016: An earlier version of this article misidentified Dana Gorzelany-Mostak's academic institution. It is Georgia College, not Georgia State University. (Return.)