Counting Couplets
What is the most common rhyme in the history of pop music?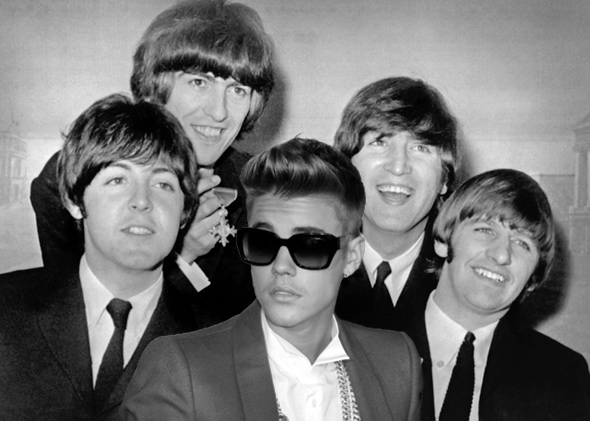 What do Justin Bieber and the Beatles have in common? Not much, you might think, other than the ability to inspire frenzied adoration in their young fans. But Bieber and the Fab Four share something else as well. Consider Bieber's 2013 song "All Bad," which many believe alludes to his relationship with Selena Gomez in the following verse:
Envy, envy
Same thing as jealousy
Jealous of you
That's what they do
The stanza, you'll note, ends with a couplet rhyming do and you. That turns out to be Bieber's favorite pair of words to rhyme: In his still-young career, he's used the pair in 12 different songs. It's also the Beatles' favorite rhyme—and the favorite rhyme of Prince, Whitney Houston, Adele, the Rolling Stones, Madonna, Elton John, Bob Dylan, and Kanye West.
In fact, an analysis of every song on Billboard's Year End Hot 100 between 1960 and 2013 suggests that the do/you rhyme might be the most popular in pop music history. Below is an interactive graph showing the most common 20 rhymes on the Billboard list over this time period, as well as their change in popularity over the years; half rhymes, such as enough/love, were counted, and each rhyme was only counted once per song, so as not to put too much weight on repetitive choruses:
Simple rhymes, as might be expected, are the most common: Words like be and me or to and you are both organic to the subject matter of most pop songs (love, relationships) and can be paired without grinding a tune to a halt. Only one pair of words in the top 100 most common rhymes is more than one syllable: forever/together. When we expand the search to include the top 200 rhymes, the only polysyllabic rhymes we add are away/today, better/together, and sorrow/tomorrow.
Almost half of the 20 most popular rhymes contain either me or you. It's tempting to look at these results and conclude that pop lyricists aren't all that inventive or ambitious when it comes to rhyming. But the centrality of me and you rhymes is hardly limited to pop. The most common rhyming pair in Shakespeare's 154 sonnets is me/thee. (Shakespeare, of course, was lucky enough to live in a time when me and you rhymed with each other.)
Over time, certain rhyming pairs rise and fall in frequency in pop music. Though it is still used frequently, do/you appears to have peaked around 1998–99, when it was used in 15 percent of all Billboard Year-End Hot 100 songs, including hits like Aerosmith's "I Don't Want to Miss a Thing" and Britney Spears' "…Baby One More Time." In the 1960s, cry/goodbye was used roughly eight times more often then it is today, in such songs as Marty Robbins' "Don't Worry About Me" and Elvis Presley's "Marie's the Name."
I asked Walter Everett, a professor of music at the University of Michigan who has studied popular music, what he thought attracted artists to the do/you rhyme. His hypothesis is that its frequency has less to do with do and everything to do with you. He noted that when a singer uses melisma (singing different pitches on the same syllable), it can "work to create a strong perceived bond between singer and listener, especially in romantic songs." Such an effect, he says, can be particularly pronounced when the melisma is applied to the word you at the end of a line or verse. He points to the Beatles' appearances on the Ed Sullivan Show as evidence of "what the word you does to the female fans."
Naturally, you rhymes appear most frequently in love songs. Looking at VH1's list of top 100 love songs, which includes artists from Frank Sinatra to 'N Sync, reveals that 71 of these songs have at least one verse ending with you, and 15 contain the do/you rhyme. Less romantic songs are far less likely to contain either a you or a do/you. VH1's ranking of top 100 dance songs and top 100 rock songs contain, respectively, nine and four songs with a do/you rhyme. The network's ranking of the top 40 metal songs contains only one, Anthrax's "Caught in a Mosh": "Learn to give respect/ that others, give to you/ AAAAAAAAAAAH, the best you can do."
While most artists draw from a common bank of rhymes and use the same rhymes frequently, there are some artists who appear to go out of the way to avoid common couplets or rhyming in general. Queen only used do/you as an end rhyme once in its 15 albums, and there is no single rhyme that Queen used in more than five different songs. By contrast, in seven albums and roughly 40 singles, there are seven rhymes (do/you, be/me, baby/me, go/know, enough/love, above/love, fear/here) that Justin Bieber has used in at least five songs.
Below is an interactive that allows you to pick an artist and reveal that artist's favorite and most distinctive rhymes. Only artists whose all-time total record sales have surpassed 75 million or have had one of the 10 best-selling albums of the year within the past 10 years were included. Artists who otherwise fit the criteria for inclusion but didn't have enough songs with lyrics were excluded. Sorry, Kenny G.
Here, too, a rhyme was only counted once per song. An artist's most distinctive rhyme is the one used most frequently compared to the average across all acts (to qualify, a rhyme must appear in more than one song). For example, while the Beach Boys used the universally popular be/me rhyme in 15 songs, their songbook is unique for featuring four different songs with a hand/sand rhyme. Similarly, Lil' Wayne specializes in me/money, Reba McEntire favors hand/man, and Madonna likes girl/world.
Most Common Rhymes by Artist
2Pac
ABBA
AC/DC
Adele
Aerosmith
Alabama
Andrea Bocelli
Aretha Franklin
Backstreet Boys
Barbra Streisand
Barry Manilow
Barry White
Bee Gees
Beyoncé
Billy Joel
Blake Shelton
Bob Dylan
Bob Marley
Bon Jovi
Britney Spears
Bruce Springsteen
Bruno Mars
Bryan Adams
Carrie Underwood
Celine Dion
Cher
Chicago
Def Leppard
Depeche Mode
Dire Straits
Donna Summer
Drake
Eagles
Elvis
Elton John
Eminem
Fleetwood Mac
Florida Georgia Line
Foreigner
Frank Sinatra
Garth Brooks
Genesis
George Michael
Gloria Estefan
Green Day
Guns N' Roses
Imagine Dragons
Jason Aldean
Jay Z
Journey
Julio Iglesias
Justin Bieber
Justin Timberlake
Kanye West
Kenny Rogers
Kiss
Lady Antebellum
Lady Gaga
Led Zeppelin
Lil Wayne
Linda Ronstadt
Luke Bryan
Madonna
Meat Loaf
Metallica
Michael Jackson
Mötley Crüe
Neil Diamond
New Kids on the Block
Nirvana
Olivia Newton-John
One Direction
Paul McCartney
Phil Collins
Pink Floyd
Prince
Queen
R.E.M.
Reba McEntire
Red Hot Chili Peppers
Rihanna
Rod Stewart
Sade
Santana
Scorpions
Shakira
Shania Twain
Spice Girls
Taylor Swift
The Beach Boys
The Beatles
The Black Eyed Peas
The Carpenters
The Doors
The Rolling Stones
The Who
Tina Turner
Tom Petty
U2
Usher
Van Halen