Slate's Hollywood Career-O-Matic
What Rotten Tomatoes data tell us about the best, worst, and most bizarre Hollywood trajectories.
When M. Night Shyamalan's The Last Airbendercame out in July 2010, critics competed to see who could muster the most scorn. Shyamalan's seventh film was "dull, boring, poorly acted, limply written, and thoroughly unappealing" (San Francisco Chronicle), and "[s]tiff, fuzzy-looking, cloddish and disastrous in nearly every way" (Detroit News). In the Wall Street Journal, Joe Morgenstern called it "a form of Chinese water torture in which tin-ear line-readings take the place of drips." "The current national priorities should be as follows," wrote Cliff Doerksen in the Chicago Reader. "Reduce carbon emissions and stop funding the films of M. Night Shyamalan."
Perhaps the most devastating critique—of not just the movie but of Shyamalan himself—was a simple graph plotting the Rotten Tomatoes scores of the director's movies over time, posted by Alex Tabarrok at the economics blog Marginal Revolution: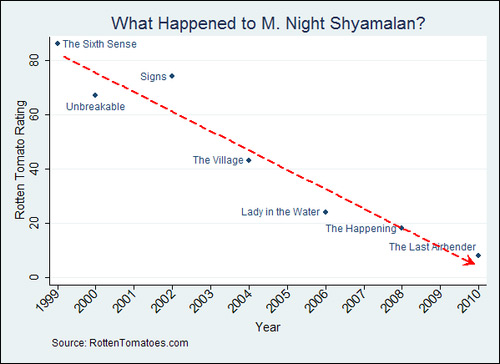 What makes the data from Rotten Tomatoes so brutal is that they depict not just one person's opinion of Shyamalan but the collective assessment of all our cultural critics. (The scores are based on aggregated reviews.) You may still run into the occasional Shyamalan defender, but as the graph shows, their numbers dwindle with every new film he makes. Rotten Tomatoes data reveal other trends, too. They show you how Brad Pitt went from being a regular star—the kind of Hollywood actor who appears in some good films and some bad ones—to a critical darling whose movies are almost always well-received. (It started with Babel in 2006.) Or how Matt Damon has made consistently better films than Ben Affleck since 1997, when the pair starred in Good Will Hunting.
The Rotten Tomatoes website, created in 1999, aggregates reviews from hundreds of newspapers and websites across the country, converts each review into a thumbs-up ("fresh") or thumbs-down ("rotten") rating, and then combines those assessments into a single "Tomatometer" rating that gives the percentage of positive reviews. The site even aggregates archived reviews from films that were released in the 1990s and before. Whether you're looking at contemporary cinema or the classics, the Tomatometer can serve as shorthand for a film's critical reception, if not its box office success.
A visitor to the Rotten Tomatoes site can check out the data for individual Hollywood careers—that's how Tabarrok came up with the Shyamalan graph—but there's no easy way for users to measure industrywide trends or to compare different actors and directors side-by-side. To that end, Rotten Tomatoes kindly let Slate analyze the scores in its enormous database and create an interactive tool so our readers might do the same.
The first thing we learned was that a film's Tomatometer rating is strongly influenced by its age. Films from the 1920s, for instance, have an average Tomatometer rating around 91 percent, while films from the 1990s average around 55 percent. Movies might have gotten worse since the Great Depression, but not that much worse. The golden-oldies effect may be explained by a bias toward reviewers reviewing, or Rotten Tomatoes scoring, only the best movies from bygone eras. Rotten Tomatoes includes a score for Casablancafrom 1942, for example, but leaves out clunkers from the same year like The Corpse Vanishesand Lady Gangster.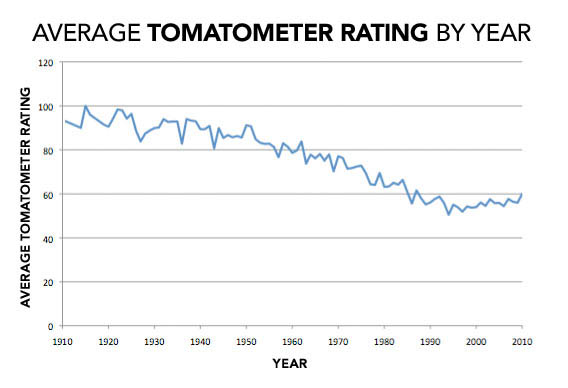 In light of this overall trend, we decided to restrict the rest of our analyses to films that were released since 1985, after which the golden-oldies effect seems to disappear. We also stripped out any movies listed on the site as a documentary, just so we'd be comparing apples to apples.
What does the average Hollywood career look like? In the Rotten Tomatoes database, more than 19,000 actors and 2,000 directors had their first film released in 1985 or later. The average actor's critical reception gets slightly worse over the course of his first few movies, then plateaus. The average score for an actor's first film is about 55 percent. By his fourth movie, that score slides to about 50 percent, where it hovers for the rest of his career.
Directors' careers follow a different trajectory. Like actors, a director's first movie averages a Tomatometer rating around 55 percent. But the average ratings for the next few movies don't drop much at all, never falling below 54 percent. Then, between the average director's seventh and eighth movie, the Tomatometer ratings jump dramatically, from 55 percent to nearly 63 percent. That score stays steady for the average director's ninth through 11th films and then jumps again to the 80s and 90s for the rest of his career.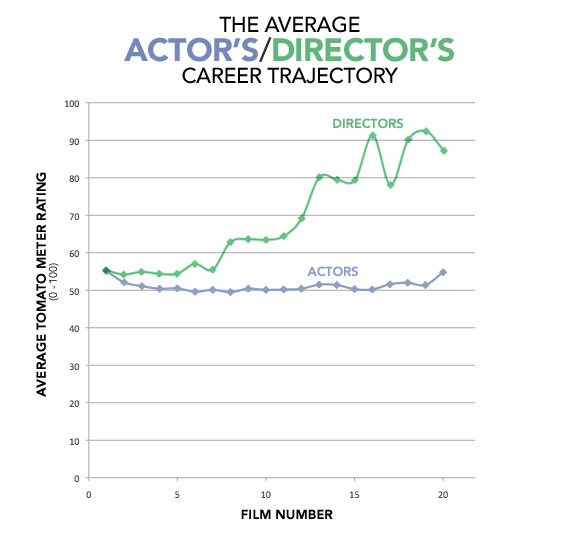 These trends seem to make sense. Most actors have to appear in good movies early in their career. Those who don't risk being flushed out of the business. Once they've established themselves with a good film or two, they can safely make some bad ones. But all in all, they don't have nearly as much control over film quality as directors do. Directors' scores spike over time, presumably because only the best ones stick around long enough to make so many films.
With that in mind, use Slate's Hollywood Career-o-Matic tool below to map the career of any major actor or director from the last 26 years. You can also type in more than one name to plot careers side by side. For example, Paul Thomas Anderson vs. Wes Anderson vs. Pamela Anderson. Mouse over the data points to see which movies they represent. (We've included only actors and directors who've released at least five films between 1985 and March of this year, according to the RT data, to filter out thousands of bit-actors you've probably never heard of.)
Some careers are more notable than others. We analyzed the Rotten Tomatoes data to find the superlative ones. (For these awards, we included only the roughly 2,700 directors and actors who have made more than 10 films in the last quarter-century, in order to eliminate outliers.)

Best Actor: Daniel Auteuil. With an average film score of 86 percent, Auteuil has appeared in the most consistently high-quality films of the last few decades. The French star, best known for his role in Jean de Florette (1986), may benefit from the critical soft spot for foreign films. If you prefer to count only red-blooded Americans, the top honor goes to John Ratzenberger (76.1 percent average), who has voiced a character in every Pixar movie to date.
Best Actress: Arsinée Khanjian. In the mind of the American film critic, Khanjian can do no wrong—or almost no wrong. Films like The Sweet Hereafter(100 percent), Calendar(100 percent), and Speaking Parts(100 percent) have helped boost Khanjian's average score up to 84.7 percent. Even her "bad" movie, 2002's Ararat, rated a 56 percent and was called by one critic "the most thought provoking movie of the year."* Topping the list of American actresses with an average of 72.8 percent is Amy Madigan of Gone Baby Gone(94 percent) and Field of Dreams(88 percent).
Worst Actor: Chuck Norris. Appearing in one bad film is a mistake. Appearing in dozens of bad films is a deliberate choice. Thanks to movies like The Delta Force(20 percent), Missing in Action(23 percent), and Top Dog(0 percent), Norris tops—or, as it were, bottoms—the list of worst-reviewed actors, with an average score of 18.4 since 1985. If you count only actors who have made at least 20 movies since 1985, the Worst Actor award goes to Eddie Griffin, with an average rating of 24.1 percent.
Worst Actress: Jennifer Love Hewitt. Hewitt has the rare distinction of never having made a single "fresh" (above 60 percent on Rotten Tomatoes) film. Her average score of 18.9 owes to such duds as Sister Act 2: Back in the Habit(7 percent), I Know What You Did Last Summer(35 percent), I Still Know What You Did Last Summer(7 percent), and both Garfieldmovies (15 percent and 11 percent, respectively). If you count only actresses who have made at least 20 movies since 1985, the Worst Actress award goes to Mena Suvari, with an average rating of 32.7 percent.
Best Director: Mike Leigh. The British director of Secrets & Lies(94 percent) and Another Year(92 percent) rates a lifetime average of 92.1 percent. The best directors have higher average scores than the best actors, presumably because they have more control over the quality of their films. A critically acclaimed actor might see his average dragged down by a few second-billed roles in lousy genre flicks. (See, for example, multiple-Oscar nominee John Malkovich, whose numbers take a major hit from recent flops like Eragonand Mutant Chronicles.)  The highest-rated American director? Ethan Coen, with an 84.3 percent average.
Most Improved: Josh Brolin, Dakota Fanning, and Ken Loach. If the average Hollywood career is a slow decline into mediocrity, an actor or director whose films actually improve deserves special recognition. Among actors with at least 20 films in the Rotten Tomatoes database since 1985, Brolin has seen the greatest increase in average rating from the first half of his career to the second half—an improvement of 28.4 percentage points. Despite Brolin's early appearance in The Goonies(63 percent), the first half of his career was marred by abominations like The Mod Squad(4 percent), and Hollow Man(27 percent). His later transition into gems like No Country for Old Men(95 percent), Milk(94 percent), and True Grit(96 percent) is a tale of redemption that not even Wall Street: Money Never Sleeps (54 percent) could derail. The most improved actress is Fanning, with a 20.1-point increase from such duds as I Am Sam(34 percent) to critical darlings like Coraline(89 percent). Among directors, the award goes to Ken Loach, the British filmmaker whose reviews went from great in the first half of his career (80 percent) to stunning in the second half (88.1 percent). *
Best Actor in Worst Movie: David Strathairn in Twisted. Strathairn, best known for playing Edward R. Murrow in Good Night and Good Luck, has had a blessed career, with an average rating of 70 percent. That is, if you don't count Twisted(2 percent), the 2004 thriller-in-name-only starring Ashley Judd as a cop who might actually be the killer she herself is hunting, in which Strathairn plays Judd's shrink. Honorable mention goes to Laurie Metcalf (average: 70 percent) for her role as Rebecca Frazen in 1996's Dear God(12 percent).