Slate is an Amazon affiliate and may receive a commission from purchases you make through our links.
The Funniest Living Writers Choose the Funniest Books in the World
We asked more than 30 writers for the books that make them laugh. They had a lot to say.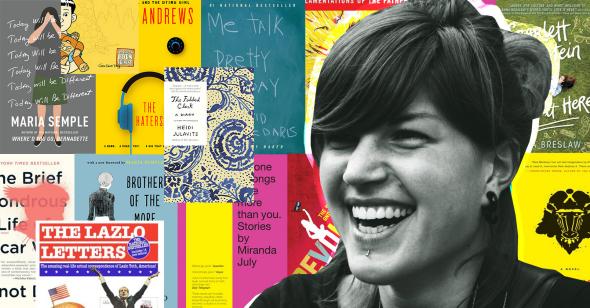 With the publication this month of Today Will Be Different, Maria Semple's follow-up to Where'd You Go, Bernadette, we got to wondering: What's the funniest book by a living writer? Well, who better to ask than Maria Semple? The Seattle-based novelist told us her three favorite funny books, so then we asked those three authors. Then we kept asking. Our daisy chain of hilarity includes recommendations from more than 30 writers, including David Sedaris, Junot Díaz, Elif Batuman, Paul Beatty, Miranda July, Chris Kraus, and Don Novello. It's not only an intellectual map of the state of modern humor writing, but a handy guide to scores of books that will make you LLOL.


Interactive by Andrew Kahn. Background and lettering by Lisa Larson-Walker.

Interactive by Andrew Kahn. Lettering by Lisa Larson-Walker.