Slate is an Amazon affiliate and may receive a commission from purchases you make through our links.
Announcing the Winners of the Cartoonist Studio Prize
Here's to the best graphic novel and Web comic of 2012.

The debate over which 10 graphic novels and 10 Web comics would be shortlisted for the Cartoonist Studio Prize went on for days over email and the phone. The debate over which book and Web comic should win the prize was less arduous but still tough, considering the quality of the nominees. But in the end all three judges—Slate Book Review editor Dan Kois, the faculty and students at the Center for Cartoon Studies, and this year's guest judge, legendary New Yorker art editor Françoise Mouly—agreed that these two works represented the cream of an excellent crop.
Congratulations to our two winners, who each receive $1,000 and, of course, eternal glory.

The winner of the Cartoonist Studio Prize for Best Graphic Novel of the Year is Chris Ware, for Building Stories. This massive cartoon epic—made up of 14 books, pamphlets, and broadsheets—is a feat of ambitious storytelling that doesn't shy away from the microscopically detailed character study that has set Ware's work apart his entire career.
The rest of the cartoonists on the shortlist:
The winner of the Cartoonist Studio Prize for Best Web Comic of the Year is Noelle Stevenson, for Nimona. This twice-weekly series about a medieval supervillain who takes on an irritating sidekick is funny and vibrant, with wonderful energy in Stevenson's illustrations and a wicked wit in her storytelling. In recent weeks the story has been expanding surprisingly into a kind of deadpan epic, which suggests the comic has a long way to go before it's done.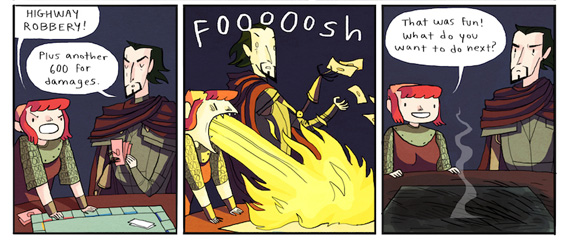 The rest of the cartoonists on the shortlist:
Congratulations to both our winners and to all the nominees. So many worthy comics were entered that these decisions were unbelievably difficult—and that's not even considering exceptional cartoonists whose work was published by our judges and who were therefore ineligible, like Joseph Lambert and R. Kikuo Johnson. We'll announce the shortlist for the 2014 award next February!