Slate is an Amazon affiliate and may receive a commission from purchases you make through our links.
Garbage Pail Kids
Art Spiegelman tells the story of how Topps' gross, awesome parody stickers were born.
These images come from Garbage Pail Kids, by the Topps Company, a collection of the first five series of the popular parody cards. The text is excerpted from the introduction by Pulitzer-winning cartoonist Art Spiegelman, who worked on GPKs, as well as many other projects, in his 20 years working for Topps.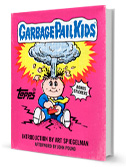 When Cabbage Patch Kids became a phenomenon in the mid-80s,Topps knocked on the door (along with a lot of other potential licensees), but the knock didn't come early enough to get a cheap license—and cheap is the bottom line when we're talking bubblegum.
I recall sitting in a meeting one day with Len Brown, Topps' creative director, and Stan Hart, who worked in new product development. We were trying to figure out whether it was worth pursuing a Cabbage Patch Kids license, when Stan said, "Well, let's just do a parody." I'm sure Len and I looked at each other, our lives flashing before our eyes, and one of us asked, "But how do you do more than one sticker?" "I don't know," Stan said, "but we'll figure it out." And by "we" he meant me and Len.
[Essay continued in the slide show below.]