In Defense of Congress Leaving Town Without a New War Vote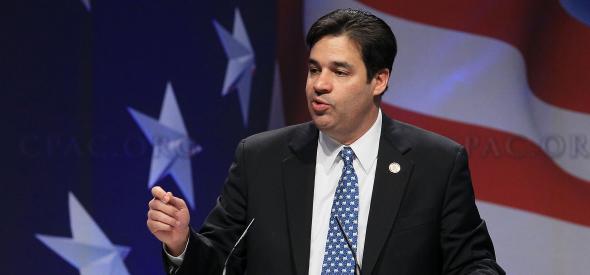 Today, the House of Representatives and the Senate will recess, allowing members to campaign for re-election—or, if they're retiring, to take calls from people begging them to transfer money from their respective campaign accounts. The two bodies will do this without holding any new votes on the intervention in Iraq and Syria, apart from the continuing resolution, which will fund the government with a nice side pocket for Syrian rebels.
Should Americans be offended by this? On the one hand, it's great for the parties—they get to carp about the lack of will from the other side. (See this National Review attack on Senate Democrats, whose "response to ISIS" is identical to that of House Republicans.) Republicans are slated to win more seats, and in key races they're more comfortable attacking Democrats and the president for letting these terrifying, beheading-centric terrorists flourish.
It's less fun if you're a member of Congress who believes the 2001 and 2002 Authorizations for Use of Military Force have been stretched out of all proportion. At today's Conversations with Conservatives, a monthly Heritage Foundation event with a half-dozen or so House Republicans, some Class of 2010 members worried about intervening in Syria without a new AUMF. South Carolina Rep. Mick Mulvaney pointed out that loose AUMF language had been circulating (thanks to departing Rep. Frank Wolf), but it was not encouraging.
"It was very broadly defined, in going after terrorists or terrorism," said Mulvaney. "I'd personally like to see it limited in duration. I think the fact that we're scabbing on a military effort in 2014 based upon a resolution that was passed 13 years ago shows some very poor decision-making."
"No one who voted for the AUMF in 2001 envisioned that in 2014 a president of the United States would use that authorization to invade another country," said Idaho Rep. Raul Labrador. "We should go after the people who killed the reporters. We should have limited strikes."
Labrador, who often aligns himself with the libertarian wing of the party, cited an old Ron Paul argument. George W. Bush had won the presidency in 2000, calling for a "humble foreign policy." What happened to that? "We need to be a bit more humble in our advocacy for the use of force."
But no one was throwing up hurdles on the way back to their districts. Over in the Senate, there was talk about an authorization vote after the election, but nothing now.
My headline is only half-serious. It's hard to look at Congress's complain-and-leave approach to the war as anything serious, or anything like its constitutional obligation. Still: Compare this moment with the weeks before the 2002 election. The Bush administration demanded a vote on authorization for a possible war in Iraq before a midterm election that largely came down to elections in red states like Missouri, Georgia, and South Dakota. (Republicans lost South Dakota narrowly, but won Minnesota after Sen. Paul Wellstone died in a plane crash.) Democrats were asked to take a vote, which was not particularly related to the timing of the war, at a moment of maximum political danger.
This year, the Congress is being allowed to punt and blame the president if anything goes wrong. Progress!