Here It Is: The Flimsiest Campaign Attack Ad of 2014, Which Won't Stop Running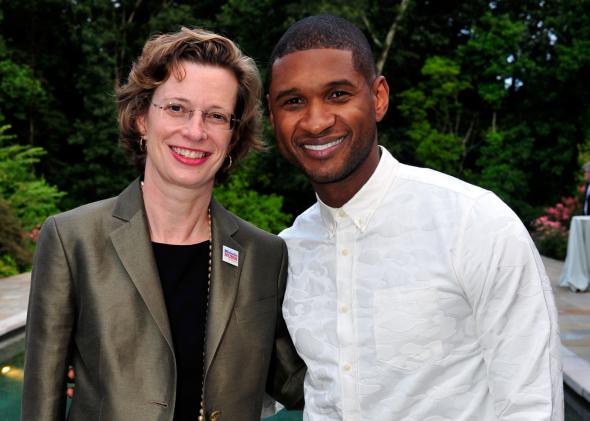 It was one of the year's great political scoops: Eliana Johnson, a reporter for National Review, got her hands on a campaign memo prepared for strategists working for Georgia U.S. Senate candidate Michelle Nunn. For those of us in the glamorous trade of political reporting, it was a depressing look behind the curtain. We always assume that our questions are viewed as irritants that must be spun away; we don't necessarily need to see that "every request should be considered on its merits and how it will help or hurt the campaign disseminate its message." Mark Leibovich's story about the memo was illustrated by a cartoon of Nunn, as a robot, being built with cash. How much worse could a campaign get?
Never ask that question. For the past two months, outside groups have been ripping into Nunn with a clever trick. The campaign memo delineated a few "distortions" that the campaign would need to be ready to rebut. For example:
In August, after David Perdue won the Republican primary, the Ending Spending Action Fund put out an anti-Nunn ad that simply pretended the "distortions" of the campaign memo were completely true facts about Nunn. She was a "lightweight." She was "liberal." And "her foundation directed grants to Islamic group tied to radical terrorists."
The terror allegation had been explored in Johnson's original NR piece. According to Johnson, Nunn's Points of Light charity had given grants totaling $33,000 to Islamic Relief USA, which was under the umbrella of Islamic Relief Worldwide. Islamic Relief USA insisted it was an independent entity, but that wasn't the problem. It's best to quote from Nancy Badertscher's report for Politifact.
From 2003 to 2011, MissionFish was a Points of Light business unit that allowed eBay sellers and buyers to direct all or part of the proceeds from a transaction to their favorite charity, Weiss said.
EBay users could donate to any of 20,000 organizations, all of which were registered 501(c)(3) nonprofits or the overseas equivalent, she said.
"These nonprofits were vetted regularly to ensure tax-exempt status, good standing with the IRS, and exclusion from terrorist watch lists," Weiss said.
Islamic Relief USA was one of them and "remains an eBay Giving Works-approved charity," she said. (Points of Light sold MissionFish to eBay in 2011.)
Points of Lights' IRS 990s show Islamic Relief USA, which describes itself as an independent affiliate of Islamic Relief Worldwide, received about $13,500 in contributions from eBay buyers and sellers in 2006, 2007 and 2010. National Review has corrected its story to show that the $33,000 figure was in error.
So, Points of Light did not directlly give the money to the charity, and the aggregated money that donors had used a POL tool to give was slightly more than one-third of what had been reported. Politifact branded the attack "mostly false."
This did not stop it from running. Earlier this month, Perdue's own campaign went after Nunn with an ad featuring EXACT QUOTES from her campaign plan. (This is rather like saying "I want to debunk the idea that my hair is green" and someone exactly quoting you as saying your "hair is green.") Most dangerously, "in her campaign plan, Michelle Nunn admits she's too liberal, and her foundation gave money to organizations linked to terrorists."
The Nunn campaign carped about this, citing the niggling "not actually true" point. And yet a week later, presto: a new ad, this time tying those people who clicked "Islamic Relief USA" on their eBay charity buttons to the ISIS agents amassing on the border. "Michelle Nunn's own plan says she funded organizations linked to terrorists," warns the new ad. "She's for amnesty, while terrorist organizations say our border breakdown could provide an entry for groups like ISIS."
Leave aside how "amnesty," which is perhaps better defined as support for an immigration bill that features new border funding as well as paths to citizenship, means a glide path for ISIS. This is one of the more tendentious attacks of 2014, based on a line of a memo that was meant to describe tendentious attacks.
Ah, well. It's a step up from the race for this same seat, 12 years ago, in which votes against certain Homeland Security amendments were turned into de facto pallin' around with Bin Laden.