The Most Populist Campaign of 2014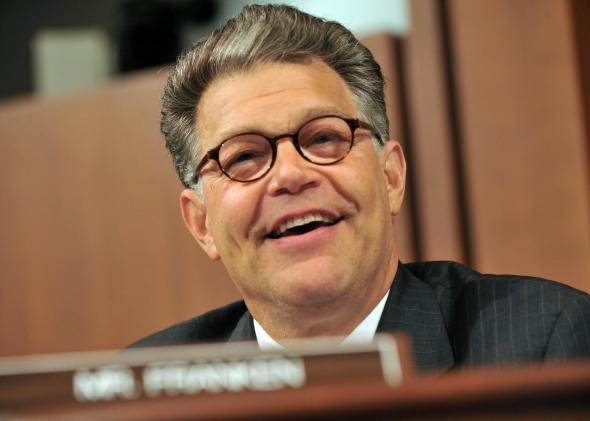 Minnesota Sen. Al Franken had a tough first election. Everybody knows that. His win over Republican Norm Coleman and independent Dean Barkley—who took more votes from the left than the right—was so narrow that Coleman was able to tie up the results with months of lawsuits, preventing Franken from joining the Democratic majority until July 2009. (If you ever hear someone claim that the Democrats "had a 60-seat majority" throughout Obama's first term, you know he's either lying or lazy.) That tough race left the impression that Franken would struggle in 2014, but he really isn't. His 10-point lead over Mike McFadden, a businessman running a largely content-free campaign, has not prevented national profiles of the race that assume Franken is beatable. McFadden, in an interview with Alex Pappas:
He tried to build this narrative that he's kept his head down. Well, he's been invisible. He hasn't done anything. He votes with the president 97 percent of the time.
Franken hasn't done anything, even symbolically, to distance himself from the unpopular president. A National Journal vote analysis conducted this month showed that, in the past two years, Franken has cast only two votes against party leadership out of 161—a 99 percent record that beats Sen. Elizabeth Warren. Given that potential baggage, Franken's campaign has been airing a series of advertisements featuring the legislation he's introduced in the Senate, including bills cracking down on tainted food, a workforce-training bill, and a credit-rating amendment.
To the impartial observer, it might seem like Franken has indeed done things. He's got probably the most focused ad campaign of any Senate Democrat running for re-election, a campaign praised by Frank Luntz for spots that briefly describe how he passed a bill and why the greedy people who try to rip you off—you, the voter—did not like it. To wit:
Franken says he "led the fight" on that, which is code for "it was ground down in negotiations," not for "and it passed." The other bills mentioned above did pass. By contrast, McFadden's campaign has tried to remind voters that Franken was a comedian, and that he voted with Obama a lot. McFadden's ads thus far have been entirely "funny," starting with one in which he uttered the "approve this message" boilerplate after being groined by a football, continuing here.
It's Sandra Lee, follow-the-recipe stuff. If Franken's running ahead of the ticket this year after running far behind in 2008, it may say something about his version of populism.