So 200 Reporters Walk Into a Field in Iowa ...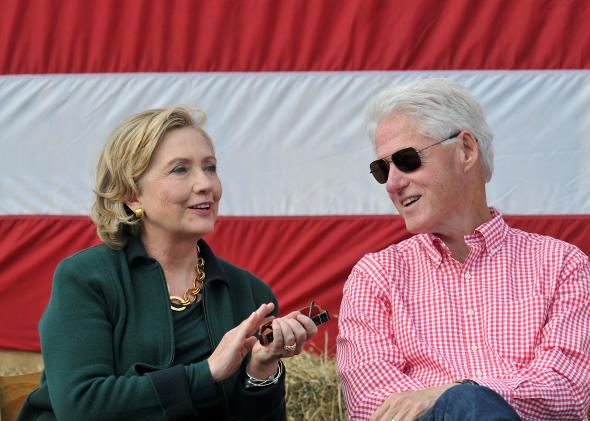 My colleague John Dickerson was in Iowa yesterday for the Second Coming of Hillary Clinton. From my armchair (actually, at that hour, probably from a car heading back from a friend's wedding), it seemed like the arrival of Bill and Hillary Clinton at Sen. Tom Harkin's last "steak fry"—a populist picnic for thousands of people, at which the steak is actually grilled—would confirm that Hillary wanted to run in 2016 and that the media was already in full-on Beatlemania mode about it.
Peter Hamby's dispatch from Indianola suggests that this was true. "Roughly 200 credentialed media" showed up for the steak fry, according to Hamby. (For contrast, there were only a few dozen reporters at this past summer's Republican Leadership Conference in New Orleans, and often only 10 reporters in the press availabilities with Bobby Jindal and Ted Cruz.) The press stayed in one sector of the picnic, until "after a 90 minute wait" they were allowed to capture "a staged shot of Bill and Hillary Clinton, fresh out of their motorcade, ritualistically flipping steaks with Harkin."
And then, a miracle: Clinton talking to reporters, for a little while:
"Good to see you!" she told the assembled press, surely a half-truth. "My goodness! You guys having a good time? Good. We're having a good time today."
Strutting back and forth, Clinton declared that it was "fabulous to be back" in the state. "I love Iowa," she said, smiling as if she were in on a joke. She entertained and swatted away a bombardment of questions, mostly of the unremarkable "will you run?" variety.
"Does this whet your appetite for another campaign?" asked one reporter.
The reader may be surprised to learn that Clinton did not reveal her 2016 plans to a reporter on a ropeline. Nor to the other reporter who asked. Actually, it appeared as though Clinton was following the plan of every other 2016 candidate—pacing herself before the midterms, making a decision after them. It's almost unheard of to announce a presidential run before the previous cycle's midterms are over, and the only guy who's broken that recently was Mike Gravel, who did not become the nominee.
So, how to interpret Joe Scarborough's rant about Hillary and imperial frontrunners? Scarborough wonders (in September 2014) if Clinton is blowing it already, because in 2008 "it wasn't against her back was against the wall that she had to stop acting like a robot on the campaign trail and start acting like herself that she started winning." (Again, it's September 2014.)
"I don't want to see you eating steak!" Scarborough moans, to an in absentia frontrunner "I want to see you talking about how we're going to stop ISIS, not behind some cute little prepackaged plan that some of your handlers fixed up or somebody helped you write in a book."
Clinton's book tour and interviews haven't mentioned ISIS? It was just a month ago that the news cycle churned over whether Clinton had attacked the Obama administration for letting ISIS happen. Clinton bemoaned the failure to vet and arm Syrian rebels when it mattered. That's not a what-to-do-now answer, and yes, we are being denied some fun stories by Clinton's decision not to comment on the administration with the frequency of, say, John McCain. But no one running in the invisible primary has an alternate ISIS-handling plan. Rand Paul, who's been getting the most coverage for his comments, has focused—like Clinton—largely on the American mistakes that enabled ISIS's renaissance.
The steak fry did present an opportunity for less hawkish progressives to light into the Clintons. The thing was started by Tom Harkin, after all—just last week, as Jennifer Bendery reported, Harkin was one of very few Democrats who worried that American policymakers were overrating the threat of ISIS. But the only attempt I saw to find the space between Harkin and Clinton came from Jonathan Karl, who asked Harkin sort of generally if Hillary was too hawkish. Harkin had "questions," he said, but he had questions for everyone.
"I must be frank with you," said Harkin. "I thought Barack Obama was a great progressive, and a great populist, and quite frankly some things have happened that I have not agreed with."
That was the end of the clip, so we don't know what else Harkin enunciated. But it was telling that he evaded a Hillary question by pointing out his disappointment with Obama. That remains the central progressive lesson of 2008: Electing a president is not everything. Notice what Harkin said, via Ana Marie Cox, when introducing Bill Clinton.
Harkin himself did Hillary no favors when his introduction of Bill included an anecdote about an earlier steak fry, when the heavens parted the moment Clinton took the stage: "The clouds disappeared, the sun came out." There's being in someone's shadow and then there's being compared with a demigod.
It's hard to hear that and not experience an acid flashback to 2008, when before the Rhode Island primary (which she won in a rout), Hillary mocked the idea that electing Obama would fix America. "The skies will open, the light will come down, celestial choirs will be singing and everyone will know we should do the right thing and the world will be perfect," she snarked.
The Hillary 2016 campaign is a minor problem for Democrats. They are generally ready to nominate her. Some of them want a progressive challenge that moves her to the left, or at least keeps her honest.* Far, far fewer believe that the party needs a savior, because it already tossed her aside for one of those.
Hillary 2016 is a far bigger problem for the media, which simultaneously is ready right now to cover her like a nominee—200 reporters!—and yet so palpably bored with how she talks, and runs.
*"Keeps a Clinton honest!" I can hear you laughing.