Campaign Ad Praises Senator for Supporting a Project That He Voted Against Actually Funding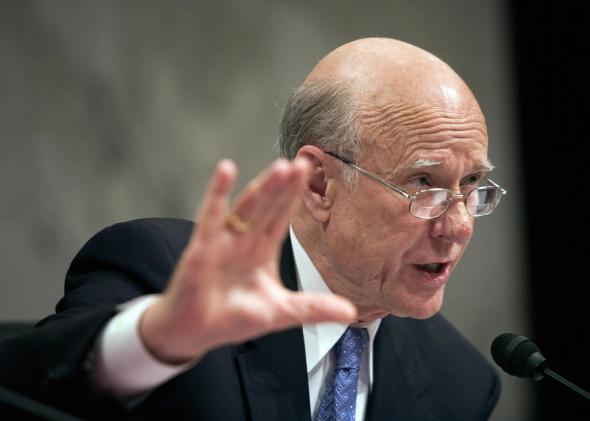 On its face, there's nothing remarkable about this ad for Kansas Sen. Pat Roberts. You've got your B-roll of the senators making human contact with people who look busy. You've got your soundtrack that sounds like a Coldplay demo track. Sure, as Dave Helling points out, the ad's opening line about how "Kansans are struggling" seems to contradict Gov. Sam Brownback's sunshine-and-lollipops, prosperity-around-the-corner re-election bid. But it doesn't contradict with Brownback's own theory of his unpopularity, which is that "a lot of people are so irritated at what the president is doing, they just, they want somebody to throw a brick." (Obama's mother was from Kansas, so maybe the voters think all these people look alike.)
No, the baffling thing about this ad is that it tells the heroic story of the National Bio and Agro-defense Facility and how it came to Kansas. You may notice that the headlines about Roberts' work, in the ad, come from 2007 and 2008—before he won his current term.
Why are the headlines so old? Because Roberts, facing a primary challenge from Obama's distant Republican relative Milton Wolf, voted against a January 2014 spending bill that would have kept NBAF going for $404 million. To be fair, he said it gave him "no pleasure to vote against a bill that includes an important project into which I have put my heart and soul and many hours of work." But he voted against it, and enjoyed the temporarily pleasure of a weak primary win against a guy who shared photos of "funny" medical injuries on his Facebook page.
To be fair to Roberts, everyone plays games with roll call votes. It's fairly common to see incumbents attacked for voting "for" some horrible-sounding policy because they voted against a bill that would have changed it; see this ad, which accuses a Democrat of backing "first class flights" for congressmen because he opposed the Paul Ryan budget. Roberts' ad is just unusually surreal, because to prove that he's delivering for Kansas in the dark age of Obama, it has to cite something Roberts did before Obama was president and voted to defund this year.
UPDATE: The trackers at American Bridge captured a video of Roberts talking somewhat less than compellingly about the farm bill that "we passed."