We Won't Have Rob Ford to Kick Around Anymore. (We May Have His Brother.)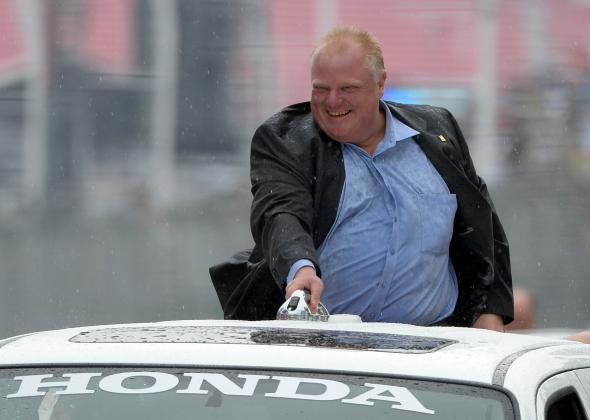 The Toronto Star has the news: The city's mayor, who no one needs to be reminded is named Rob Ford, is withdrawing from the race for a second term. The proximate cause is not drugs, not this time. He entered hospital upon discovery that he had a tumor in his abdomen. (Ford had steadily been losing weight since he left rehab this year.) An hour before today's 2 p.m. deadline for ballot status, he removed his name.
Some reports on the Ford saga have suggested that he was waging a comeback in the polls. It's a complicated story. Ford retained high levels of support through much of 2013, even after his crack scandal, even after the gaffes that compounded it. He only tumbled behind Olivia Chow, a former MP and the widow of the popular New Democratic Party leader Jack Layton, during his 2014 relapse and rehab stint. But Chow lost altitude, especially after John Tory—like Ford, a member of the Conservative Party, and unlike Chow a mayoral candidate who got to meet voters eight years ago—surged into a lead. Tory quickly became the anti-Ford, Chow became irrelevant, and it looked for a while like the mayor might drive up the middle, with resilient support from Etobicoke and the rest of "Ford Nation."
Then he went to the hospital. Chow's first mano-a-mano debate with Tory was set for today. She hadn't been tested against just Tory since June, before her swoon, when in a hypothetical two-man race she led by 2 points. And she will not get that race. Doug Ford, the mayor's more athletic and less self-destructive brother (his gaffe CV is limited to quietly insulting members of the media as "pricks," when he thought the camera mics couldn't catch that), took Ford's old Etobicoke seat. He'd been thinking of running in the Ontario provincial elections this summer (which ended disastrously for the Tories), and was leaving the safe council seat. But as soon as Rob Ford quit the mayoral race, Doug Ford announced that he would swap in. Instead of a mayor who smoked crack as an adult, Toronto may get to elect one who merely dealt drugs as a kid.
Even if the Other Ford triumphs, Rob Ford will no longer rule North America's fourth-largest city. Unless Rob Ford runs for Doug Ford's seat, which used to be the Rob Ford seat (I'm sorry about this), will never see the Full Ford in bloom again.
This was one of two times he invited a reggae band into city hall.