New England Primary Night: Cuomo's Scare and the Roar of the Liberals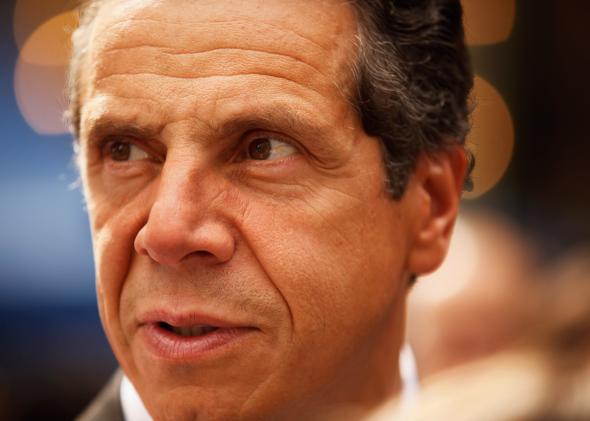 At the end of every year, I round up all my blown predictions and allow readers to feast on them. So just allow me this: In mid-July I went up to Staten Island to see Zephyr Teachout campaign for New York's Democratic gubernatorial nomination, and came away with a story about how she and running mate Tim Wu could do for their left what Tea Partiers did for the right. There was no polling to back this up—there would actually be no polling of a race in which Teachout/Wu spent maybe $200,000 to challenge Gov. Andrew Cuomo.
And yet here we are. With 92 percent of the vote counted, Cuomo is set to win only 62 percent of the vote against Teachout, who's pulling about 35 percent. My sources had told me to expect Teachout climbing north of 30 percent—let's hear it for the anonymous ones! Wu, who faced a one-on-one race against former Rep. Kathy Hochul, is set to win about 40 percent of the vote. That's a week after Cuomo's allies worried (according to Fred Dicker) that Wu was surging into a win, aided by the New York Times' endorsement of the author, professor, and first-time candidate.
The New York Times' helpful map of the race shows a tighter-than-expected election won in western New York (Hochul's base) and the outer boroughs and collar counties of New York City. Cuomo racked up a margin of close to 90,000 votes from Staten Island, Queens, Brooklyn, and the Bronx, in a race he's winning by about 130,000 votes. For all the trend stories about bearded app designers and the brunch spots they pore over real estate listings in, this is a helpful reminder that most of the Democratic vote in New York City comes from nonwhite voters and tough political machines. North of the city, east of Syracuse, the Vermont-born Teachout either clobbered Cuomo or fought him to a standstill. She took Albany County by 28 points, and Wu took it by 25 points, both excellent merit badges for candidates who ran against the corruption of political money. Teachout may end up winning a majority of New York's 32 counties. Not the really vital ones where most voters live, but more than anyone gave her a chance of.
Earlier today (in the link above), I looked at New York, New Hampshire's Senate race, and Rhode Island's gubernatorial race as tests for different kinds of rebellion politics. In every state, the rebels lost, but in every state they did some damage.
In New Hampshire, with 85 percent of the vote in, Massachusetts immigrant Scott Brown won the GOP's nomination for U.S. Senate. He's at 49.5 percent of the vote, which looks good considering the size of the field. But the first public poll with Brown in the race had him winning 47 percent against the field. At that time, former state Sen. Jim Rubens was registering at 5 percent. Rubens never cracked 10 percent in a public poll, but a PPP poll in the final week showed him cracking 20 percent, and he ended up with 24 percent, aided by more than $1 million in ads and mailers from Larry Lessig's Mayday PAC. Lessig and friends wanted to make Brown sweat after he refused to sign a version of the anti-super PAC "People's Pledge" that he agreed to in his 2012 Massachusetts race. Mission somewhat accomplished.
In Rhode Island, progressives warned me that they'd split their votes between Providence Mayor Angel Taveras and political scion Clay Pell, and that State Treasurer Gina Raimondo would probably win with more than 40 percent of the vote. That happened: Raimondo, infamous on the left for her campaign of pension cuts, won 42.2 percent of the vote while the progressives fought for similar shares of 56.1 percent. She was beatable, and they didn't beat her.
- In Massachusetts, Attorney General Martha Coakley had managed to lose the state party's convention vote to state Treasurer Steve Grossman. No mystery why: Coakley is the reason why Scott Brown continues to stalk the nightmares of Democrats across New England, and activists worried that she'd blow an election against repeat GOP nominee Charlie Baker. But Coakley fought it through to the primary, and after leading Grossman by as big a margin as 47 points, she pipped him by 8 points. This was closer than any polling suggested, and sets up a possible series of recriminations if Coakley eats it again and progressives ask why EMILY's List kept saddling them with this zombie candidate. (Don Berwick, the recess-appointed ACA administrator, came in third and actually beat Coakley in two of western Mass's counties.)
Better news for Democrats: In MA-06, they are finally rid of Rep. John Tierney, who spent the past three years explaining away a florid gambling scandal that put his wife in prison. The 2012 Obama landslide in the state helped Tierney narrowly defeat Richard Tisei, who would have been the first openly gay Republican elected to Congress. But remember who's going to lead the ticket this time? Martha Coakley? Yeah: Democrats have denied Tisei a rematch against a hobbled incumbent, and replaced him with Iraq war veteran Seth Moulton, breaking the party's habit of wasting nominations on machine candidates.
We're almost done, I swear.
- In NH-01, one-term Rep. Frank Guinta defeated Dan Innis for the right to challenge Rep. Carol Shea-Porter again. Innis's defeat and Tisei's bad luck mean that only California's Carl DeMaio stands likely to win this year as an openly gay Republican candidate. In NH-02, the Club for Growth and Ted Cruz and a bunch of other Republicans who want the party to be more conservative yet less monochromatic boosted Marilinda Garcia (born in 1983) to an easy win. She will change Rep. Ann Kuster, one of 2012's surprise winners of the yet-more-surprising New England Obama wave.
- Back in New York, Andrew Cuomo's national embarassment was softened by two wins by the Democrats who abandoned their party to give Republicans functional control of the state Senate—an outcome Cuomo preferred, and then had to pretend he opposed, until he could beat Teachout. State Sen. Jeffrey Klein, leader of the breakway faction, easily won renomination. State Sen. Tony Avella, who recently joined the rebels, won by 4 points. And state Sen. Malcolm Smith, a singular imbecile who 1) managed to botch the first Democratic Senate majority back in 2009 and 2) destroyed his reputation with a scheme to buy the GOP nomination for mayor, went down in a landslide.